Stocks Keep Rallying Even During Protests Because 'Nobody Is Investing To Make The World A Better Place,' Analysts Say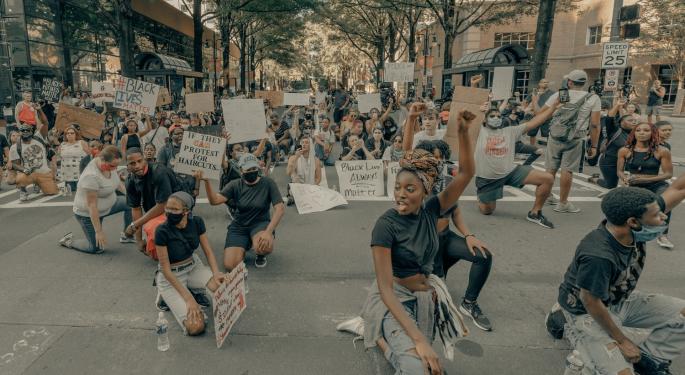 The markets remain focussed on reopening as coronavirus pandemic caused lockdowns are slowly coming to an end, and stocks continue their rally, despite looming protests on the horizon, according to analysts.
What Happened
Traders are discounting civil and political turmoil in the United States and focussing on reopening of the economy. On Tuesday, the DOW closed 1.1%, while the S&P gained 0.8%. The S&P 500 has risen for the past six out of seven sessions and clocked a 38% gain from its March low.
Strong stimulus measures on both the monetary and fiscal sides are propping up the markets, which remain unaffected even during the civil turmoil unleashed on the streets of major cities in the United States after the killing of George Floyd by a Minnesota police officer, reported CNBC.
Jim Cramer, CNBC host and former hedge fund manager, says the market "has no conscience." He added, "We've got protests all over America that, in many places, turned into riots, and what does the market do? Rally."
Why It Matters
According to Cramer, investors are gravitating towards the so-called stay-at-home stocks such as Netflix Inc. (NASDAQ: NFLX), Slack Technologies Inc. (NASDAQ: WORK), Zoom Video Communications Inc. (NASDAQ: ZM), Amazon Inc. (NASDAQ: AMZN), and Facebook Inc. (NASDAQ: FB) in order to make money.
The markets disregard of the turmoil on the streets was explained to CNBC by Steven DeSanctis, an equity strategist at Jefferies.
De Sanctis said, "The market is a forward-looking mechanism. They see six months from now, nine months from now there will be more semblance of order. The economy will be coming back, and earnings will be coming back. Estimates have stopped going down."
The danger of a second wave of the pandemic has not passed, especially as protestors take to the streets in huge crowds. Cramer described the protests as "mother of all super-spreader events."
As for the markets, Cramer retorted, "Nobody is investing to make the world a better place."
View Comments and Join the Discussion!
Posted-In: Analyst Color Government News Futures Psychology Top Stories Markets General Best of Benzinga