6 Analysts' First Impressions Of B-Dubs' Q3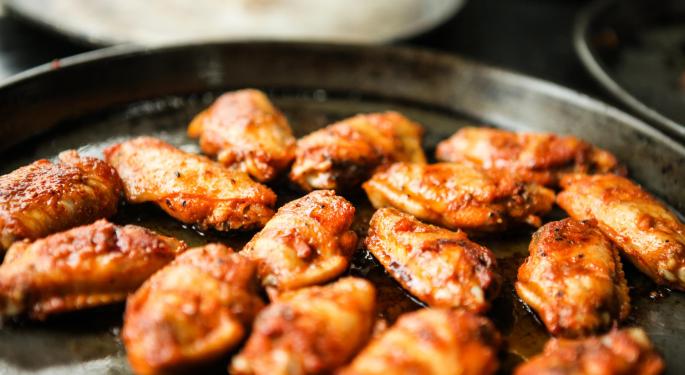 Buffalo Wild Wings (NASDAQ: BWLD)'s third-quarter earnings report Wednesday has investors convinced that the casual fast-food company's outlook at the very least is brighter today than it was just last week. But is Wall Street equally convinced?
Barclays: Imagine The Growth When Comps Improve
Barclays' Jeffrey Bernstein maintains an Overweight rating on Buffalo Wild Wings' stock with an unchanged $133 price target.
Heading into Wednesday's earnings report, sentiment has been significantly low, and the third-quarter earnings report showed signs of improvements, the analyst wrote. An oversized EPS growth may indicate that management's game plan to turn around to boost sales and better manage costs are showing signs of traction even though comps were in line with expectations.
"Imagine the EPS leverage (if) when the comps actually turn," the analyst wrote.
Beyond the fundamentals, visibility on leadership is limited with a CEO search to replace Sally Smith ongoing, not to mention an activist campaign that resulted in three new members being added to the boardroom.
Finally, B-Dubs' stock (Wednesday after-hours) was trading at 21x forward EPS, which is on the lower-end of the three-year range of 18x to 34x and below its 26x average.

Deutsche Bank: Favorable Setup
Deutsche Bank's Brett Levy maintains a Buy rating on Buffalo Wild Wings' stock with a price target raised from $130 to $135.
B-Dubs' third-quarter earnings report and guidance came in "better than feared," but some of the more pressing issues heading into the print haven't been addressed yet, the analyst wrote.
Specifically:
What is the impact from the Tuesday promotional change?
Who will be the new CEO?
Will management continue executing on its savings plans?
How safe is the EPS guidance?
"On the scoreboard, we believe this quarter narrowly scores one for the Bulls as the solid cost controls outweighed the challenged sales and there is still some room for optimism given the outlook," Levy wrote.
Bottom line, investors may want to take advantage of a "favorable" risk to reward scenario as management is showing signs of success in its initiatives with the possibility of further momentum when managerial, structural and capital moves are finalized.

Maxim: Compelling Valuation
Maxim Group's Stephen Anderson maintains a Buy rating on Buffalo Wild Wings' stock with a price target boosted from $145 to $160.
B-Dubs' impressed investors in its third-quarter earnings report and momentum could continue as comps could reach breakeven by the end of 2017 and turn modestly positive next year, the analyst wrote. Meanwhile, spot chicken wing prices have been in a "slow but steady" decline since June and the favorable shift in spot prices will likely gain momentum next year.
As such, the stock's valuation is compelling and could move higher as stable comps and favorable cost trends will result in B-Dubs showing investors margin expansion in the coming quarters, Anderson wrote.

Related Link: Buffalo Wild Wings Up 18% After Q3 Beat
UBS: Down But Not Out
UBS's Dennis Geiger maintains a Buy rating on Buffalo Wild Wings' stock with an unchanged $140 price target.
B-Dubs' earnings "encouraging" earnings report should be seen as a sign that a mid-teens earnings per share growth rate is likely to be seen in 2018 if the price of chicken wings start stabilizing, the analyst wrote.
Other factors to support the bullish case include:
Increased cash flow generation.
Strategic optionality.
The announcement of a new CEO.
Refranchising efforts (not a near-term priority) could support earnings stability.
Upside from an already "solid" free cash flow generation.
At the restaurant level, the company is likely to begin offering in 2018 a broader value focus, game day promotions for alcohol and food promotions. This could help address a poor value reputation, which served as a "key driver of underperformance" over the past few years.

Cowen: Unsustainable Momentum
Cowen's Andrew Charles maintains a Market Perform rating on Buffalo Wild Wings' stock with an unchanged $110 price target.
The restaurant chain's earnings beat was driven by a "significant" one-time cost savings and doesn't set up the company to report upside in 2018's numbers, the analyst wrote. On top of that, an absence of news surrounding refranchising initiatives and the ongoing search for a new CEO serves as overhangs for the stock.
Nevertheless, the company's initiatives including game day promotions to boost in-store traffic are "steps in the right direction," but investors may prefer to wait for a new CEO who may be able to better execute on the new gameplan.

BMO: Not Impressed For 3 Reasons
BMO Capital Markets' Andrew Strelzik maintains a Market Perform rating on Buffalo Wild Wings' stock with a price target lowered from $130 to $120.
There is little doubt that the company's strong earnings report came as a surprise to many but the stock's strong gains following the print isn't necessarily justified for three reasons:
The factors that contributed to the earnings beat have little implications beyond the reported quarter.
The company faces a headwind from wing price collar renegotiation that offsets lower G&A spend.
A more limited stock buyback program is likely moving forward.

"While we recognize BWLD's solid brand, cyclical challenges (e.g., wings), depressed valuation, and negative investor sentiment, we are surprised the market's approach to BWLD's valuation/fundamentals would change so dramatically without improvements in comp or underlying earnings momentum," the analyst wrote.

At time of publication, shares of Buffalo Wild Wings were up 20.64 percent at $122.03.

Related Link:Can New Promotions Rescue Buffalo Wild Wings?
View Comments and Join the Discussion!
Posted-In: Analyst Color Earnings Long Ideas News Guidance Price Target Reiteration Restaurants Best of Benzinga