Never Mind The Blue-Collar Base: Trump Is Losing The Elites, Analyst Says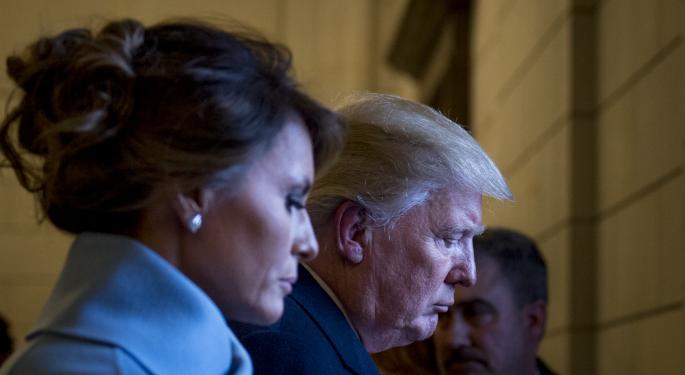 What began with a deadly clash in Virginia led to a perfect storm that threatens the global economy and stability of the dollar.
The danger is not so much that President Donald Trump is losing his angry, white, working-class base, but he is being abandoned by GOP elites who were hoping to profit from his now-stillborn agenda.
In fact, Trump's reaction to the riots in Virginia, the bolting of support by corporate America and his administration's belligerent opening day of renegotiations of the NAFTA trade pact have created a tumult that is heightening the president's prospects for impeachment, a geopolitical risk analyst said.
Political economist Mark Y. Rosenberg, CEO of the predictive analytics firm GeoQuant, has been tracking the arc of Trump's nearly seven months in office to their current nadir. What does it all mean?
"It means that the ongoing drama in Washington will continue to weigh on the dollar — politics will stall pro-growth tax reforms and infrastructure projects while increasing the debt ceiling showdown and presidential impeachment, while also exacerbating uncertainty around geopolitical risks like North Korea and Russia," he told Benzinga Thursday.
"More broadly, although geopolitics are famous for having mostly short-lived impacts on equity markets, in this environment higher political risk could exacerbate a more sustained correction/reversal in the bull market."
See Also: Market Volatility? Try Civil Unrest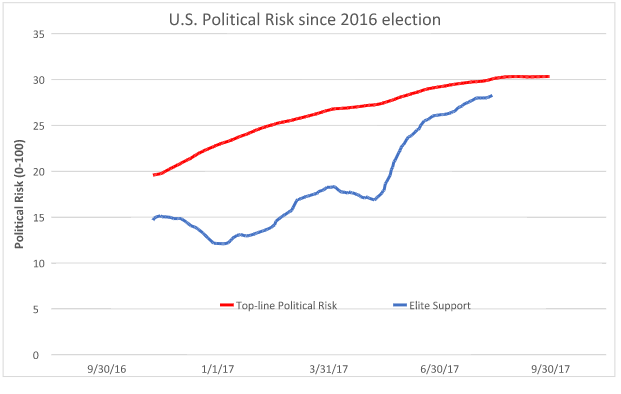 How Did This All Happen?
The Hill reports that White House officials are exploring ways to still pressure embattled Senate Majority Leader Mitch McConnell to return to repealing the Affordable Care Act when the Senate reconvenes in September. Trump, who has repeatedly ridiculed McConnell in public, wants to get back to the first item on what has become a failed agenda.
Efforts to move on to a massive infrastructure plan were derailed when Trump, at a news conference, hammered hard again that the neo-Nazi protesters last weekend in Charlottesville, Virginia, were the moral equivalent of the counter-protesters who fought them.
Trump sought to stop the steady stream of CEOs leaving his two corporate-oriented advisory councils by eliminating them entirely.
He took a break from saber-rattling with a nuke-capable North Korea when the leaders of both countries backed down from bombastic boasts of mutually assured destruction.
Trump's war on the North Atlantic Free Trade Agreement with Mexico and Canada opened this week with the U.S. seeking to bully its way to concessions with its two neighboring nations.
The U.S. Engine That Drives The Global Economy Is In Danger
The fallout has been fast and furious. The dollar was nose-diving and global markets were flat, even though the Dow continued to exist in a dreamworld where everything was just fine.
Despite the blinders on Wall Street, Rosenberg said earlier that harsh realities will take a toll.
"This clearly has bearish implications for the USD; (Tuesday) the greenback was enjoying its best week since February until news of Trump's CEO purge and some mixed-message Fed (signals) knocked it back down."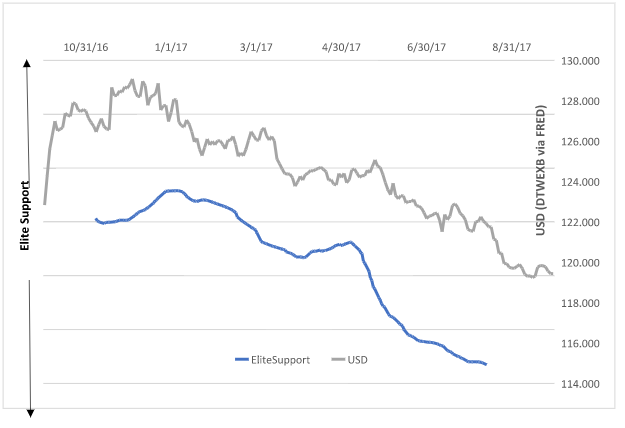 ______
Main Image Credit: By DoD photo by U.S. Air Force Staff Sgt. Marianique Santos [Public domain], via Wikimedia Commons
Posted-In: Analyst Color Futures Politics Forex Psychology Federal Reserve Startups Exclusives Best of Benzinga
View Comments and Join the Discussion!