Great Expectations For Canada Goose's Q1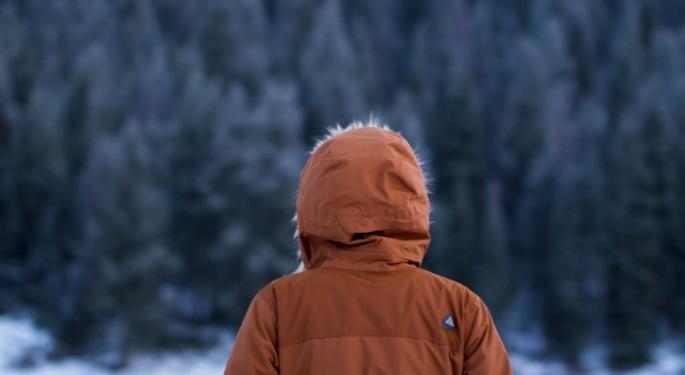 Analysts from Baird and Barclays have a positive outlook for the Canada Goose Holdings Inc. Subordinate Voting Shares (NYSE: GOOS) first-quarter earnings report when it lands Thursday morning.
Q1 represents only 3 to 4 percent of Canada Goose's annual sales, Baird analyst Jonathan Komp said in a Tuesday note.
Baird is projecting a drop in revenue of 0.5 percent to $12.27 million against a consensus of $12.98 million.
The opening of Canada Goose stores in Toronto and SoHo last year was "wildly successful" and drove direct-to-consumer revenue up 260 percent and profit up 500 percent in 2017, according to Baird.
The company plans to open three retail stores and seven country-specific websites in 2018, giving a potential upside scenario for the second half of the year, Komp said.
Currency could become a limiter on profits for Canada Goose if today's rates hold, the analyst said.
Komp anticipates learning more about the fall and winter lineup, which will include five jackets marking Canada Goose's 60th anniversary, as well as the customer reaction to a launch of a premium knitwear line.
Baird has a Neutral on Canada Goose and a $22.81 price target.
The Toronto-based apparel maker, which launched its IPO March 16, has been criticized by animal rights groups such as PETA for the use of goose down and coyote fur in its jackets, which retail in the $800-$1,000 range.
Analysts Looking Ahead To Sales Season
Barclays maintained an Overweight on Canada Goose and $30 price target. Goose shares have fallen 20 percent since the company's fourth-quarter report in June.
The drop was likely due to a secondary offering of 14.4 million shares on June 26, "rather than a meaningful deterioration in the growth outlook," said analyst Jim Durran.
The company's long-term guidance for 20 percent EBITDA and EPS growth "remains largely intact," Durran said.
"We believe the stock's valuation will continue to hold around current levels over the next 12 months, providing meaningful share price upside as the company grows into stronger earnings."
Barclays is forecasting a first-quarter loss per share of 15 cents against a consensus of 19 cents.
Canada Goose's sales are seasonally low in Q1, resulting in lower expenses and making the quarter an "investment period" for the company, Durran said.
"We believe much of the market's attention will be placed on any incremental commentary on the important fall selling season as well as the longer-term outlook."
Related Links:
Canada Goose Somehow Pulls Off A Functional Brand With Luxury Appeal
3 Strategies That Could Result In High Growth For Canada Goose
Posted-In: Baird Barclays Canada GooseAnalyst Color Previews Analyst Ratings Trading Ideas Best of Benzinga
View Comments and Join the Discussion!