Reality Reflects Art: World Puts Grisly Graphics On Cigarette Packs; US Tries Different Approach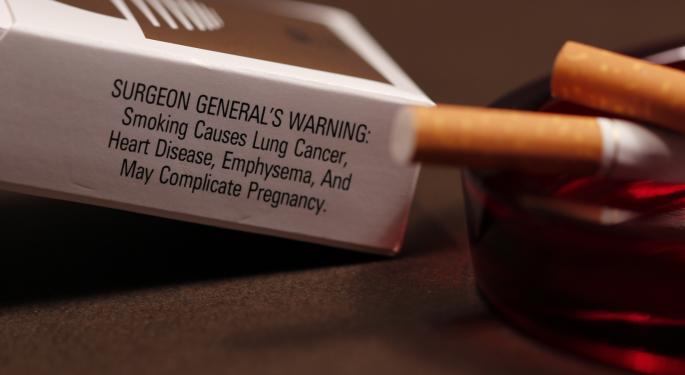 Where have we seen this movie before? It was "Thank You For Smoking," a barbed satire based on a Christopher Buckley novel about the government's attempt to rein in the cigarette trade by forcing Big Tobacco to put a skull and crossbones on every pack.
Since that movie came out in 2006, the number of countries requiring the frequently gruesome images skyrocketed from six that year to 78 as of 2016, according to Statista.
The stats group attributed the rise to the World Health Organization's push to use grisly graphics as a deterrent, a movement that has repeatedly failed in the United States.
One of the most recent countries to require images of scarred throats, rotten teeth, tar-stained lungs and open wounds was the United Kingdom, which made the move in May.
In the Philippines, President Rodrigo Duterte (who's been accused of having his forces kill nearly as many people as cigarettes have) signed an executive order, also in May, that will impose a wide-ranging ban on smoking in public.
US Efforts Failed So Far
Efforts to curb smoking through the use of images have been unsuccessful in the United States, where Big Tobacco commands an army of lobbyists and lawyers from its headquarters in Winston-Salem, North Carolina. Congress approved such a regulation in 2009, but the courts have repeatedly struck it down.
Now the feds are trying a different approach: mandating that Big Tobacco gradually reduce the level of nicotine until it is non-addictive. It's actually an extension of the ill-fated graphic proposal from 2009.
The Food and Drug Administration is extending the timeline to submit review applications for newly regulated products, such as cigars, pipe tobacco and hookah tobacco, to Aug. 8, 2021. Applications for non-combustible products, like chewing tobacco, will be due Aug. 8, 2022.
Tobacco stocks took a dive last Friday when the FDA announced the upcoming regs, but analysts said the market overreacted to something that might actually be a boon to the cigarette-rolling tycoons.
This Thing Might Work, Analysts Predict
"Investors interpret any regulatory efforts to dampen demand for cigarettes, by reducing nicotine to non-addictive levels, as a negative for the industry," said Mike van Dulken, research head of Accendo Markets.
His reasoning?
"Firstly, this is a plan to start a public dialogue focused on protecting children and reducing tobacco-related disease and death."
"Secondly, the fine print suggests balancing regulation of existing products with encouraging innovation for future less harmful options."
"Thirdly, there may be exemptions and delayed implementation of existing rules that offers some relief."
"Lastly, never underestimate the lobbying power of the mighty tobacco industry."
As Nick Naylor, the tobacco lobbyist portrayed so memorably by Aaron Eckhart said in "Thank You For Smoking:"
"Few people on this planet know what it is to be truly despised. Can you blame them? I earn a living fronting an organizing that kills one thousand two hundred human beings a day; twelve hundred people. We're talking two jumbo jet plane loads of men, women, and children. I mean there's Attila, Genghis, and me, Nick Naylor the face of cigarettes, the Colonel Sanders of nicotine."
"Michael Jordan plays ball. Charles Manson kills people. I talk. Everyone has a talent."
Related Link: Analysts Say FDA Nicotine Cut Not As Bad As It Looks
_________
Image Credit: By CDC/ Debora Cartagena [Public domain], via Wikimedia Commons
Posted-In: Analyst Color News Health Care Futures Commodities Politics Psychology Topics Best of Benzinga
View Comments and Join the Discussion!