FDA's Nicotine Cut: Not As Bad As It Looks?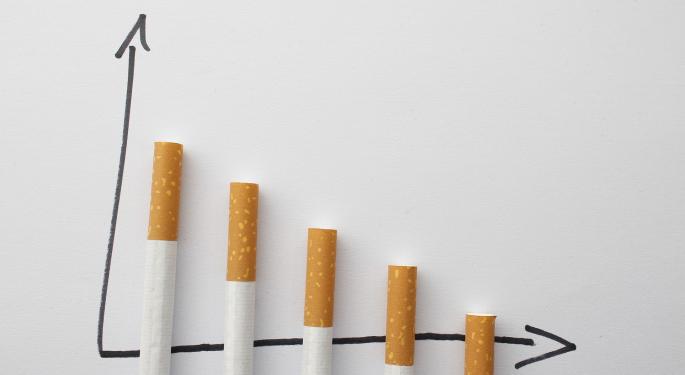 Analysts warned investors Friday not to overreact to a Food and Drug Administration edict to cut nicotine in cigarettes to non-addictive levels, saying it actually may be good for Big Tobacco's profits.
Regardless, shares of cigarette manufacturers plummeted when the FDA announcement came down.
"We see this as a positive for future profit growth as it could lead to positive volume growth in vapor and also more favorable tax treatment than seen currently," a Jefferies analyst said in a note.
"As part of this they recognize there is a continuum of risk and products where user can get nicotine but with less harm."
Smoke 'Em If You Got 'Em
"Investors interpret any regulatory efforts to dampen demand for cigarettes, by reducing nicotine to non-addictive levels, as a negative for the industry," Mike van Dulken, research head of Accendo Markets. "This may be an overreaction, however."
Related Link: FDA Says It Will Cut Nicotine In Cigarettes To Non-Addictive Levels
His reasoning:
"Firstly, this is a plan to start a public dialogue focused on protecting children and reducing tobacco-related disease and death."
"Secondly, the fine print suggests balancing regulation of existing products with encouraging innovation for future less harmful options."
"Thirdly, there may be exemptions and delayed implementation of existing rules that offers some relief."
"Lastly, never underestimate the lobbying power of the mighty tobacco industry."
Where There's Smoke There May Be No Fire
"It might not sound great, but it doesn't read like the industry is destined to go up in smoke. Shares are already well off their worst levels," said van Dulken.
Tobacco Has Time To Tone It Down
The FDA is extending the timeline to submit review applications for newly regulated products, such as cigars, pipe tobacco and hookah tobacco, to Aug. 8, 2021. Applications for non-combustible products will be due in Aug. 8, 2022.
Market Vitals
At time of publication:
Posted-In: News Health Care Commodities Psychology FDA Markets Movers General Best of Benzinga
View Comments and Join the Discussion!