Can The Return Of Google Glass Fight Off Job Automation? Gene Munster Says Not For Long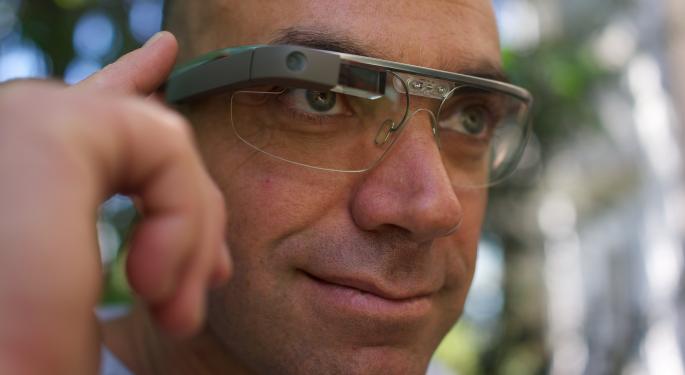 Google Glass is back, now simply named "Glass," and aiming to revolutionize the way people work.
Glass, a wearable computer mounted on eyeglasses, was first made available to the general public in May 2014. It proved to be one of Alphabet Inc (NASDAQ: GOOG) (NASDAQ: GOOGL)'s rare failures though, after widespread criticism and legislative action over privacy concern, and production stopped in January 2015.
On Tuesday morning, Jay Kothari, the Glass project lead, wrote a blog post announcing why and how Glass was returning.
A Clear New Mission
For the past two years Glass has been in testing with over 50 businesses, ranging from heavy manufacturers like General Electric Company (NYSE: GE) to health care providers like Dignity Health.
The goal was to use Glass to aid workers in their day-to-day roles. Playing an instructions video during airplane maintenance, mapping a warehouse for inventory movement and taking notes during a talk with patients are some of its uses.
Following the success of the past two years, Glass is now available to businesses in the Glass Enterprise Edition, named in the style of the original Glass Explorer Edition.
Other high-profile businesses using Glass include AGCO Corporation (NYSE: AGCO), Boeing Co (NYSE: BA), Samsung and Volkswagen AG (ADR) (OTC: VLKAY).
Improved Efficiency
Throughout the post, Kothari sprinkled in examples of how Glass improved work flows.
At GE, airplane mechanics are estimated to be 8-12 percent more efficient because they no longer have to check binders or computers for instructions.
Glass cut machinery time at AGCO by 25 percent and inspection times 30 percent. DHL estimated that supply chain efficiency increased 15 percent since it started using Glass.
In the health care space, Dignity's Chief Medical Information Officer, Davin Lundquist, said the amount of time each day spent typing notes and doing other administrative tasks was cut down from 33 percent to under 10 percent. In addition, time spent interacting with patients doubled.
Implications For The Future
As robots slowly displace human workers, Glass seems like it could be one method for humans to fight back against the machines.
Automation is strictly a cost-saving measure, driven by efficiency gains and saved wages. Humans equipped with Glass could potentially address that first point, as Kothari's data indicates.
Loup Ventures co-founder Gene Munster agrees, for now at least.
"I think this is a perfect example of how humans can remain competitive to robot automation in the near future," Munster told Benzinga. "However, I am still a big believer that robots will become too cheap and productive for companies not to adopt this technology."
Munster noted that Glass is able to drive efficiency because it allows workers faster access to data. Robots, however, programmed to perform standard tasks never need to check instructions.
Additionally, advances in artificial intelligence will allow machines to process data from variable situations "faster than humans," according to Munster.
Loup Ventures' research focuses on developments in artificial intelligence, robotics and other technologies. Analyst Andrew Murphy recently concluded a series of notes on the growth of robotics in the economy.
Get the latest in financial news and analyst coverage in real-time with Benzinga Pro.
Related Links:
Munster Compares Tesla's Model 3 To Apple's iPhone: 'It Could Change The World'
Munster Says Amazon Is 'Building The Future Of Retail By Rebuilding The Past'
image: By Loïc Le Meur (Flickr: Loïc Le Meur on Google Glass) [CC BY 2.0 (http://creativecommons.org/licenses/by/2.0)], via Wikimedia Commons
View Comments and Join the Discussion!
Posted-In: Dignity Health Gene Munster Google GlassAnalyst Color Top Stories Exclusives Analyst Ratings Tech Best of Benzinga