With Avis Deal, Waymo Solves A Key Autonomous Car Challenge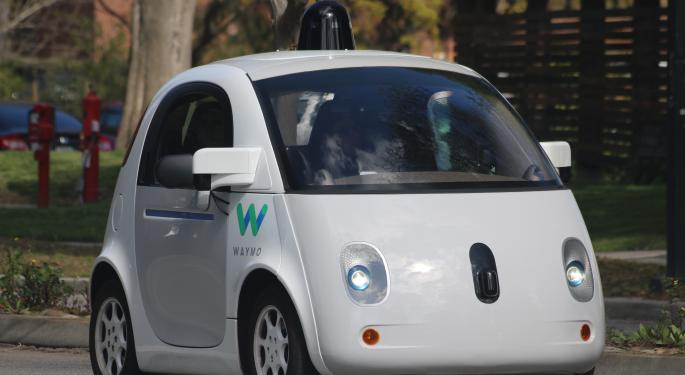 Avis Budget Group Inc. (NASDAQ: CAR) announced Monday it has formed a partnership with Alphabet Inc (NASDAQ: GOOG) (NASDAQ: GOOGL)'s autonomous car business, Waymo.
Under a multi-year agreement, Avis will service and store 600 of Waymo's self-driving cars. The fleet is part of Waymo's test program in Phoenix, Arizona. The arrangement solves a key problem faced by companies working to incorporate autonomous cars into ride-hailing services.
"With members of the public using our growing fleet of self-driving cars, our vehicles need standard maintenance and cleaning so they're ready for our riders at any time of the day or night," Waymo CEO John Krafcik said in a press release.
Waymo could also benefit from Avis' extensive network of traditional cars, customers and Zipcar, which could be transformed into an autonomous transportation network.
A Self-Driving Triumvirate
The self-driving car industry has seen a flurry of deals between automakers, technology creators and ride-hailing services.
Among Waymo's deals is a partnership with Lyft. Although the details haven't been made public, it's assumed that Waymo will provide a fleet of cars for Lyft to operate through its ride-hailing ecosystem.
Lyft doesn't have the infrastructure in place though to service a fleet of cars. At the same time, Avis' Zipcar service doesn't have the technology to deploy cars like a taxi service. Waymo, as noted, needs both companies for maintenance and data networks.
The three could potentially enter an agreement to operate as one autonomous transportation system.
"Lyft has the customers and the network. Waymo has the vehicles. Avis has the fleet management capabilities," Michael Ramsey, a Gartner analyst and former automotive reporter, told Benzinga.
"It's pretty complex, but it's a model that actually could work," said Ramsey.
What's standing in the way is how costs to consumers would increase under that sort of deal. With three partners splitting each fare, pricing would have to be adjusted high enough for it to be worth it for each company while not being too high for riders to actually pay.
Driving The Industry Forward
"Everything they're doing right now is just trying stuff out," said Ramsey. The wide range of deals between companies is a matter of finding a business model that can actually deliver self-driving technology to the public in a widely-accessible and profitable way.
Uber, which has found itself to be something like a mix of Waymo and Lyft, "may consider now teaming up with one of the rental car companies," said Ramsey.
The next big hurdle for Waymo and the rest of the autonomous car industry to clear looks to be insuring their fleets. The industry is still very young, and insurers can't easily predict what the risks and costs look like.
"Initially insuring the [self-driving] vehicles will be extremely expensive, despite the promise that they may not be as dangerous as humans," said Ramsey. "The potentially liability is extremely high if something does go wrong."
Perhaps insurance is where Waymo will seek its next deal.
Avis shares spiked 20.4 percent to $29.30 before pulling back to around $26.50 by 1 p.m. ET. Hertz Global Holdings, Inc (NYSE: HTZ) was also trading up about 9 percent to $10.45.
Related Links:
Your Guide To Trading The Autonomous Vehicle Theme
Saving The Uber Kalanick Built
Image: Grendelkhan (Own work) [CC BY-SA 4.0 (http://creativecommons.org/licenses/by-sa/4.0)], via Wikimedia Commons
Posted-In: Analyst Color News Contracts Travel Top Stories Exclusives Tech General Best of Benzinga
View Comments and Join the Discussion!