Top 5 Companies For Autonomous Vehicle Technology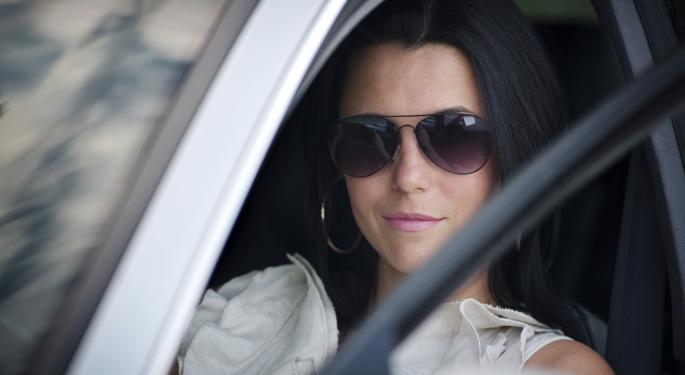 Two of the business-related buzz phrases for which 2014 will be remembered are "autonomous vehicle" and "self-driving car."
Both traditional auto-makers and new technology giants have leaped into the autonomous vehicle race. While some companies have made promises to have self-driving cars on sale to the public by 2020, analysts wonder if that timetable is realistic.
Nonetheless, the race is on, in earnest.
The marketing research group Appinions recently issued a new report listing what it considers to be the five most influential autonomous car companies. The rankings were compiled by analyzing "hundreds of millions of news, blog, forum and social media posts" during the past several months.
Related Link: Auto Leasing Rates Back At Pre-Recession Levels
Here's the list:
Google
According to Appinions, Google (NASDAQ: GOOG) (NASDAQ: GOOGL) caught the autonomous car market off-guard in May, by announcing its plans to build around 100 of a prototype car the company said will be "designed to operate safely and autonomously without requiring human intervention."
Since then, Appinions notes, "traditional auto companies like GM, Mercedes, and Nissan have been working to emphasize their autonomous car plans as well. Despite this push, Google still remained over 20X more influential than leading auto manufacturer GM."
Intel
This past May, Intel (NASDAQ: INTC) unveiled what it described as "a family of hardware and software products...as well as additional investments and advanced technology research" designed to accelerate the development of autonomous vehicles.
"Our goal is to fuel the evolution from convenience features available in the car today to enhanced safety features of tomorrow and eventually self-driving capabilities," Doug Davis, corporate vice president, Internet of Things Group at Intel, said in a press statement.
Back in 2012, Intel also established the $100 million Intel Capital Connected Car Fund. That fund was designed to help the automotive industry's connectivity between its vehicles and consumer electronic devices, with an eye toward new technologies that will "enable future autonomous driving capabilities."
GM
General Motors (NYSE: GM) has its own Emerging Technologies workshop, noting on its Web site that "The dream of a car that can drive itself is closer to reality than you might think."
It points to its Chevrolet EN-V (Electric Networked-Vehicle), which combines high-tech safety features with state-of-the-art communications software, "to demonstrate how a fully autonomous driving experience can change the way we think about driving for the future. "
The company says it expects semi-autonomous vehicles to be available to customers before the end of the decade, with fully-autonomous vehicle technology, for cars that can self-navigate on roadways, "ready during the next decade."
Mercedes Benz
Mercedes Benz (OTC: DDAIF) describes itself as "the first motor manufacturer to demonstrate the feasibility of autonomous driving on both interurban and urban routes." It notes that partially-automated driving is already available in its new Mercedes-Benz E and S-Class models.
The company is concentrating its autonomous vehicle efforts, at least for now, on trucks –- with the goal of a fully-automated truck by 2025. Mercedes recently completed its first driverless truck tests on Germany's Autobahn.
"The truck of the future is a Mercedes-Benz that drives itself," Dr. Wolfgang Bernhard, member of Daimler's board, told DigitalTrends.com. "The Future Truck 2025 is our response to the major challenges and opportunities associated with road freight transport in the future."
Audi
Audi (OTC: AUDVF) considers itself at the vanguard of autonomous driving research. In 2010, an Audi research car, developed by the Volkswagen Group and Stanford University, "autonomously completed the 156-turn, 12.42-mile Pikes Peak circuit (in Colorado) in just 27 minutes."
Last year Nevada granted Audi a license to test autonomous vehicles on the state's roads. It was the second such license issued, with the first going to Google.
View Comments and Join the Discussion!
Posted-In: automotive automotive industry autonomous vehicles cars DigitalTrends.comTravel Tech General Best of Benzinga