Nike Vs. Under Amour: How Has This NBA Finals Trilogy Played Out For These Apparel Titans?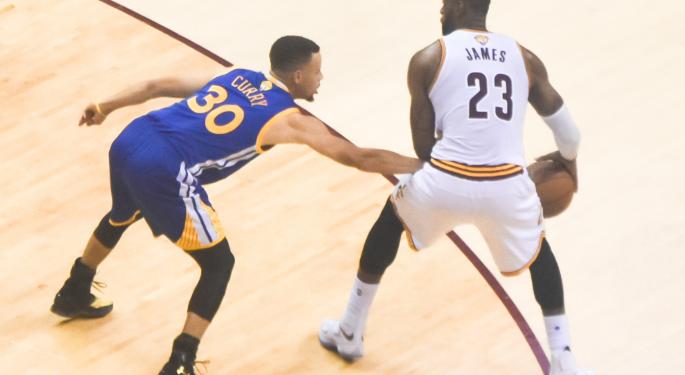 As the Cleveland Cavaliers face elimination in Game 5 of the NBA Finals, they find themselves at a very familiar 3–1 deficit.
The NBA as a whole has found itself in a quite a familiar spot as well this June, a month in which the Warriors and the Cavaliers have faced each other three straight times in the Finals, with alternating championship wins.
While little has changed between Cleveland and Golden State, except one very big addition by the Warriors, the battle between Nike Inc (NYSE: NKE) and Under Armour Inc (NYSE: UAA) has significantly changed since these two teams met in June of 2015.
Curry Impact
In Steph Curry's first Finals appearance two years ago, the battle of the sportswear giants Nike and Under Armour was really starting to heat up. Nike had a dominate share of the basketball footwear market (north of 95 percent), and adidas AG (ADR) (OTC: ADDYY) was teetering on the brink of irrelevance.
While Curry continued to dazzle fans with his 3-point range and shooting ability, Under Armour was capitalizing on the star's momentum, with an aggressive push into basketball footwear. The opportunity was ripe to steal market share away from Nike behind one of the brightest stars in the league.
Under Armour Setbacks
Under Armour's stock continued to soar after the Warriors their first NBA championship in 40 years. The momentum was there for the company, which aggressively stated it wanted to build a $1 billion basketball business around Curry.
Following several disappointing subsequent Curry shoe releases, LeBron James' dominance in the 2016 Finals that saw an 3–1 unprecedented comeback and a PR blunder where CEO Kevin Plank aligned himself with President Donald Trump, Under Armour has found itself in a much different position this time around.
Shares have sunk over 44 percent since the win two years ago, and footwear sales grew just 2 percent year-over-year in the first quarter.
Top 5 NBA Signature Shoe Sales
As of March 2017, per NPD Group:
LeBron James (Nike).
Kyrie Irving (Nike).
Stephen Curry (Under Armour).
Kevin Durant (Nike).
James Harden (Adidas).
Rebuilding The House
Under Armour may be on a better, more conservative course this time around. The Curry 4 has received much-needed favorable response on social media during the Finals. Wells Fargo also saw the response as a bright spot moving forward.
"We are encouraged (cautiously) by the prospects for the Curry 4 shoe, and the potential "halo effect" it could have on the brand," said Wells Fargo analyst Tom Nikic, after Curry unveiled the shoe in Game 1.
The company will likely take a different approach to the shoe release in the fall, with less inventory as retailers gauge interest. Under Armour's flagship star will also take his annual trip to Asia to market the shoe on a global scale, this time going traveling with his brother, Seth.
Adidas Has Become The Real Growth Story
Nike, on the other hand, has also experienced notable struggles over the past two years, with basketball footwear trending negatively and Adidas surging in North America. Nike's footwear sales grew just 4 percent in the most recent quarter, while Adidas as a whole grew 31 percent in North America.
The German sportswear brand hasn't had much of a presence in basketball during this time, instead focusing on creating relevant fashionable styles and connecting with the modern day consumer. Shares of Adidas have soared over the past two years, gaining 143 percent and reaching all-time highs, while Nike delivered a paltry 4-percent gain over the same timeframe.
Despite having virtually no presence in the NBA Finals, Adidas continues to be the hot story in the athletic apparel space. Under Armour is writing it comeback story, while Nike weathers market-share losses and repositions itself toward dominance.
Starting next season, all three companies might have to compete with a notable entrant into the NBA signature shoe market as well.
Related Links:
The Comeback Story Of This Years NBA Finals? Steph Curry's Sneaker Line
Under Armour Needs To Stop Trying To Compete With Nike
Image: Erik Drost, Flickr
View Comments and Join the Discussion!
Posted-In: Analyst Color News Previews Sports Events Analyst Ratings Trading Ideas General Best of Benzinga