Far From Fake News: Susquehanna's Under Armour Downgrade, CEO Kevin Plank And Political Fodder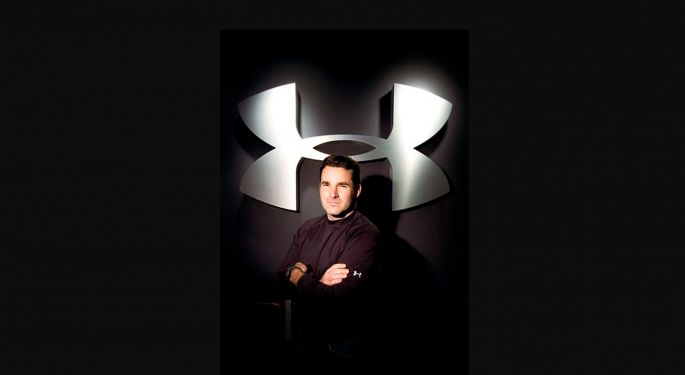 Earlier this week, Susquehanna's Sam Poser downgraded Under Armour Inc (NYSE: UA) (NYSE: UAA)'s stock — mostly due to the company's CEO Kevin Plank and his praise of President Donald Trump.
Plank is a member of Trump's manufacturing council and described the president as being a "pro-business president" and a "real asset for the country." However, in today's politically charged environment, supporting the president is an unpopular position — especially among Hollywood celebrities and athletes. By contrast, a company that manufactures heavy equipment for industrial use is more likely to be able to openly support the president without seeing any backlash from its customers.
Related Link: A CEO Who's Who Of Trump's Manufacturing Council
In fact, one of Under Armour's most notable brand athletes, NBA superstar Steph Curry, blasted Plank's support for Trump.
According to Bloomberg News' Joe Weisenthal, the downgrade is one of the most fascinating stories of the week as the CEO's support of Trump is now "reason enough to downgrade the company."
Political Motivations At Large
Moving forward, buying (or not buying) Under Armour's products will partly be politically motivated. Specifically, those in the pro-Trump camp may become brand loyal towards Under Armour but those in the anti-Trump camp who were already brand loyal to Under Armour may now shop elsewhere.
As such, Weisenthal noted that there may be some logic to Poser's thinking and it could also mark a shift in how Wall Street research firms look at companies under their coverage. This is why Weisenthal believes no company wants to be labeled as either "pro-Trump" or "anti-Trump."
The bigger problem is, by the time Trump's first term comes to an end in four years, it is unlikely there won't be a single company left that hasn't earned the reputation as being on one side or the other.
Image Credit: By Dcavalli (Own work) [a href="http://creativecommons.org/licenses/by-sa/3.0">CC BY-SA 3.0 or GFDL)], via Wikimedia Commons
Posted-In: Analyst Color News Downgrades Politics Analyst Ratings Media Trading Ideas General Best of Benzinga
View Comments and Join the Discussion!