Now It's Official: A Look At Digital Realty's Strategic Telx Acquisition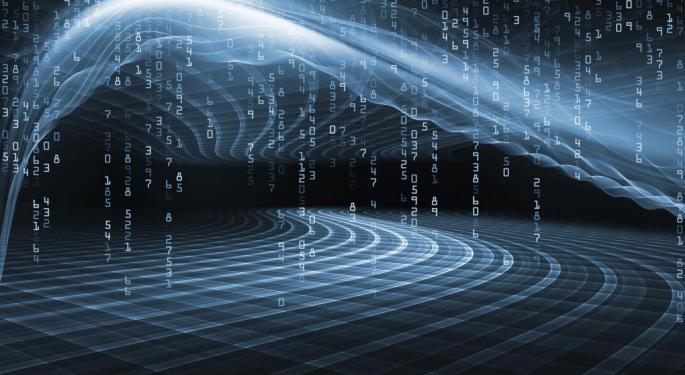 Fitch accidently "spilled the candy" on Monday by prematurely releasing a ratings update initiated by the Telx transaction. However, this M&A deal has been rumored to take place for several months.
Data center giant Digital Realty Trust, Inc. (NYSE: DLR) on Tuesday formally announced the acquisition of co-location and interconnection provider Telx, a privately held company for a reported ~$1.9 billion.
According to the joint announcement, "Telx's extensive interconnection ecosystem enables the exchange of information between communications service providers, enterprises, content providers and other entities with low latency and diverse connectivity across a global network and is expected to provide Digital Realty an opportunity for future growth."
Related Link: REITWeek Data Centers: Stifel Reports On Rumored Digital Realty M&A Deal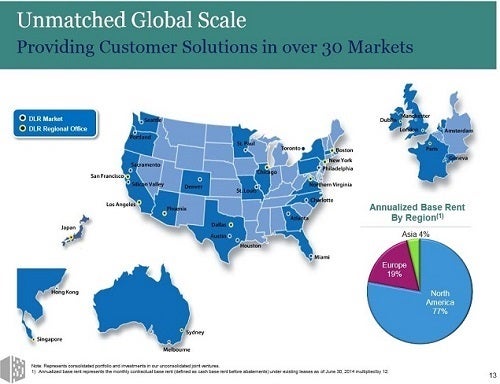 Source: DLR
Much-Awaited Strategic Shift
Telx is a major tenant for Digital, occupying 11 of its 130 data centers, making this a strategic acquisition on many levels.
By acquiring Telx, Digital will be able to offer new products and compete for smaller colocation tenants, which generate much higher MRR (monthly recurring revenue) per square foot. The Telx customer logos should significantly boost the number of Digital customers beyond its current ~650 wholesale tenants who primarily lease the Digital legacy Power Base Building and Turnkey Flex products.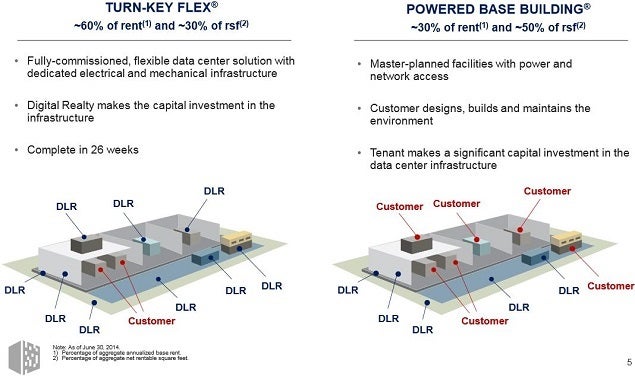 It will increase the customer density in its data centers to begin to create a more vibrant colocation and interconnection business ecosystem. It can vastly expand Digital's ability to incubate smaller tenants; It is impossible to predict which small cage colocation customer will grow into the next Internet giant who will become a significant wholesale customer.
The aqusition will help create new products that can be offered to existing tenants, which in turn helps to make them more "sticky" and reduce customer churn. The Telx acquisition should also help Digital to reap the rewards generated by the exponential growth in: cloud and managed services, wireless data and the Internet of Things.
The acquisition will also help Digital Realty to leverage its capex investments made over recent quarters to link all of its data centers, and drive higher ROIC -- a key metric for Digital CEO Bill Stein.
A Sense Of Urgency
The recent M&A announcement by Equinix, Inc. (NASDAQ: EQIX) and Telecity Group, has served to up-the-ante, and perhaps increase the urgency, for Digital Realty to make a strategic acquisition to support its interconnection and co-location efforts.
Equinix is a global leader in interconnection. It also has a history of growing by acquisition and integrating technology companies into its operation and has ~$7 billion in capex invested in its Platform Equinix.
Digital Realty under Stein has announced a series on management moves intended to augment the DLR "real estate DNA," with more technology horsepower. One of the challenges presented by the Telx acquisition will be how to blend the two corporate cultures.
Will Telx Be Accretive?
The simple answer appears to be yes. The release stated, "The transaction is expected to close later in the year and is subject to customary closing conditions. The transaction is expected to be accretive to 2016 financial metrics... Additional details about the transaction will be provided on Digital Realty's second quarter 2015 earnings call scheduled for Thursday, July 30, 2015."
After REITWeek 2015, Stifel analyst Matthew Heinz noted, "[The] Stifel preliminary pro forma model yields "~6% AFFO accretion in Year 1, assuming a $2.0 billion EV funded with a 50/50 mix of debt and equity, and ~$30M of AFFO synergies."
However, Heinz also cautioned investors regarding "a high margin for error around projected Telx financials given the lack of publicly available reported figures for the company."
Posted-In: data centers Matthew HeinzAnalyst Color REIT M&A Analyst Ratings General Real Estate Best of Benzinga
View Comments and Join the Discussion!