Small-Cap Wheeler REIT's Prospective 50% Total Return Is Attractive, Says JMP Securities
On July 10, JMP Securities analyst Mitch Germain initiated coverage on Wheeler Real Estate Investment Trust Inc (NASDAQ: WHLR) at Market Outperform.
Wheeler sports a market cap below $150 million, which is tiny compared with most publicly traded shopping center REITs.
Wheeler has been described by many REIT experts over the past year as being a speculative investment, largely because the current dividend distribution yielding over 10.5 percent exceeds cash available for distribution.
However, as part of the JMP bullish case, Germain expects this situation to resolve favorably moving forward.
The Price Of Growth
Wheeler became a publicly traded REIT in 2012 and currently owns 35 shopping centers and 7 land parcels located in secondary and tertiary markets.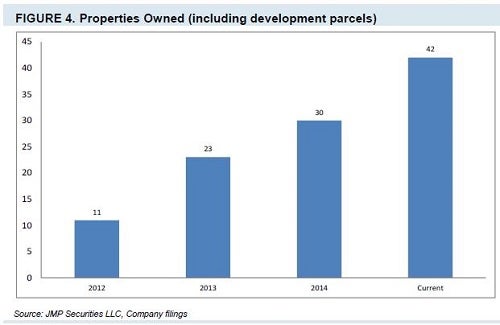 This small-market focus is key to the Wheeler investment thesis, because the REIT has little institutional competition for these acquisitions.
Related Link: Greece–U.S. REIT Investments: Is Now The TIme To Try Some GUMBO?
However, this growth path has not been a bed of roses for longer-tenured Wheeler shareholders with an IPO cost basis of $5.25 per share.
Tale Of The Tape: A Difficult Year
The first half of 2015 has featured a series of transformative balance sheet events, including an approximated $93 million preferred stock private placement – which converted to common at $2.00 per share – structured when the stock was trading in the $3.50 per share range.
During the past 52-weeks, Wheeler shares have traded in a range of $1.93–$4.71, closing up two cents on Friday at $1.98 per share.
A Recapitalized 'Wheeler 2.0'
After shareholders voted to approve the recapitalization, CEO Jon Wheeler's 30 percent ownership stake was diluted down to 5 percent, as there are now 6x more common shares outstanding.
On June 1, Wheeler also announced a new $45 million revolving credit facility led by KeyBanc.
Along with the $93 million dilution, Wheeler shareholders gained experienced institutional investors as board members with considerable skin in the game.
JMP On Wheeler: Market Outperform, $2.75 PT
The JPM $2.75 target price represents a potential 40 percent upside in the shares, not including the current 10.5 percent dividend yield.
The valuation was based upon JMP's "2016 year-end forward NOI, which assumes that all capital raised from the convert offering is invested, and that a conservative $120M of new investments are initiated in 2016, funded with an even combination of equity and mortgage financing."
Germain utilized a 7.5 percent cap rate, conservative when "compared to strip center cap rates of 7.2 percent, according to Real Capital Analytics, and the most recent CBRE Cap Rate Survey, which has class-B strip centers trading at 7 percent cap rates."
JMP valued Wheeler land holdings at cost since management has not given guidance on the timeframe for future developments.
Related Link: How Serial Issuers Of Debt And Equity Win: Morgan Stanley, Darden And Triple-Net REITs
JMP: Wheeler Vs. Peer Group Metrics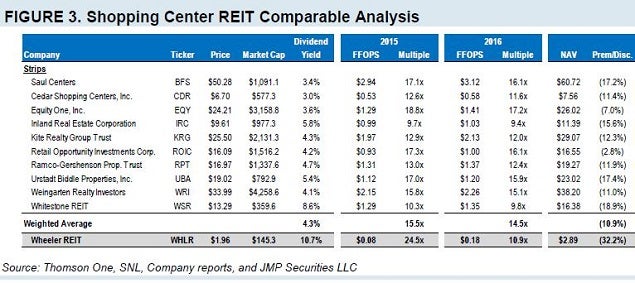 Based on the July 9 close of $1.96 per share, WSLR was trading at over a 30 percent discount to JMP's $2.89 calculated NAV per share versus a peer NAV discount averaging just under 11 percent.
JMP: Wheeler Dividend Concerns
In conjunction with the equity private placement balance sheet transformation, Wheeler halved its prior monthly distribution from $0.035 per share to $0.0175 per share in March 2015.
"Roughly 70 percent of the dividend is covered in 2016, and if we adjust the dividend equivalent to 2016 AFFO, the altered yield stands at 7 percent, which still remains considerably ahead of peers, making this investment opportunity attractive to yield-focused institutions," according to Germain.
JMP estimates the current dividend shortfall to be $3 to $4 million, annually; however, a significant accretive growth pipeline, shown below in Fig. 12, is forecast to pick up much of the slack by year-end 2016.
JMP: Strong Wheeler Operating Metrics
Wheeler shopping centers are 90 percent grocery anchored.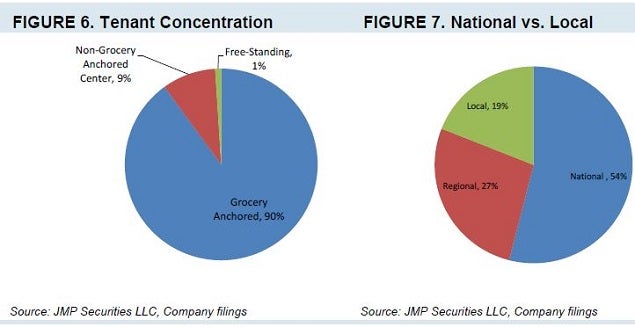 The neighborhood centers sell necessities, which are both recession and e-commerce resistant.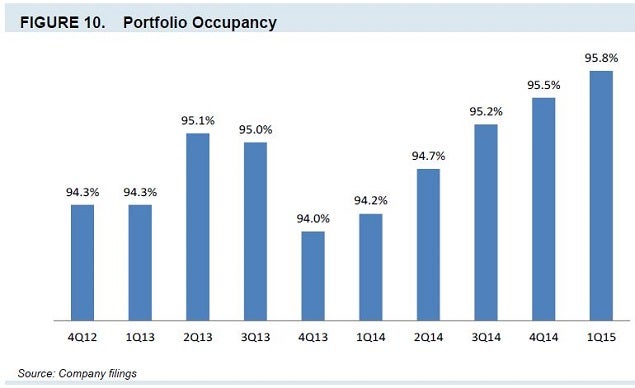 Notably, Wheeler re-leasing spreads during the first quarter were close to 10 percent.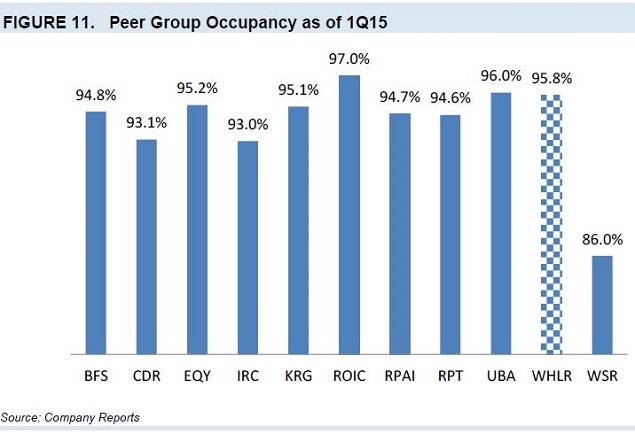 Wheeler portfolio occupancy is at the high-end of its small-cap shopping center peers.
JMP: Wheeler Acquisition Pipeline
JMP estimates Wheeler has about $170 million of dry powder to invest based upon a 55 percent LTV target.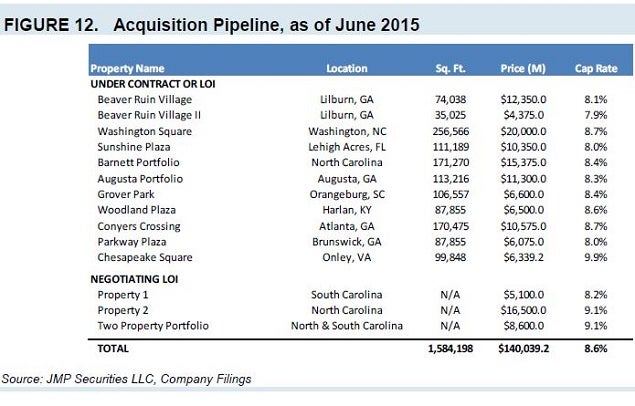 Germain noted that the 8.6 average cash cap-rate is on stabilized assets, primarily 90+ percent leased; he estimated levered returns in the low teens based upon 50 to 60 percent debt.
JPM's Bullish Bottom Line
JPM does not see "any headwinds given where the stock is trading currently, outside of potential liquidity constraints from some institutional investors, as the company has an ambitious growth strategy in place, along with a fiscally conservative posture toward managing the balance sheet, which we believe will result in multiple expansion."
Investor Takeaway
The old adage, "never let an old flame burn you twice," is certainly something for investors to consider.
On the other hand, JMP presented a cogent case as to why initiating a position at current levels just below $2.00 per share could be rewarding.
Wheeler REIT appears to be a special situation, suitable only for investors or traders who are willing to take on the risks associated with a potential 50 percent return.
Image Credit: Public Domain
View Comments and Join the Discussion!
Posted-In: Analyst Color Long Ideas REIT Dividends Small Cap Analysis Price Target Initiation Analyst Ratings Best of Benzinga