Jefferies Bullish On Home Health; Points Out Positives For 19 Stocks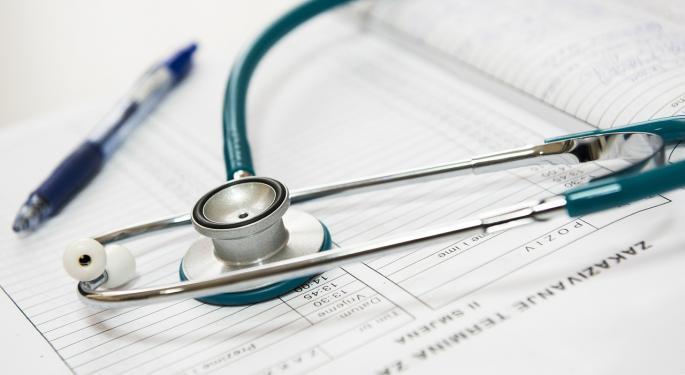 In a report published Friday morning, Jefferies analyst Brian Tanquilut and associate Jason Plagman provided some takeaways from the 2015 Jefferies Healthcare Conference.
The analysts walked away with the sense that most companies were optimistic about "their near- and longer-term outlooks as reimbursement/regulatory visibility has significantly improved and volume trends seem to be holding up well."
Their report continued, "As new H/C reimbursement models emerge and gain traction (including the BPCI program), home health demand is expected to rise meaningfully," they explain, adding that consolidation continues to be a key growth driver.
Related Link: Mizuho Updates Macro & Rate Outlook, 3 Healthcare REITS To Buy
Below are the key conclusions that the experts drew from the conference.
Reimbursement Outlook
The reimbursement outlook has ameliorated substantially as regulatory risks have declined. The "regulatory visibility is not only good for stock valuations but is also enabling mgmt. teams to plan their businesses relatively longer-term and pursue acquisitions," Tanquilut and Plagman explicated.
This is positive for post-acute facilities (home health, hospice, SNFs), labs including Quest Diagnostics Inc (NYSE: DGX) and Laboratory Corp. of America Holdings (NYSE: LH) and hospitals.
Upcoming SCOTUS Decision
Both management teams and investors seem particularly unworried about the soon-to-be-made SCOTUS decision regarding exchange subsidies. According to the note, several investors are saying that the current downside of approximately 10 percent implied in options trading seems excessive.
This is positive for hospitals: Community Health Systems (NYSE: CYH), Tenet Healthcare Corp (NYSE: THC) and HCA Holdings Inc (NYSE: HCA).
Additionally, this bodes well for emergency room operators, especially Envision Healthcare Holdings Inc (NYSE: EVHC).
Related Link: Billionaire-Tracking ETF Just Bulked Up On Healthcare
Maintained Volumes
Volumes seem to be holding up, which is positive for hospitals, physician providers, labs, behavioral health – particularly PHC Inc (NASDAQ: ACHC), veterinary operators like VCA Inc (NASDAQ: WOOF), physical therapy – U.S. Physical Therapy, Inc. (NYSE: USPH), imaging – RadNet Inc. (NASDAQ: RDNT) and ambulatory surgery centers (ASCs) – Amsurg Corp (NASDAQ: AMSG).
Alternative Payment Models
There's an increasing interest for alternative payment models, especially for Bundled Payments (BPCI).
This is helpful for hospitalist physician groups like IPC Healthcare Inc (NASDAQ: IPCM), Envision Healthcare Holdings Inc (NYSE: EVHC) and Team Health Holdings LLC (NYSE: TMH).
These alternative payment methods are also beneficial for home health providers, including Almost Family Inc (NASDAQ: AFAM), Amedisys Inc (NASDAQ: AMED) and LHC Group, Inc. (NASDAQ: LHCG).
On the other hand, smaller SNFs, IRFs and LTCHs will see a negative impact from these new payment models.
Consolidation, M&A
Consolidation and M&A continues to be a "key focus and growth driver for most companies."
This should benefit hospitals and home health, physical therapy providers, behavioral health, physician services and senior housing – mainly Brookdale Senior Living, Inc. (NYSE: BKD) and Five Star Quality Care, Inc. (NYSE: FVE).
Related Link: Humana Story Adds $10 Billion In Market Value To Managed Healthcare Space
'Look Again At Home Health'
The analysts "encourage investors to revisit the home health sector" given their view that this group will deliver substantial growth as demand for their low-cost services increases as a result of ameliorating hospital trends and the introduction the value-based payment models mentioned above.
"Improved reimbursement visibility is an incremental positive that should embolden mgmt. teams to ratchet up M&A," they conclude.
Ratings
Below are the ratings for each one of the companies mentioned above:
Almost Family, Inc.: BUY
Amedisys, Inc.: HOLD
Amsurg Corporation: BUY
Brookdale Senior Living Inc.: BUY
Community Health Systems, Inc.: BUY
Envision Healthcare: BUY
Five Star Quality Care, Inc.: BUY
HCA Holdings, Inc.: BUY
IPC Healthcare: HOLD
Laboratory Corporation of America Holdings: HOLD
PHC Inc: BUY
Quest Diagnostics Incorporated: HOLD
RadNet, Inc.: HOLD
Tenet Healthcare Corp.: BUY
U.S. Physical Therapy, Inc.: BUY
VCA Inc.: HOLD
Image Credit: Public Domain
View Comments and Join the Discussion!
Posted-In: Analyst Color Long Ideas Health Care Top Stories Analyst Ratings Movers Trading Ideas General Best of Benzinga