Citi Weighs In On REIT Sector M&A Trends: Is Simon/Macerich Just The Start?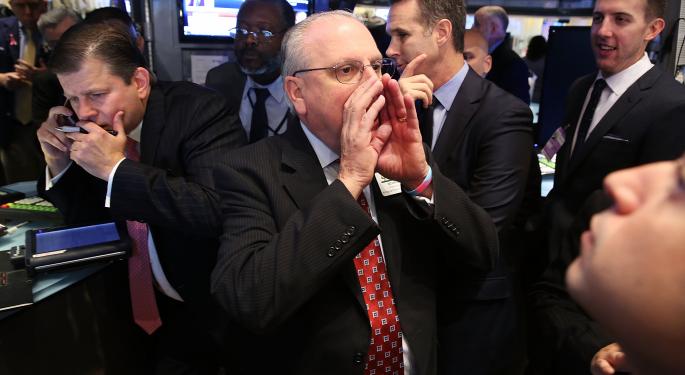 Citi Research on Monday issued a note including a subsection titled "Matchmaker, Matchmaker: Will Simon's Hostile Bid Spark REIT M&A?" in light of the ongoing hostile takeover attempt of Macerich Co (NYSE: MAC) by regional mall giant Simon Property Group Inc (NYSE: SPG).
Big Picture
Citi sees "consolidation in the mall, shopping center, healthcare and data center sectors and some potential within multifamily, office and industrial" possibly being on the horizon.
The note discussed Citi's tracking of 22 property-sector M&A deal announcements over the past two years, which totaled in at $81 billion.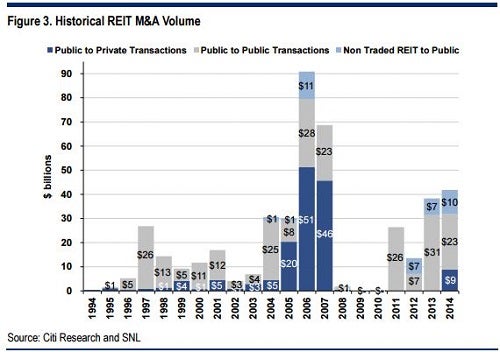 The chart above included public companies that acquired non-traded REITs, which totaled to $17 billion of the $81 billion.
However, Simon's bid for Macerich, valued at $22.4 billion, (including assumption of $6.4 billion of MAC debt), was not included in the 2014 transactions.
Related Link: Is Simon's Bid For Mall Rival Macerich A Game Changer?
Equity REIT Asset Class – Growth
Citi noted recent sector growth with the "number of equity REITs currently stands at 169, up meaningfully from a low of 109 back in 2008."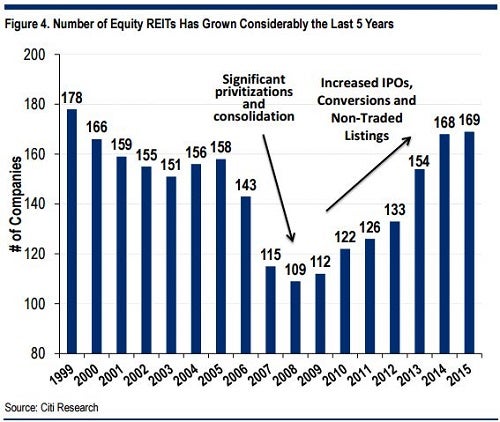 Additionally, the large number of companies taken private during the aftermath of the Great Recession and non-traded REITs looking for an exit strategy help create a target rich environment for potential M&A activity.
REIT M&A Drivers
The report included the following five drivers:
1. Larger Takeover Of Smaller Companies: Citi added that "bolt-on deals by the larger companies buying up the small/mid cap companies or larger stakes in their joint ventures are also possibilities."
2. Mergers Ahead: Citi also mentioned larger mergers as a possibility; however, corporate culture can make these deals more difficult to consummate.
3. Changes Of Command: Citi noted there "have been 14 CEO changes within the REIT industry over the past ~18 months," as a potential M&A catalyst.
4. Vertical Mergers: Least likely to occur in Citi's view would be so called "vertical mergers," such as "apartments merging with either student housing or senior housing, malls with shopping centers and office with industrial."
5. Small-, Mid-Cap Companies Join Up To Strategize: Citi stated, "Two smaller or mid-cap companies getting together to get bigger, lower their capital cost, diversify their assets/markets and reap financial synergies off larger basis."
Potential REIT M&A – Highlights
Regional Malls:
Topping the charts is the ongoing drama playing out for Macerich. In addition to the Simon offer, Citi noted that Australia-based Westfield and Ontario Teachers could potentially become bidders. Mr. Market continues to price Macerich shares above Simon's $91 per share offer.
Related Link: 5-Slide Summary: Simon's Rationale For Acquiring Macerich
This has been an active space recently, with Simon spinning out its smaller malls and outdoor centers into Washington Prime Group back in 2014. Washington Prime then bought Glimcher at the end of the year to form WP Glimcher.
Citi downplayed CBL & Associates Properties, Inc. (NYSE: CBL), Pennsylvania R.E.I.T. (NYSE: PEI) and Rouse Properties Inc (NYSE: RSE) as acquisition candidates based upon the overall lower quality of owned malls.
Citi mentioned Taubman Centers, Inc. (NYSE: TCO) as an attractive acquisition candidate based upon quality of assets, but noted that it has "protections in place to prevent a takeover."
Another candidate is $3.4 billion Tanger Factory Outlet Centers Inc. (NYSE: SKT), with Citi noting that it was a "perpetual take-out candidate given the focused portfolio and size."
Citi mentioned $3.7 billion cap Home Properties, Inc. (NYSE: HME) as a possible candidate, with potential suitors including $22.5 billion AvalonBay Communities Inc or West Coast-focused $14.6 billion Essex Property Trust Inc.
Citi noted that HME's East Coast assets have an overlap with core AvalonBay markets, while Essex would have to change its strategy from its laser West Coast focus.
Citi also noted that former non-traded REIT, Monogram Residential Trust Inc, formerly Behringer Harvard, recently listed and they expect to see more non-traded REITs follow suit.
Citi views $1.6 billion cap Retail Opportunity Investments Corp (NASDAQ: ROIC) "as an eventual take-out play given the management team's history of a willingness to sell at the right price and the attractive West Coast focus of the portfolio."
Citi mentioned $13.9 billion Starwood Hotels & Resorts Worldwide Inc (NYSE: HOT) as a potential prize, noting that its "stable of brands, attractive balance sheet, portfolio of owned hotels, established presence in timeshare, recent CEO departure and massive relative share underperformance could serve as catalysts for other brand companies."
Dominant brand oriented C-Corps, including: Marriott International Inc, InterContinental Hotels Group PLC (ADR) and Hilton Worldwide Holdings Inc were mentioned by Citi as "looking for regional acquisition opportunities."
Several smaller REIT lodging combinations and acquisition targets were discussed as well.
Posted-In: Citi Research Great Recession REITAnalyst Color REIT Analyst Ratings General Real Estate Best of Benzinga
View Comments and Join the Discussion!