Jefferies Weighs In Oil Prices & REITs - Apartment Supply/Demand
On March 11, Jefferies released a comprehensive research report: "Assessing The Oil & Gas Risk; Houston, You May Not Be The Only Problem."
Jefferies weighed in on the future prospects for three multifamily apartment REITs: Mid-America Apartment Communities Inc (NYSE: MAA), a part of its coverage universe, as well as notes on Camden Property Trust (NYSE: CPT) and Post Properties Inc. (NYSE: PPS).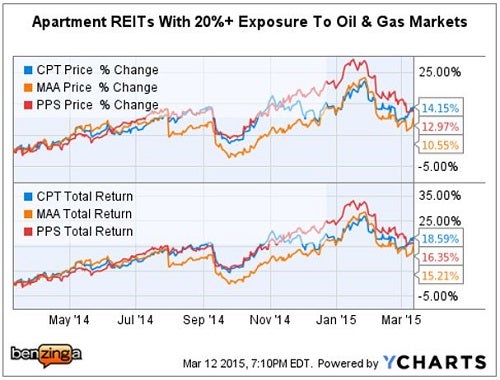 The report also discussed Civeo Corp (NYSE: CVEO), which operates housing villages and lodges that are clustered near oil and gas fields in the North America and Australia, as well as North Dakota-based Investors Real Estate Trust (NYSE: IRET), a diversified REIT with substantial Bakken Shale housing exposure.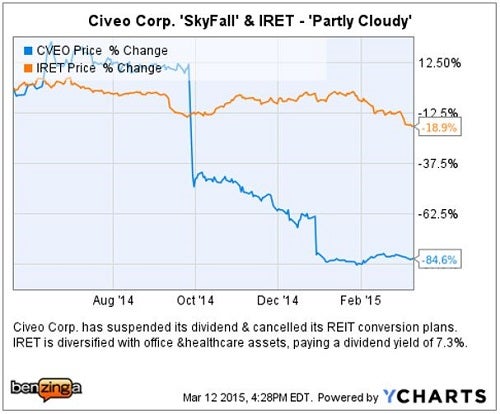 Jefferies: "U-Shaped" Oil Price Recovery - 2016 Headwinds
Jefferies proprietary analysis "suggests further downside risk for REITs with exposure to oil & gas markets despite recent underperformance."
"New construction across all asset classes in Texas is up meaningfully, which has or is expected to cause supply to outpace demand for most real estate classes in Houston and Dallas over the next several years."
Jefferies believes the most risk is in short-duration leases, "multi-family, storage and hotels face the most risk from prolonged low oil & gas prices…" due to lower demand and increasing supply.
Jefferies notably pointed out the "risk of downward earnings revisions in 2H15/2016 in a "U shaped" oil & gas recovery scenario creates further downside risk, especially for names with high leverage and/or high dividend payout ratios."
Civeo
Civeo's woes are unique due to "housing hundreds or thousands of workers with its long-term and temporary accommodations and provides catering, facility management, water systems and logistics services."
Shares of Civeo stock suffered "partially because of a decision to not convert to a REIT, but also due to declining earnings, soft 2015 guidance and a suspension of the dividend on Dec 29, 2014 due to a weakening in demand."
Investors Real Estate Trust
IRET currently has "heavy exposure to the North Dakota, Montana, Wyoming and Colorado oil and gas markets."
The company has announced plans is January to dispose of its office and retail assets during 2015.
"The proposed sale would reduce exposure to Montana and Wyoming with a full exit in Colorado, but could create significant earnings dilution…"
IRET's multi-family portfolio would still be significantly exposed to North Dakota and Montana (about 23 percent of the portfolio assuming a full sale of the office and retail assets).
Any earnings weakness "and/or dilution from the proposed sale of the office/retail portfolio could have meaningful implication for the dividend given a current 116% AFFO/sh dividend payout ratio."
Post Properties
The company generates about 28 percent of NOI from Texas, but less than 3 percent is from Houston.
However, the company does face some downside risk if the impact from lower oil prices spreads across Texas, given that it trades at a premium (19.8x forward FFO) to its Sunbelt peers (MAA 14.3x, CPT 17.1x).
Camden Property Trust
"CPT has 22.5% of total NOI (incl. pro rata share of JV's) from Texas, and 4.2% from Denver, CO. Houston represents 13.1% of total NOI."
"In Dallas, San Antonio, and Austin, management noted that $40 oil would actually boost GDP as lower energy costs would benefit the transportation and tech industries."
"CPT's 2015 SS NOI guidance is 3.0% - 5.0%, versus 4.9% realized in 2014."
Jefferies believes "guidance takes account of potential weakness in Texas, given the low-end is decently below the 2014 growth level."
Mid-America Apts
Jefferies maintains a Buy rating on MAA with an $88 PT, for a potential 19 percent upside from its March 12, close of $73.94.
Jefferies believes "MAA's stock has underperformed the multifamily peers YTD, partially due to oil & gas fears."
"In total, MAA generates 23.9% of SSNOI from Texas… only 3.2% of its pro-forma combined SS NOI [are] generated by assets in Houston (the core oil and gas market in Texas), with larger exposure to less oil sensitive markets like Dallas (5.4%) and Austin (7.6%)."
Jefferies "remain[s] bullish on MAA… concern about oil & gas exposure is overblown given just 3.2% exposure to Houston, and the stock trading at a large discount to its apartment REIT peers."
Posted-In: JefferiesAnalyst Color REIT Analyst Ratings General Real Estate Best of Benzinga
View Comments and Join the Discussion!