Do Olympic Medals Mean A Stronger National Economy?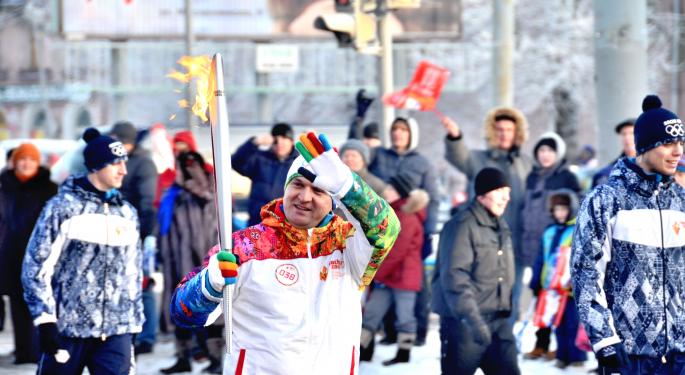 While the world watches which countries take home medals from the current Winter Games in Sochi, Russia, one group of analysts has been looking at medal counts as an indicator of a nation's economic health.
In a note to investors last week, market strategists at ConvergEx Group, a New York-based global brokerage company, found the Winter Olympics are a useful study guide regarding the relationship between athletic performance and economic progress in emerging markets worldwide.
ConvergeEx analysts believe the Winter Games are an especially good indicator, when you consider the overall costs of competition. "Most sports in the Winter Olympics require a good deal of money to participate," they said, "much more so than the Summer Olympics. Think skis, ice hockey equipment, figure skating outfits, speed skates, access to the right locations to practice, etc."
The strategists looked at medal counts by country since the first Winter Olympics in 1924, and found a nation's athletes rarely make it to the winner's podium "until their respective countries experience economic progress and stability."
Related: Who Are The Economic Winners At The Sochi Winter Games?
The also noted that "consistent podium-worthy performances in subsequent years are typically correlated with GDP growth."
They also looked at some very telling case studies, such as post-World War II Japan. They noted Japan competed in, but didn't win medals, in three pre-war Winter Games. Japan won its first Winter Olympics medal, a silver, in 1956 – and Japanese athletes didn't win any Winter Games medals again until the 1972 Olympics in Sapporo, which they hosted. But they have been top Winter Olympics contenders ever since.
"Japan won its first medal when it was taking off as an emerging economy," ConvergEx notes. "Industrialism in the country picked up rapidly following the way, and the Olympic medal consistency coincided with the consumption boom in the 1980s."
Two other Asian economies, South Korea and China, have followed similar patterns -- with their Winter Games medal tallies growing as their emerging economies developed and matured.
And this correlation, according to the ConvergEx strategists, can also be applied to the U.S. In the earlier years of the Winter Olympics, during the Great Depression, the analysts note America fell behind Norway in Finland in the medal count – and lagged behind the Soviet Union and Germany in the 1960s and 70s. "And though the United States continued to improve throughout the latter half of the 20th century," they continue, "it actually wasn't until 2010 that American athletes won more medals than any other nationality."
So is there a lesson here for emerging economies? "Root for your athletes," says ConvergEx; "it's tied to a better future."
Posted-In: Analyst Color News Emerging Markets Politics Psychology Events Global Economics Best of Benzinga
View Comments and Join the Discussion!