President Obama's Cybersecurity Order Fails to Boost Security Stocks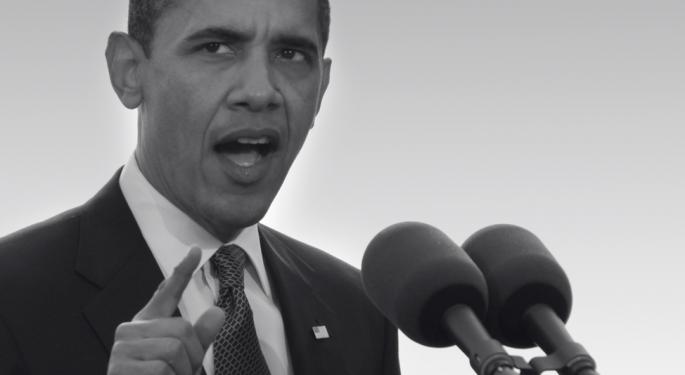 Prior to giving his State of the Union address on February 12, President Barack Obama signed an executive order on cybersecurity designed to strengthen the nation's critical infrastructure.
According to the New York Times, the order promotes increased information sharing about cyber threats between the government and private companies that oversee the country's critical infrastructure. It offers a weakened alternative to legislation the administration had hoped Congress would pass last year.
Nonetheless, the order will allow companies that oversee infrastructure like dams, electrical grids, and financial institutions to join a program that has provided government contractors with real-time reports about cyber threats.
It will also put together recommendations that companies should follow to prevent attacks, and it will more clearly define the responsibilities for different parts of the government that play a role in cybersecurity.
"Now our enemies are also seeking the ability to sabotage our power grid, our financial institutions, and our air traffic control systems," President Obama said. "We cannot look back years from now and wonder why we did nothing in the face of real threats to our security and our economy."
Companies and stocks most affected by this executive order include those in the cybersecurity space that are hoping renewed attention being paid digital security could mean new business this year.
Marketwatch reports that shares of several firms in the space slipped Wednesday after Citigroup analyst, Walter Pritchard, expressed skepticism that an executive order from President Obama will have much impact on the sector.
In a note to clients, Pritchard said there have been many such efforts in the past "to drive increased focus on cyber security" through initiatives by the federal government. "While well intentioned, they have generally had little impact on spending on IT security products and we believe this will be the case again here," he wrote, adding that "isolated industry regulations" like the Healthcare Insurance Portability and Accountability Act generally have a greater impact on actual spending.
Two of the stocks listed by Pritchard as having exposure to government spending on cyber-security closed down more than 2 percent Wednesday.  Fortinet (NASDAQ: FTNT) closed at $23.31, down $0.54 (2.26 percent) and Palo Alto Networks (NYSE: PANW) ended the day at $55.16, down $1.55 (2.73 percent).
Other stocks didn't fare much better. Sourcefire (NASDAQ: FIRE) was down 0.60 percent, CheckPoint (NASDAQ: CHKP) lost 0.66 percent), and Symantec (NASDAQ: SYMC) fell 0.35 percent).Intel(NASDAQ: INTC), which owns software security company McAfee closed at $21.25, up 0.28 percent.
Meanwhile, Investor's Business Daily reported that Internet Security Alliance President Larry Clinton said the President's order could benefit security and aerospace contractors including Lockheed Martin (NYSE: LMT), which closed down 0.20 or 0.23 percent, Raytheon Co. (NYSE: RTN), closing at $53.97 down 0.72 percent, and Northrop Grumman (NYSE: NOC), ending at $65.76 down 0.87 percent.
Posted-In: checkpointAnalyst Color News Politics Events Global Analyst Ratings General Best of Benzinga
View Comments and Join the Discussion!