Zynga's "Novelty Effect" is Fading, Says Analyst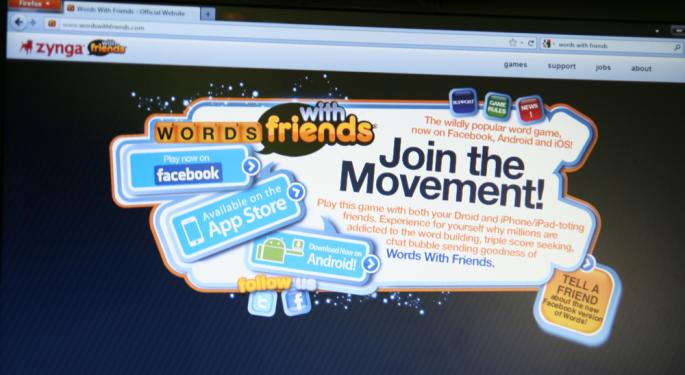 Two months ago Benzinga learned that Zynga (NASDAQ: ZNGA) loses as many as one million players a day. Now it appears that the company is struggling to prevent its existing players from slipping away.
As the maker of FarmVille, CityVille and other Facebook (NASDAQ: FB) games, Zynga is one of the strongest brands in social media. According to Trip Chowdhry, the Managing Director of Equity Research at Global Equities Research, investors should still avoid the stock because it is "struggling to evolve."
"Less than one percent of users are paid users; [the] rest all play the games for free," Chowdhry wrote in a note to investors and reporters. "So Zynga games are basically ad-supported."
That might not be a problem for some companies. However, Zynga's average user engagement (which currently stands at about 25 minutes) is beginning to dwindle. According to Chowdhry, this is happening for three reasons:
"The novelty effect of Zynga games is fading."
"User fatigue is setting in."
"Probably, to boost revenues, Zynga has increased the duration and number of ads in a gameplay, and that is creating [an] intrusive experience for the user."
"From an advertiser perspective, game advertising money comes from the experimental category of ad spend, and the experimental category of ad-spend is shrinking," Chowdhry wrote. "This is will make monetizing of games very difficult for Zynga."
Zynga is currently up more than two percent. While the company has endured a few declines, it is still up nearly five percent over the last five days. The unusual market move was partially inspired by the company's pay-TV deal with Synacor (NASDAQ: SYNC).
Zynga has gained more than 11 percent over the last month. While these advancements are a positive sign for investors who have stood by the social gaming company, they have barely made a dent in Zynga's annual losses. The FarmVille maker is down more than 73 percent year-to-date.
On Tuesday, Zynga had 296.5 million MAUs (monthly active users). As of today that number has dropped to 293.9 million.
In addition to Zynga, Chowdhry also warned investors to avoid Glu Mobile (NASDAQ: GLUU) -- again because the company is struggling to evolve.
"Glu Mobile games are usually single-person games," Chowdhry wrote. "Hence they are not viral."
That said, the average engagement time is roughly 30 minutes per user -- five minutes higher than Zynga's average. Nonetheless, Chowdhry believes that advertisers are not interested in Glu Mobile's games because:
"Glu has weak user profile information."
"Glu has weak user location information."
"We met an advertiser who moved his ad spend from Glu Mobile to Weather.com mobile."
Glu Mobile is down more than two percent today. The company lost more than 47 percent of its value over the last three months. Year-to-date Glu Mobile is down nearly 23 percent.
In his conclusion, Chowdhry said that the fundamentals are weakening for both firms. "Both Zynga and Glu are struggling to evolve," he said. "Both companies experienced initial success mainly due to novelty effect, but now user fatigue has set in and the engagement levels are gradually declining. Both Zynga and Glu games are ad-supported. However, ad [spend] on games, which comes from [the] experimental ad spend category, is shrinking."
Follow me @LouisBedigianBZ
Posted-In: Global Equities Research Glu MobileAnalyst Color Long Ideas Short Ideas Analyst Ratings Tech Trading Ideas Best of Benzinga
View Comments and Join the Discussion!