Amazon Earnings Not Expected To Repeat Q2, But Growth Is Key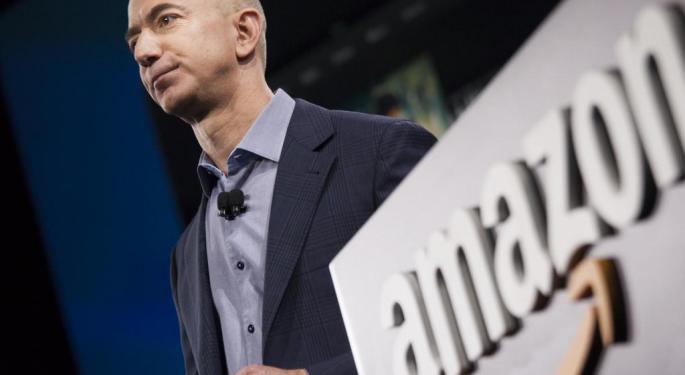 E-commerce and cloud giant—and now, original programming creator—Amazon.com, Inc. (NASDAQ: AMZN) turns in its Q3 results after the market's close today. Results are expected to be colored by Amazon's diversification initiatives, as it continues to challenge traditional retailer models. With Amazon's expenses, however, comes the expectation for another loss.
Thomson Reuters' surveyed analysts, on average, expect AMZN Q3 revenue up 21% to $24.9 billion compared to a year earlier. They expect a loss-per-share of $0.12. That's typical for AMZN, which has heavily reinvested in the firm. In fact, in the past 14 quarters, only eight have been in the black. And yet AMZN has met or outpaced Wall Street expectations in three of the last four quarters. That includes surprise Q2 profit of $92 million on sales of $23.18 billion. The Street may be more interested in comparing this Q3 to Q2's surprise rather than the typical year-over-year match up.
As for the big picture, industry analysts remind us that AMZN's business model is not just that of an online retailer mimicking traditional bricks-and-mortar stores. Its members-with-benefits program Amazon Prime and its cloud-computing Amazon Web Services are far from any gear you'd see at the corner department store. They're just two examples of the enterprises that AMZN is using, it says, to further engage customers and differentiate from retailers that include the online divisions of Wal-Mart (WMT), Target (TGT), Overstock.com (OSTK), and others. The firm that some observers call an e-commerce-turned-everything provider is clearly taking on the tech giants in the fight for cloud positioning, too. In fact, some tech is trying to catch up to Amazon; one of which, Microsoft (MSFT), also reports after the close (more on it below).
Bank of America Merrill Lynch estimates that Amazon's cloud-based web services division could swell by 78% year over year and generate some $2.08 billion in sales. Web services is likely to be marginal in the company's current revenue, so the most useful information may come with any forward-looking company commentary on what it thinks could be a potentially high-margin division.
AMZN joins other online commerce firms issuing quarterly results this week. eBay (NASDAQ: EBAY) in its Wednesday release—the first after a split from PayPal (PYPL)—reported a drop in profit that was less than Wall Street expected. The auction site lifted its forecast. It now expects profit at between $1.58 and $1.60 per share for all of 2015 compared with a forecast just three months ago in a range of $1.40 to $1.45.
A look at the limited options volume around this stock reveals that AMZN's implied volatility is at an elevated 84th percentile. The short-term options market is pricing in a potential 8.5% move in either direction for the stock around its earnings release, according to the Market Maker Move indicator on TD Ameritrade's thinkorswim® platform.
AMZN's stock has been moving in the upper end of a 52-week range spanning roughly $284-$580 (figure 1).
Cloud in Focus for Microsoft, Too
Microsoft Corporation (NASDAQ: MSFT) cloud business also will be top of mind for analysts when the technology giant reports fiscal Q1 results after the close.
Like other legacy tech companies, MSFT is transitioning from a PC-based business to a commercial cloud-based enterprise with products including its Azure and Office 365. Analysts reporting to Thomson Reuters are projecting declining revenue and earnings for the quarter. On the top line, the average forecast is for a 10% year-over-year pullback on revenues to $20.96 billion. The bottom line is anticipated to shrink by 13% to $0.59 per share.
Like most multinationals, MSFT is expected to feel the brunt of the stronger dollar's pinch on its overseas performance. In last quarter's report, the company said its revenue tumbled 5% but the decline was only 2% on a constant-currency basis that eliminates foreign exchange fluctuations.
The short-term options market is pricing in the chance of a 5% move in either direction for this stock around its earnings release, according to the Market Maker Move indicator on TD Ameritrade's thinkorswim® platform. The weekly 50 calls are active, while the Oct 43 puts that expire on Friday are seeing three times the normal amount of interest. Note: Call options represent the right, but not the obligation, to buy the underlying security at a predetermined price and over a set period of time; the same applies to put options, which represent the right, but not the obligation, to sell the underlying security at a predetermined price over a set period of time.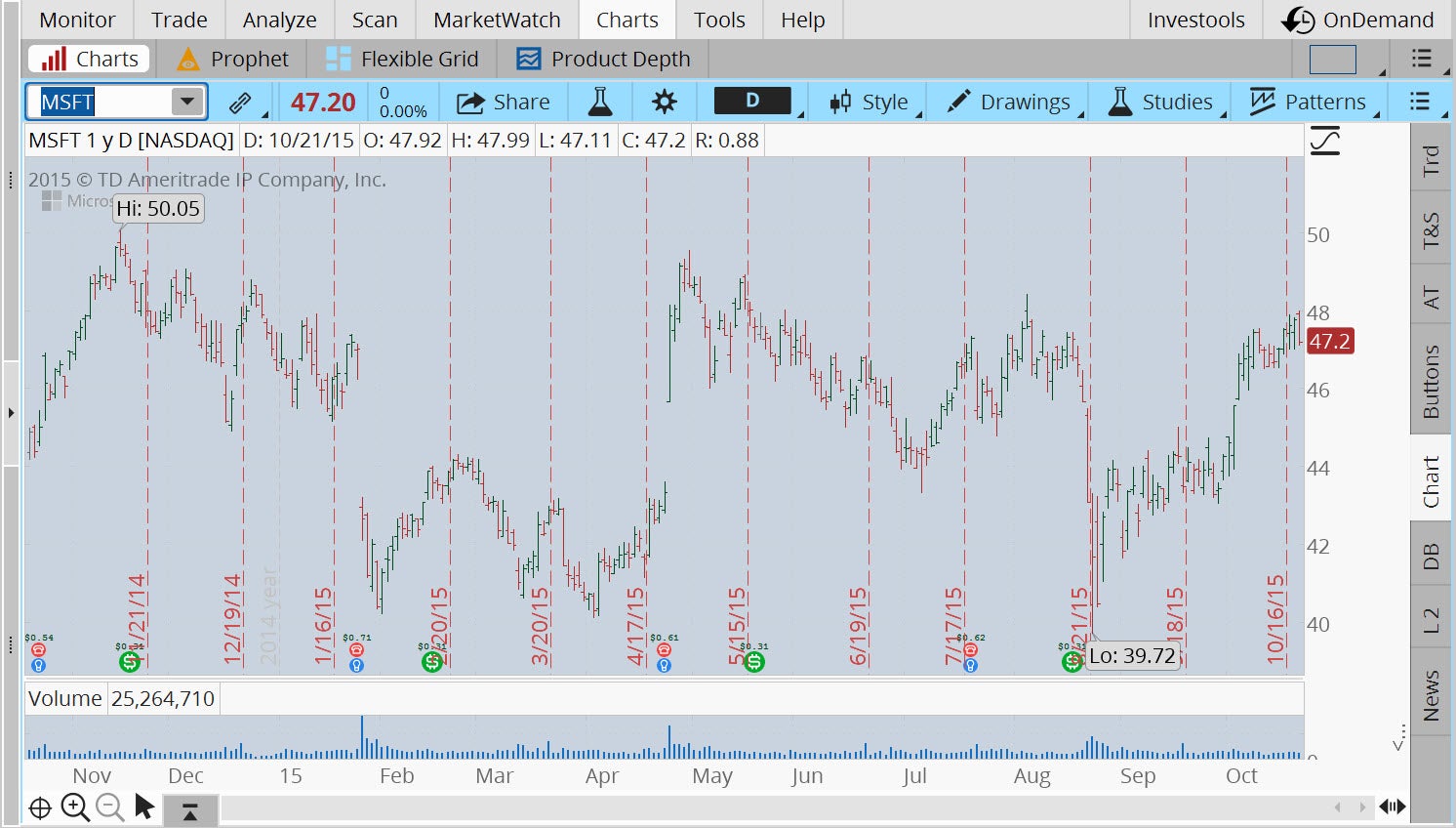 AT&T: What's Next for DirecTV?
Telecom AT&T Inc. (NYSE: T) joins the Q3 earnings parade after the closing bell. Industry analyst are looking for a 23% jump in revenues compared to a year earlier, thanks in part to T's acquisition of DirecTV in July. The buy positioned T as the largest pay-television company in the U.S.
Analysts reporting to Thomson Reuters expect top line sales to jump to $40.6 billion from $33 billion reported in the year-ago period. On a per-share basis, analysts are looking for $0.69 compared with the $0.63 AT&T made last year.
An AT&T spokesman on Wednesday issued a statement that said Wall Street's earnings prognosticators are miscalculating revenue around the accounting for the DirecTV deal. The spokesman said Q3 revenue will likely miss Wall Street's general consensus as a result.
The telecom industry has been in a dog-eat-dog battle for customers this year and industry analysts admit they are hungry for any insight T offers on its metrics compared with its biggest rival Verizon (VZ), as well as smaller players Sprint Corp (NYSE: S) and T-Mobile US (NYSE: TMUS). For instance, analysts are interested in T's outlook for DirecTV and plans for its wireless business.
Industry analysts are also anxious for updates on how things are going in Mexico, where T shelled out more than $4 billion for two carriers earlier this year and said it's launching a $3 billion overhaul of its network.
The short-term options market is pricing in the chance of a 3% move in either direction for this stock around its earnings release, according to the thinkorswim® platform's Market Maker Move indicator. Options trading volume early on Thursday was almost three times the norm. The call and put activity is about evenly split, with weekly 33 puts and weekly 34 calls both drawing interest. See its recent stock activity in figure 3.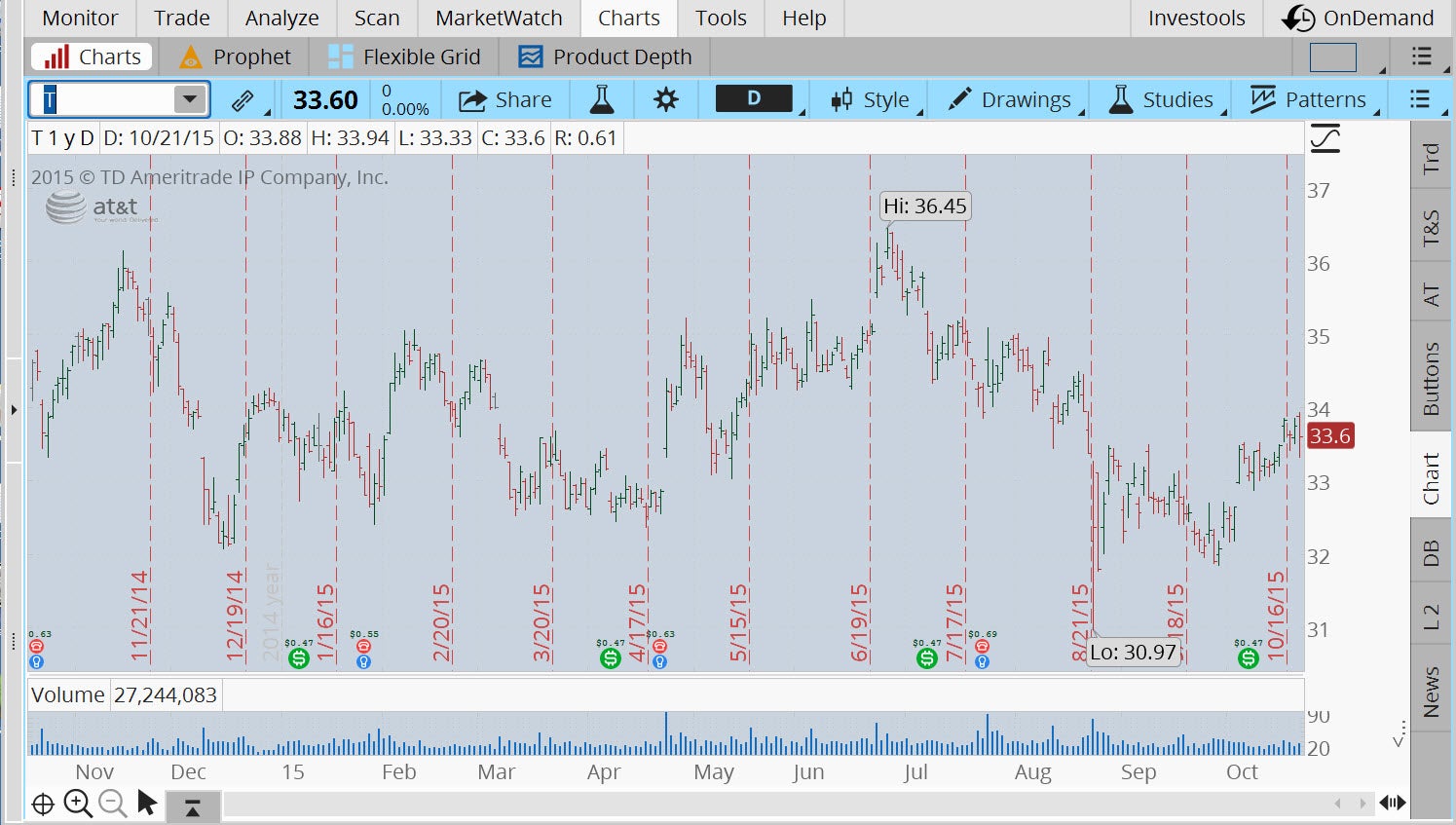 Inclusion of specific security names in this commentary does not constitute a recommendation from TD Ameritrade to buy, sell, or hold.
Market volatility, volume, and system availability may delay account access and trade executions.
Past performance of a security or strategy does not guarantee future results or success.
Options are not suitable for all investors as the special risks inherent to options trading may expose investors to potentially rapid and substantial losses. Options trading subject to TD Ameritrade review and approval. Please read Characteristics and Risks of Standardized Options before investing in options.
Supporting documentation for any claims, comparisons, statistics, or other technical data will be supplied upon request.
The information is not intended to be investment advice or construed as a recommendation or endorsement of any particular investment or investment strategy, and is for illustrative purposes only. Be sure to understand all risks involved with each strategy, including commission costs, before attempting to place any trade. Clients must consider all relevant risk factors, including their own personal financial situations, before trading.
TD Ameritrade, Inc., member FINRA/SIPC. TD Ameritrade is a trademark jointly owned by TD Ameritrade IP Company, Inc. and The Toronto-Dominion Bank. © 2015 TD Ameritrade IP Company, Inc. All rights reserved. Used with permission.
Posted-In: Previews Trading Ideas
View Comments and Join the Discussion!