Why Growing Marijuana In Israel Is A Good Idea: Cronos Group CEO Explains New Joint Venture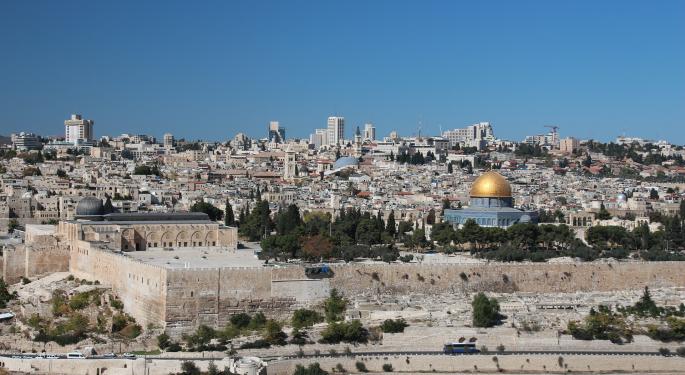 As the cannabis industry matures, cultivators face new challenges.
One of the biggest issues right now is that of shrinking margins. In such a context, establishing low cost production facilities has become a priority.
The thing is, neither the U.S. nor Canada offer the option to create low cost structures due to numerous factors, including climate, labor costs and energy prices. Consequently, companies are starting to look overseas. While some like Avicanna are aiming at South America, others are considering options across the ocean. In this line, Cronos Group Inc (CVE: MJN) (OTC: PRMCF), one of the largest licensed cannabis producers in Canada, recently announced it entered a strategic joint venture to establish a medical marijuana production facility in Israel.
The company will partner with Kibbutz Gan Shmuel to cultivate cannabis in greenhouses at an estimated cost of C$0.40 to C$0.50 per gram (32–41 cents), compared to roughly C$1.50 to C$2.50 ($1.22 to $2.03) per gram in Canada.
Interested in why Cronos had picked Israel for its new production facility, Benzinga reached out to CEO Michael Gorenstein.
Sam's Garden
Being a first mover in terms of having a federally legal cannabis market has provided Canada with substantial advantages over most other countries. However, Gorenstein explained, "there are certain realities such as the cost of power and the climate that make it difficult to compete internationally on a cost level."
So, Cronos set out to find a place that offered not only low production costs for high quality products, but also a strong tech and R&D scene.
"Israel has been further ahead than any other country in terms of research, studying the cannabis plant, trying to understand it and innovate for well over 20 years," the chief executive said.
Related Link: The Daily Leaf Wants To Become 'The Groupon Of Marijuana'
After touring numerous kibbutzim, the company arrived at Gan Shmuel, which rapidly proved it would be the best possible partner. "It's a very large kibbutz with generations of experience of not just agricultural production, but also processed food and exports globally. In addition, the climate is perfect for cannabis," he said.
In Canada, producers need to use all kinds of automated controls, special systems and artificial lighting to mimic an outdoor environment suited for cannabis cultivation indoors. Contrarily, Israel offers these conditions naturally — especially sunlight and low humidity round the year; so instead of setting up indoor grow facilities, all Cronos needs is to build are greenhouses.
Beyond the favorable weather conditions, we wondered about water access, since the resource is relatively scarce in that region of the world, and labor costs, which are relatively high in Israel. What Gorenstein explained is that Gan Shmoel is "a little different than most other places in Israel." The kibbutz (or commercial community) has 5,000 acres and 1,000 community members that live on site. This provides a built-in labor force. In addition, the kibbutz counts with large-scale manufacturing infrastructure; this means it has five separate water-tower-and-pump facilities that provide water on-site, as well as steam power generation capabilities.
"So, the operation is both cheaper to set up and cheaper to run in Israel, compared to Canada," Gorenstein said.
Deal Specifics
As per the deal, Cronos will produce medical marijuana in Gan Shmuel, which will provide not only the legally approved land to do so but also access to local workers. In return, the kibbutz will receive 8 percent of the facility's net income (or C$500,000) for the first five years; after Year 5, Gan Shmuel will receive 10 percent of the net income on a go-forward basis.
The idea is to supply the Israeli medical marijuana market, as well as export to European countries and even Canada as the production site grows.
More From Benzinga:
View Comments and Join the Discussion!
Posted-In: Cannabis Long Ideas News Emerging Markets Financing Contracts Politics Exclusives Best of Benzinga