Alternative Paths To The Public Markets: Insiders Discuss Adomani, The Largest Nasdaq Reg A+ IPO To Date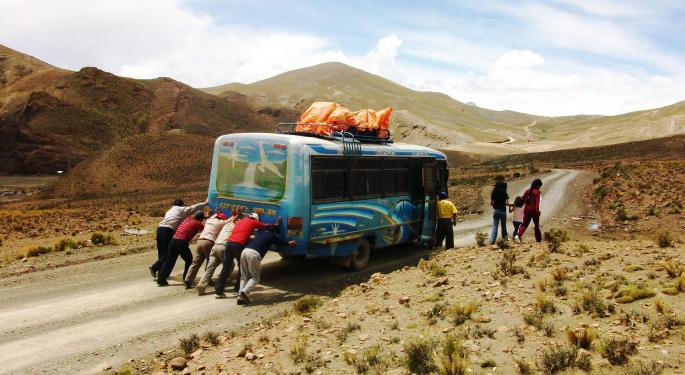 As capital markets evolve, new ways of going public are emerging. A few weeks ago, Benzinga had the chance to discuss how Myomo, Inc. (NYSE: MYO) had become the first company to get listed in a National Securities Exchange through a crowdfunded IPO with the main players involved in the transaction.
Invest in IPO shares before the stock hits the market with ClickIPO. Check it out here
In another article, we shared a look into Nexeon MedSystems, a company that has developed a Matrix-like neurostimulation system for the treatment of neurological diseases. Unlike most companies trading on the NYSE and Nasdaq exchanges, Nexeon is pursuing a different way to going public, starting with the filing of a Form 10 instead of an S-1.
In this third article, we'll analyze the crowdfunded IPO of Adomani Inc (NASDAQ: ADOM), which was the first company to get listed on the Nasdaq exchange through a Regulation A+ Offering compliant with the Jumpstart Our Business Startups (JOBS) Act.
Before moving on, we'd like to share a few figures to explain why this IPO was so relevant. On top of being the first Reg A+ IPO to list on the Nasdaq, the initial offering was the best performing on any U.S. exchange for all of 2017. Furthermore, the price and valuation at which the shares opened set a record among RegA+ IPOs, providing the company with the largest market cap in this group that also includes Myomo and ShiftPixy Inc (NASDAQ: PIXY).
Seeking to better understand why Adomani's IPO was so strong, Benzinga reached out to its CEO and President Jim Reynolds, and to Boustead Securities, which acted as the underwriter of the offering, and also provided the tech portalused to conduct the raise.
The Adomani Story
When Italians want to say "see you tomorrow," they often use the phrase "a domani," which literally translates as "until tomorrow." No matter how we chose to transmute it, the concept refers to the future, so it's a glove that fits Adomani's proverbial hand.
Related Link: iAnthus Enters The New York Cannabis Market; Does The $17.3 Million Acquisition Make Sense?
What the company does is convert school buses and other medium- to heavy-duty fleets into zero-emission electric and hybrid vehicles. "By delivering value on the total cost of ownership, ADOMANI helps commercial vehicles run clean and save green," their site reads.
For its part, Boustead Securities, a decade-old firm focused on driving capital formation for lower middle market companies, has been working on Reg A+ IPOs for some time now. However, CEO and COO Keith Moore told Benzinga, Adomani was the first company they came across that was 100 percent ready to trade in a major U.S. stock exchange like the Nasdaq.
"Adomani is a clean energy company, so what it does is very timely, and very much in demand," Daniel J. McClory, Managing Director and Head of Equity Capital Markets at Boustead, added, pointing out how the recent Volkswagen AG (ADR) (OTC: VLKAY) settlements had fueled the industry in which the company operates. "A lot of the money that they've settled with the various federal agencies and state governments is specifically being mandated to go into the conversion of diesel vehicles into alternative energy, especially electric vehicles. So, they are in the right place at the right time."
According to McClory, Adomani offers a "growing sales pipeline and funnel" and has "very interesting initiatives that target at China underway." However, at the end of the day, this is a late-stage pre-revenue company, which means investors will likely have to wait until the fruits of its efforts are harvested.
Socializing Financial Profit
As TriPoint Global Equities' CEO and founder Mark Elenowitz noted in a recent interviewwith Benzinga, Reg A+ IPOs are bringing back capital formation to the small-cap market and to retail investors. So, there's a certain ideological component to this path to the public markets.
Particularly interested in the phenomena derived from crowdfunded IPOs, Benzinga asked McClory and Moore about their approach to the issue.
"We have a dozen issuers that are in various stages of registration for public offerings through the SEC, Nasdaq and FINRA approval process," McClory said. "Every one of those, at this point, is either destined or already on Nasdaq. So, we target issuers and prospective clients on the basis of their ability to be able to do what I would call an industrial-strength S-1 (or an F-1, if they are foreign) registration statement."
Related Link: Nevada Marijuana Emergency Shows The Real Size Of America's Demand For Cannabis
What he meant by this is, in order for Bousted to be willing to help a company get to the Nasdaq, the issuer has to be willing to invest the money necessary to comply with every requisite for a listing. This includes paying attorneys, PCAOB auditors, investment banking advisors, etc.
"I am only mentioning this because a lot of the activity in the Reg A+ space right now is a bit more aspirational, meaning that they are trying to think bigger than they are," he continued. "So, we are only taking issuers who are fully qualified to do an S-1 IPO, and slightly shrinking that down to the 1-A context because it's so much cheaper, faster and certainly provides access to better marketing flexibility."
"Since going public we have received several inquiries from companies interested in this process and their desire to learn how they could participate. There is great deal of interest and I believe this will be a major conduit for companies going public in the future," Reynolds supplemented.
The IPO, Per Se
The process to get Adomani to the Nasdaq through a Reg A+ IPO took about one year. Boustead wanted to make sure every piece was in place before filing a 1-A with the SEC.
"Rallying investor interest and investor momentum beyond just putting the IPO online was a process that included pre-existing investors and new ones that we identified to get on board," McClory told Benzinga. "So, when the deal hit the market, investors were very receptive to acting quickly, and helped us exceed the minimum raise in just four days."
"The real value Adomani received, as the first Reg. A+ company to list on the Nasdaq, was the backing from the crowd funding process and the support of all of the people involved in this process," CEO Reynolds added.
On a final note, Moore said, "getting the issuer involved in the marketing discussion from the very beginning was fundamental to the success of this IPO. I can't stress that enough, there has to be a marketing commitment from the issuer's side."
Image Credit: Javier Hasse
Posted-In: Long Ideas News Small Cap Analysis Small Cap Crowdsourcing IPOs Success Stories Exclusives Best of Benzinga
View Comments and Join the Discussion!