Alternative Paths To The Public Markets: Insiders Explain Myomo's Crowdsourced IPO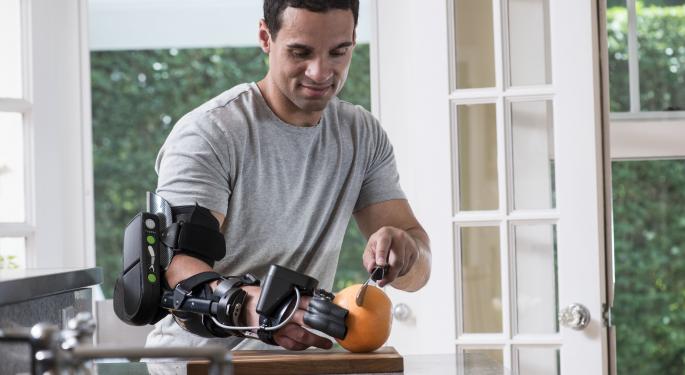 Myomo, Inc. (NYSE: MYO) has become the first company to get listed in a National Securities Exchange through a crowdsourced IPO — or Regulation A+ Offering compliant with the Jumpstart Our Business Startups (JOBS) Act — and the details in its story are fascinating.
Before taking a look at what the main people involved in this transaction have to say, let's go over the basics.
Going Public (Through The Public)
Myomo is a commercial-stage medical robotics maker that produces a kind of arm and hand prosthetic that restores function in paralyzed or weakened arms and hands — basically returning to patients the ability to move their upper limbs. As of Monday, investors will be able to find its stock trading at the New York Stock Exchange under the ticker MYO.
Invest in IPO shares before the stock hits the market with ClickIPO. Check it out here
Book running and selling was mainly undertaken by TriPoint Global Equities and its online division, BANQ®. These firms have been advocates of Reg A+ listings and the resulting return of capital formation to individual investors for years; this IPO marks the culmination of a long process.
"The Myomo offering was pioneering and sets the stage for small-cap issuers to access the capital markets in the modern age of U.S. capital formation," TriPoint and Banq CEO Mark Elenowitz told Benzinga. "This is a historic moment for Myomo, the industry and the small cap community. Today, the stock started trading on the NYSE, marking the beginning of a new era."
Related Link: TriPoint Global Equities And BANQ® CEO On The JOBS Act, And Bringing Small-Cap IPOs And Capital Formation Back To Individual Investors
Paul Gudonis, CEO of Myomo added, "We're pleased to raise this growth capital and to be the first company that has conducted a JOBS Act/Reg A+ IPO to trade on the NYSE MKT. Myomo is addressing a very large unmet need, enabling individuals to use their paralyzed arms and hands again with our lightweight, wearable robotics. We look forward to creating shareholder value by increasing our sales and marketing activity here in the U.S. and expanding internationally via our partnership with Ottobock."
Crowdsourcing An IPO
Like many other public offerings, a number of advisors were included in this IPO. Among them were "CrowdfundX, the digital marketing agency of record; Hunter Taubman Fischer & Li LLC, underwriters counsel; PCG Advisory Group, issuers investor relations; Rushing PR, public relations counsel; Marcum LLP, issuers auditor, and Duane Morris LLP, issuers counsel."
As explained in a press release, CrowdfundX managed the first crowdfunded IPO in the United States for Elio Motors Inc (OTC: ELIO) more than a year ago and has since continued to advance its model and its artificial intelligence investor marketing platform.
When asked about Myomo's IPO, CrowdFundX CEO Darren Marble said, "CrowdfundX is honored to have been a part of the team behind the Myomo offering. What this deal demonstrates is that a combination of institutional, retail brokerage, and digitally connected crowd investors is a viable approach for small-cap issuers. We think, in the future, the crowd will play an even more important role in the success of these types of offers and look forward to helping to usher in that new era."
More From Benzinga:
Alternative Paths To The Public Markets: Nexeon MedSystems' Form 10 IPO And Capital Consciousness
Catalyst Funds CEO Talks Alternative Investment Strategies For Retail Investors
________
Image Credit: Provided by and used with expressed permission from Myomo
Posted-In: News Health Care Financing Crowdsourcing IPOs Top Stories Exclusives Tech Best of Benzinga
View Comments and Join the Discussion!