The Customer Is Always Right: This ETF Is Tailored To Customer Satisfaction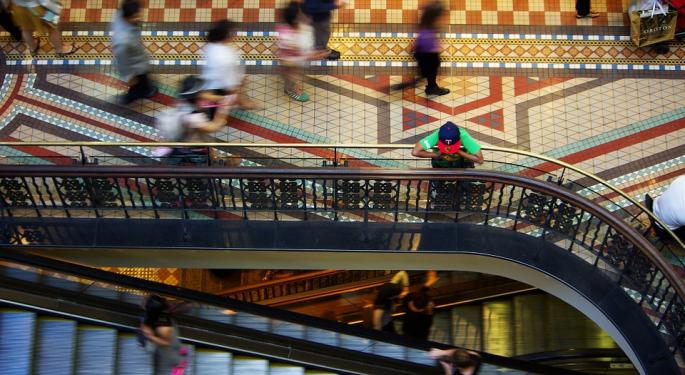 The difference between a customer and a consumer could seem arbitrary on the surface. But to Phil Bak, the CEO of America Customer Sentiment (ACSI) Funds, the distinction is vital.
"A consumer can have an opinion, but a customer is actually spending their dollars," Bak said.
Bak was a guest on Benzinga's PreMarket Prep morning show, where he discussed how tracking customer satisfaction plays a key role in anticipating the positive performance of bullish retail stocks — and how the American Customer Satisfaction Core Alpha ETF (BATS: ACSI) is able to capitalize on that data for companies like Costco Wholesale Corporation (NASDAQ: COST), Dollar Tree, Inc. (NASDAQ: DLTR) and, of course, Amazon.com, Inc. (NASDAQ: AMZN).
Amazon Is A Beast
Any discussion of retail success is bound to include Amazon. Bak recognized this; his ACSI Fund is overweight on the company.
He said there's a strong correlation between Amazon's success and the way customers feel about the online retailer, which could be a fundamental driver behind the stock's continued upside.
"Amazon is a beast. Amazon is the No. 1 customer satisfaction company and everyone knows," Bak explained. "You're not making some big, huge leap to say you're bullish on Amazon. But right now, Amazon did — I believe — 31 percent of the entire online retail market in the holiday season, and it's just grown."
While Amazon's dominance is no shocker, Bak suggested the experience of shopping online with Amazon is, for better and worse, fundamentally different than the customer experience with other retailers or service sectors.
Bak explained how stocks surveyed by ACSI Fund are weighted with those factors in mind and how experience could be a main differentiator for companies going toe-to-toe with Amazon.
"Your expectations as a consumer If you're going in to buy a Maserati versus going to CVS Health Corp (NYSE: CVS) to buy a box of tissues are very different. When we measure customer satisfaction, we do it relative to expectations," Bak said.
"Certainly, the sectors that are more service-focused and that are more relationship-focused are going to be less immune in the short run to some of the automation and some of the conveniences of, say, shopping on Prime."
Costco And Walmart: Sentiment Makes The Difference
Beyond the behemoth that is Amazon, Bak also pointed to big box and brick-and-mortar companies as prime examples of how customer sentiment can translate to market sentiment and stock performance, both positive and negative. He offered Costco and Wal-Mart Stores Inc(NYSE: WMT) as perfect illustrations of this.
"Costco has very strong customer satisfaction," Bak said, despite taking a recent pricing hit that he ascribes to a $5 increase in membership fees.
The ACSI Fund doesn't view the $5 increase as being material to Costco members, but does view at as material to the company's revenue, Bak said. "They have a very loyal following and people love doing business there, much more so than you see at some of their competitors. And that $5 is going to have a very significant impact to their revenue."
At Wal-Mart, customer satisfaction cuts a different way, Bak said. "They are not happy shopping there. In many cases that was their only option, but now that people are moving to online, they can go to Amazon, Costco is very strong for the discount shoppers and we're seeing an emergence of Dollar Tree and Dollar General Corp. (NYSE: DG)." Customer satisfaction at the discount retailers is "very strong and very steadily increasing," he said.
Less Surprising Earnings Surprises
The ACSI Fund tracks more than 100,000 customers for their data on 160 large-cap companies for its ACSI ETF, which is up 12 percent since its November 2016 opening.
One of the essential theses behind the ACSI Fund is that earnings and revenue are not unpredictable, but rather fundamentally driven by customers. The analysis of this data provides the ACSI Fund with a completely unique alpha compared to those that drive other funds, Bak said.
"When all of a sudden you get a big earnings surprise and somebody missed or beat earnings and you wonder what happened — well, what [are] the earnings? It's the customers who are making the transactions. Did those customers tell you ahead of time that they were happy or unhappy with their services? In our case they did. They tell us and we use that data."
As a result of this unique, customer-focused market forecast, Bak feels fairly certain about the continued longevity of the bull market. He signaled to the 10-year high statistics from the University of Michigan's Consumer Survey, whose March sentiment number was released shortly after the interview and came in 1.3 percent higher than the previous month.
From Bak's perspective, valuations are likely to continue to rise.
"Even though P/Es are high and the market is expensive in some people's eyes, we think spending is going to continue."
To hear the other stocks the ACSI Fund is bullish on, tune in at the 19:40 mark in the clip below to hear the rest of PreMarket Prep's interview with Phil Bak.
PreMarket Prep is a daily morning show about short-term trading ideas and technical setups. Catch the show live from 8–9 a.m. ET here, and find a full catalog of previous episodes here.
View Comments and Join the Discussion!
Posted-In: Long Ideas Short Ideas Hedge Funds Retail Sales Econ #s Markets Media Trading Ideas Best of Benzinga