Video: The Trump Tweet Indicator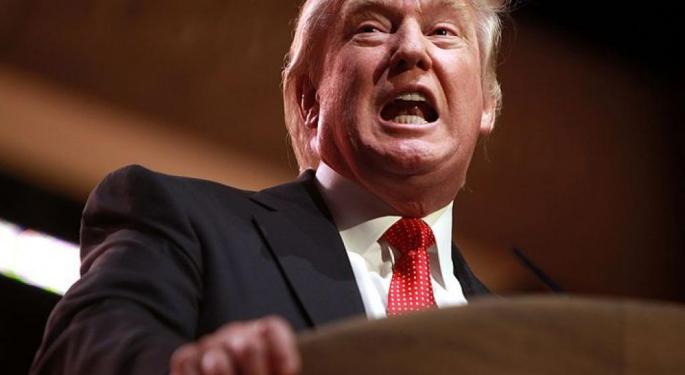 There are many different types of indicators traders are familiar with, such as momentum, sentiment and contrarian to to name a few.
A new one many of you many not be familiar with is the Trump Tweet Indicator, TTI for short, which incorporates a bit of contrarian investing.
Since Donald Trump has been elected, he has utilized the Twittersphere to espouse his views and policies. On a few occasions, his tweets were directed at large U.S. corporations and had an immediate impact on their price.
Since most of his tweets have been critical of corporations, most of the price action has been to the downside. Let's examine a few of his tweets and look at the short-term impact and the long-term implications.
Boeing
On December 6 at 8:52 a.m., Trump tweeted at Boeing Co (NYSE: BA) that the "new 747 Air Force One are out of control. Cancel order!" The market reaction to the tweet with a sharp selloff in shares under $150.00 in pre-market trading. During the regular session, however, Boeing never traded under that level and ended the session at $152.24 and went on to trade north of $170.
See Also: Twitter Gets Trampled Despite Trump
Lockheed Martin
After hours on December 23, a Trump tweet directed at Lockheed Martin Corporation (NYSE: LMT) on the "tremendous cost and cost overruns" for Lockheed's F-35 threatened to switch the contract to Boeing's F-18 Super Hornet. As a result, Lockheed shares declined more than $3 to close at $249.59. Today, the issue is considerably higher at the $265 area.
General Motors
In pre-market trading on January 3, Trump slammed General Motors Company (NYSE: GM) threatening a "big border tax" on the automaker's models made in Mexico. GM dipped under $34. Just like Boeing, that depressed level was never reached during the regular session and GM ended that day at $35.15. GM shares now trade over the $37.00 level.
Nordstrom
On February 8, Trump criticized retailer Nordstrom, Inc. (NYSE: JWN). In his tweet, he claimed Nordstrom treated his daughter Ivanka unfairly by no longer stocking items from the Ivanka Trump Fine Jewelry collection. The tweet, which took place during the regular trading day, dipped only for few minutes and ended that session nearly $2 higher at $45.55 where it's still trading at this time.
So what should investors make of these Trump tweets that had a short-term negative impact on the related issues? Don't fret when @POTUS sends out a negative tweet on an issue in your portfolio. After all, the Street has faded and profited from his negative tweets directed at large U.S. companies, why shouldn't you?
Image Credit: By Gage Skidmore from Peoria, AZ, United States of America (Donald Trump) [CC BY-SA 2.0], via Wikimedia Commons
Posted-In: BZTV Donald TrumpLong Ideas Short Ideas Politics Opinion Trading Ideas General Best of Benzinga
View Comments and Join the Discussion!