Trump To General Motors: Make Cars In The US Or Pay Big Border Tax!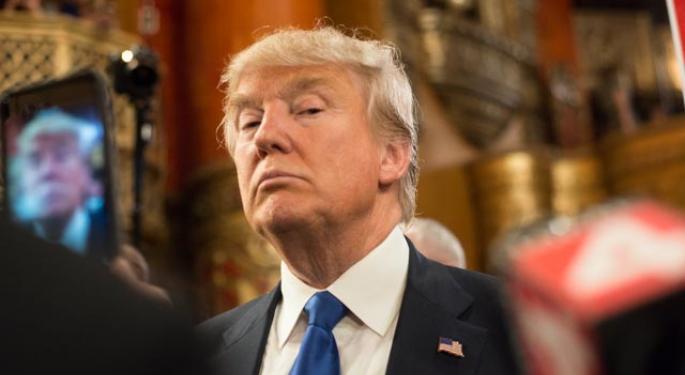 President-elect Donald Trump has taken to Twitter once again to convey another warning to an American company: produce in the United States or pay big border taxes.
After previously blasting Boeing Co (NYSE: BA) over the high manufacturing cost of the next generation of Air Force One presidential planes and then targeting the defense contractor Lockheed Martin Corporation(NYSE: LMT), Trump is now targeting the auto sector.
In a Tweet on Tuesday morning, Trump sent a clear warning to General Motors Company (NYSE: GM).
"General Motors is sending Mexican made model of Chevy Cruze to U.S. car dealers-tax free across border. Make in U.S.A. or pay big border tax!"
General Motors released this statement to Benzinga:
"General Motors manufacturers the Chevrolet Cruze sedan in Lordstown, Ohio. All Chevrolet Cruze sedans sold in the U.S. are built in GM's assembly plant in Lordstown, Ohio. GM builds the Chevrolet Cruze hatchback for global markets in Mexico, with a small number sold in the U.S."
No Surprise Here
Trump made his position on U.S. automakers extremely clear during the campaign trail, which was summed up by famed left-leaning documentary maker Michael Moore in a viral video.
"Donald Trump came to the Detroit Economic Club and stood there in front of Ford Motor Company (NYSE: F) and said, 'If you close these factories as you're planning to do in Detroit and build them in Mexico, I'm going to put a 35 percent tariff on those cars when you send them back and nobody's going to buy them.' It was an amazing thing to see. No politician, Republican or Democrat, had ever said anything like that to these executives, and it was music to the ears of people in Michigan and Ohio and Pennsylvania and Wisconsin — the 'Brexit states.'"
Although it's not surprising that Trump took to Twitter to convey his message to the public, it may be surprising to some given Trump's choice of target.
Trump tapped General Motors' Mary Barra to be one of 16 business leaders within his newly create "President's Strategic and Policy Forum."
Posted-In: Donald Trump Donald Trump Tariffs Donald Trump Taxes Donald Trump Twitter Mary BarraNews Markets Movers Best of Benzinga
View Comments and Join the Discussion!