This ETF Really Doesn't Want Donald Trump To Win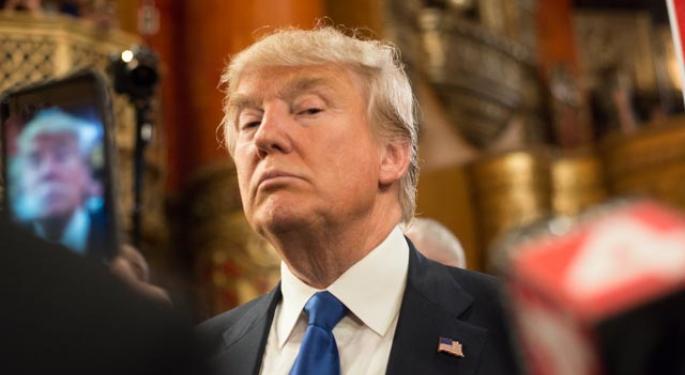 With just over a month to go before Election Day, investors have heard plenty about which sectors and asset classes could be vulnerable if Democrat Hillary Clinton wins the White House. The same is true of Republican nominee Donald Trump.
In fact, many on Wall Street surmise that everything but gold will tumble if Trump is the next U.S. president. Among the various exchange traded funds that Trump is being blamed for dragging lower is the iShares MSCI Mexico Capped ETF (NYSE: EWW).
Emerging Resurgence
Latin American equities have been important cogs in this year's emerging markets resurgence, but Mexican stocks are obvious exceptions. Of the six major single-country ETFs tracking Latin American economies, EWW is the only one in the red this year. EWW is down 1.6 percent while the comparable Brazil ETF is up more than 64 percent. Brazil and Mexico are Latin America's two largest economies.
Given Trump's rhetoric aimed at illegal immigrants from Mexico, he makes for an easy target in terms of explaining EWW's woes.
Related Link: Biggest Threat To The U.S. Economy? The Presidential Election
Mexico Is A Prime Target
"Mexico has been a prime target for Trump, who has accused the country of taking away jobs from Americans, focusing particular ire on a landmark 1990s trade agreement with the United States' southern neighbor and Canada. He has said he will renegotiate the North American Free Trade Agreement, commonly known as NAFTA, or pull out of it, and build a wall along the U.S.-Mexico border to curb illegal immigration," according to Reuters.
While the specter of a Trump presidency makes for a convenient excuse for EWW's struggles, there is more to the story, regardless of for whom an investor is going to vote for.
More To EWW's Story
The reality is EWW struggled to start this year while the equivalent Brazil, Chile and Peru ETFs, among others, surged out of the gates and that was before it became clear Trump was a credible candidate. Said another way, EWW was a dog in January and the Iowa caucus was in February. Also notable is the fact that EWW lost 14.2 percent last year when no one had any idea that Trump would emerge as the Republican frontrunner.
Additionally, blaming Trump for EWW's woes does not jibe with polling data. While there have been polls that show a potentially close race, there hasn't been a credible poll showing Trump well ahead of Clinton. Nor do EWW's year-to-date outflows jibe with polling data. The ETF has lost less than $176 million this year, well below the $762.5 million it lost last year.
Perhaps EWW is struggling because Mexico's central bank is raising interest rates at a time when Brazil is poised to do the opposite, Mexican stocks are expensive relative to broader emerging markets benchmarks and because there are simply better opportunities in the region at the moment.
View Comments and Join the Discussion!
Posted-In: Donald Trump Hillary ClintonLong Ideas Emerging Market ETFs Politics Trading Ideas ETFs General Best of Benzinga