Adidas Is Finally Figuring Out The North American Market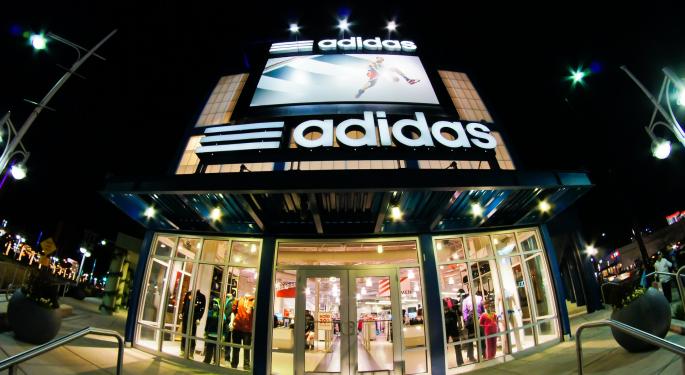 Despite all the talk about Nike Inc (NYSE: NKE) and Under Armour Inc (NYSE: UA)'s stock in the past year with all the endorsements and the height of the athleisure trend, it would be nearly impossible to predict that adidas AG (ADR) (OTC: ADDYY) was in fact dominating the competition from a stock perspective.
The story for the longest time was that the German brand simply didn't understand the North American Market, but this may no longer be the case.
Over the past year, Nike is up 2.21 percent, Under Armour is down 5 percent* and adidas is up a whopping 95+ percent.
Golf, NBA
Adidas has had an incredible year, as the company is shifting its focus and it appears to be paying off. U.S. sales grew 22 percent in Q1. The company is shopping its struggling golf segment — following its admittance that it made a strategic mistake — despite having one of the top brands in the industry in TaylorMade and some of the top players in the world.
Related Link: Social Media's Adidas Love Continues Into Summer
Adidas also let its NBA jersey deal lapse, and instead increased its focus on individual player endorsements in basketball. This was likely a smart move, as the adidas logo was not even displayed on jerseys during game time. Adidas has several bright young players, and made aggressive moves signing the number two and three picks in the 2016 NBA draft.
Rebranding And Key Segments
The stock also has found an identity for its once struggling Reebok segment, rebranding it into a fitness-oriented brand with its presence in highly popular UFC and Crossfit. Reebok grew 5.4 percent worldwide in 2015.
Kanye West has also played a key role in adidas' turnaround. His highly successful Yeezy Boosts remain one of the most sought after shoes on the market. "The Yeezy line is by far the hottest shoe on StockX, a stock market for sneakers," said CEO Josh Luber.
In light of these changes across multiple sports and positives from multiple checks, adidas appears to be living by its slogan — "Impossible is Nothing."
*Note: Under Armour's stock split April 2016. While the one-year chart is indicative of that, the figures are misleading—showing a 50+ percent drop.
Did you like this article? Could it have been improved? Please email feedback@benzinga.com with the story link to let us know!
View Comments and Join the Discussion!
Posted-In: Crossfit Golf Josh Luber NBA ReebokSports Media General Best of Benzinga