A Global Real Estate ETF With Currency Protection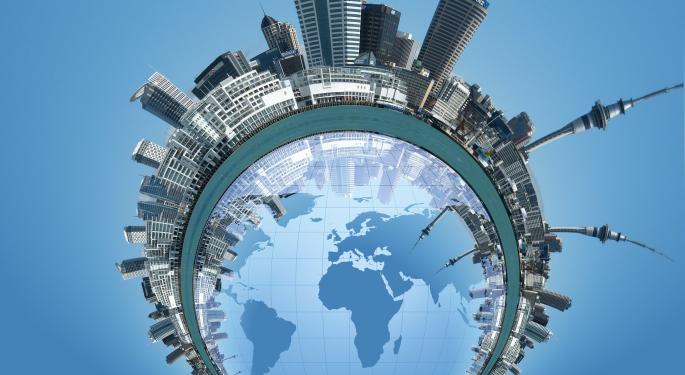 As the universe of currency hedged exchange-traded funds has experienced exponential growth, issuers of such products are offering increasingly refined ETFs, including low volatility and dividend funds. Add global real estate to that list.
WisdomTree Investments, Inc. (NASDAQ: WETF), the fifth-largest U.S. issuer of ETFs, added three currency hedged funds to its already expansive lineup last month, and that group included the WisdomTree Global ex-U.S. Hedged Real Estate Fund (BATS: HDRW). The new ETF follows the fundamentally weighted WisdomTree Global ex-U.S. Hedged Real Estate Index (WTGREH).
Related Link: New ETF Goes Global For Small-Cap Dividends
The Index And The Fund
"The Index is designed to have higher returns than an equivalent non-currency hedged investment when the foreign currencies are weakening relative to the U.S. dollar. Conversely, the Index is designed to have lower returns than an equivalent unhedged investment when the foreign currencies are rising relative to the U.S. dollar. The Index is comprised of real estate companies with market capitalizations greater than $1 billion. Companies are weighted in the Index based on regular cash dividends paid," according to WisdomTree.
Home to real estate operating companies and diversified real estate investment trusts (REITs), among other real estate firms, HDRW features exposure to 30 countries. Oft-criticized Chinese property markets loom large in the new ETF, as Hong Kong and China combine for nearly 37 percent of HDRW's geographic exposure. At nearly 11.6 percent, Australia is the only other country in HDRW commanding a double-digit allocation.
What Sets HDRW Apart?
In its favor, HDRW offers exposure to plenty of countries with interest rates that are currently low, a scenario that favors real estate investments. Better yet, that is expected to remain the case or these countries have the room to continue accommodative monetary policy. Said another way, HDRW is home to some countries with paltry government bond yields, including Japan, Germany, France and Switzerland.
"WisdomTree's Global ex-U.S. Real Estate Index weights constituents by the income they generate, and while the risk profile of these assets is different from that of government bonds, the current income advantage may be of interest. Comparing the aforementioned country exposures, we see: Japan, 1.64 percent; United Kingdom, 3.05 percent; France, 4.30 percent; Switzerland, 4.39 percent; and Germany, 2.59 percent," said the issuer in a recent note.
Japan, the UK, France, Germany and Switzerland combine for nearly 22 percent of HDRW's geographic weight. Bolstering the case for an ETF such as HDRW is how much some of the currencies the ETF hedges against have fallen against the dollar. Simply put, it is by a lot.
"On a cumulative basis, we see that the currencies represented in the WisdomTree Global ex-U.S. Index universe depreciated 20.0 percent over the period against the U.S. dollar. The difference in average annual returns between the WisdomTree Global ex-U.S. Index measured with currency and without currency impact amounted to nearly 5.6 percent per year," according to WisdomTree.
Image Credit: Public Domain
Posted-In: Long Ideas News REIT Sector ETFs New ETFs Currency ETFs Forex Intraday Update Best of Benzinga
View Comments and Join the Discussion!