Northstar Realty Finance: CEO David Hamamoto - Views On Performance & Spin-Outs
On March 3, David Hamamoto Chairman and CEO of both Northstar Realty Finance (NYSE: NRF) and its external manager Northstar Asset Management (NYSE: NSAM), along with Albert Tylis, President of both entities spoke at the Citi Global CEO Property Conference.
NSAM is also a broker-dealer and manager of four non-traded REIT funds, where Mr. Hamamoto currently is, or formerly was a part of the management team.


Notably, NSAM was spun-out of Northstar Realty Finance (Northstar) June 30, 2014, giving existing NRF shareholders an interest in the external manager and its dividend.
Tale Of The Tape – Past 10 Years


Hamamoto shared that the ability to strategically move in and out of asset classes is largely responsible for the "20 percent annualized total returns to shareholders during the past 10 years."
• http://www.benzinga.com/analyst-ratings/analyst-color/15/03/5306440/keefe-bruyette-woods-elevates-high-yield-northstar-realt
NRF Asset Mix – Key To Outperformance
Unlike most publicly traded REITs that focus on one product type or geographic region, NRF is essentially a hybrid mREIT which has spent the past five years evolving into a diversified equity REIT.


Asset classes include: Healthcare, Hotel, Manufactured Housing, Net Lease, Multi-Family Apts, Office/Industrial, Real Estate Securities/PE Investments and recently acquired European Office Assets.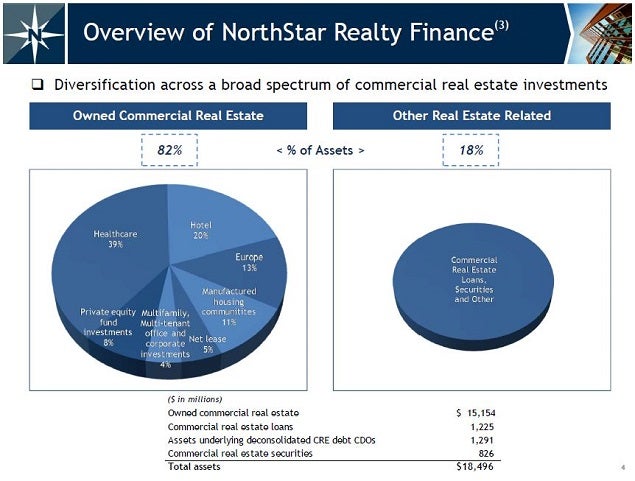 NorthStar Realty Europe Corp. ("NRE") – 3 Slides
On February 26, 2015, NorthStar Realty announced plans to spin-off its European real estate business, into a separate publicly-traded, NYSE-listed REIT.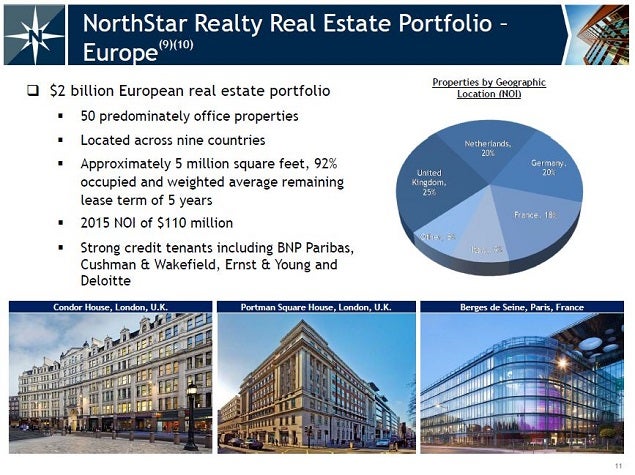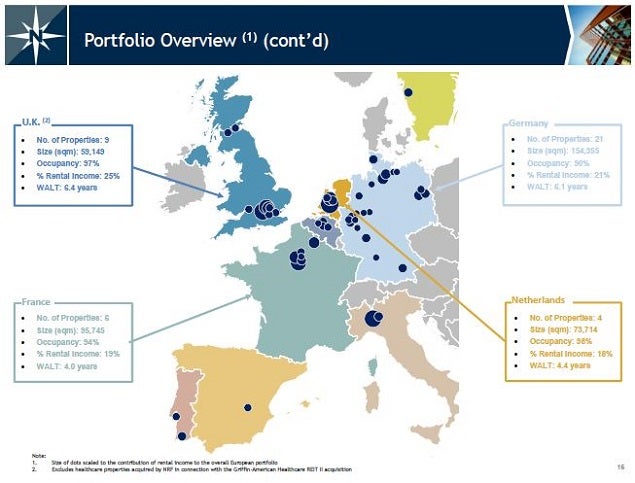 5 Key Takeaways – Citi Conference
1. NRF REIT Structure: Entirely "dictated by the market."
 Current diversified structure has led to "double RMZ returns over 10 years."
 External manager NSAM will provide "capital allocation vision and synergies" in any case.
 Moving forward it is unclear if NRF will continue to exist in its present form, vs. incubating and spinning-out REITs once vertical markets have achieved sufficient scale.
2. NSAM Fiduciary: External manager NSAM has a fiduciary duty to select the best deal in the interest of shareholders of both the non-traded REITs and NRF.
 Moving forward debt deals will naturally flow to two non-traded REITs.
 ~$5 billion of total assets in non-traded REITs.
 ~$18 billion of assets on the NRF balance sheet today.
 NSAM is owned by shareholders, not a small group of partners.
3. Northstar Realty Europe (NRE): spin-out driven by market not giving, and probably never giving full credit to the European portfolio of assets owned inside NRF.
 During mid-90's Hamamoto co-managed Whitehall for Goldman Sachs, and still has many international relationships in place.
 NRF closed on $2 billion of European assets during the past nine months, ~50 percent of trophy office portfolio is located in London and Paris.
 European cap-rates vs. debt interest rates are at an all-time high spread.
 NRE will be listed on the NYSE where NRF shares trade; and NRE shares may also be jointed listed on a European exchange.
 European REITs trade with much lower cap-rates, typically 4 to 4.5 percent; and/or trade in multiples of 25x to 30x cash-flow.
4. Future Vertical Markets: NRE will likely expand beyond pan-European office sector.
 Healthcare assets – will be an exception. The existing $600 million U.K. healthcare portfolio will stay aggregated with the U.S. healthcare portfolio.
 Hotels – any European acquisitions would be a separate business units.
 Multifamily apartments – the European residential sector "looks interesting." There is potential for a "complexity discount when closing on multi-jurisdictional portfolios."
5. Non-Traded REITs/Broker-Dealer: NSAM is supportive of new FINRA regulations, which will provide for more transparency and disclosure regarding fees.
 During 2014 raised $1.2 billion across all the product types.
 December 2014 saw a jump up to $300 million in sales. Issues with at a large competitor may have been a driver, along with sales of the Healthcare product being strong.
 There is still plenty of runway for existing non-traded Healthcare and Mortgage REIT products.
NRF Recent Announcement – RXR (NYC Office Portfolio)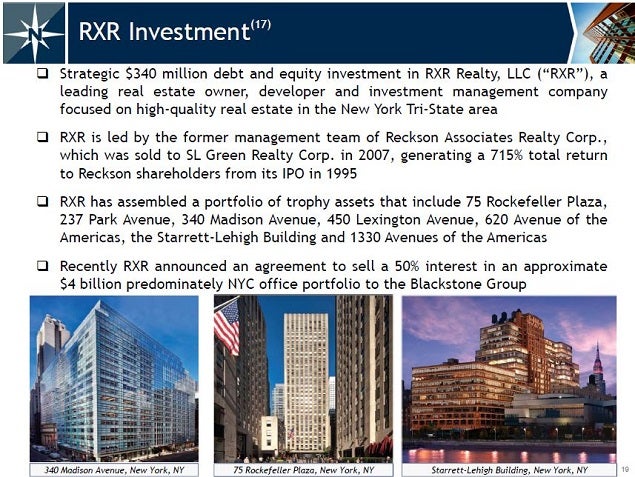 • http://www.benzinga.com/news/15/02/5234107/a-flurry-of-real-estate-deals-suddenly-blanket-nyc-and-new-jersey
© 2020 Benzinga.com. Benzinga does not provide investment advice. All rights reserved.
---