Whole Foods' Expansion Another Success For U.S. Grocers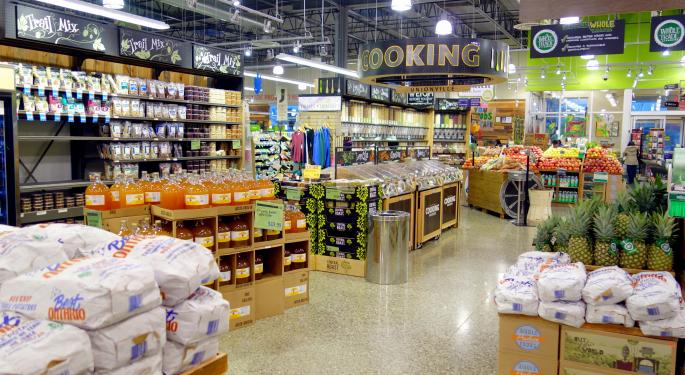 Whole Foods(NASDAQ: WFM) expansion into smaller cities and other areas outside of its traditional suburban base has been a success. A recent New York Times article described one example of Whole Foods' success in Boise, Idaho - the home of Albertson's grocery stores and one the most remote cities of its size in the country.
Whole Foods' natural products have a strong appeal, even in more conservative and rural states such as Idaho. The Times seems to vindicate Whole Foods' strategy of expanding to 1,000 stores and tapping new markets, such as inner-city areas and smaller metropolitan areas.
Whole Foods' strategy appears to be working, Barclays Capital Analyst Meredith Adler told the Times. Adler admitted she had doubted the strategy but Whole Foods' success has changed her mind.
Related: A Happy Meal for Adults: McDonald's Hands Out Bag of Cash at Drive Thru
Such good news seems to be boosting Whole Foods' share price. Shares were up on Tuesday 1.27 percent, or 71 cents, to $56.80, although the grocer hasn't returned to its all-time high of $65.59, which it reached on October 25. Whole Foods was the only major grocer reporting an increase in share prices on December 17, the same day Safeway Stores (NYSE: SWY) shares fell by 47 cents (1.44 percent) and Kroger (NYSE: KR) shares fell by 35 cents (.89 percent).
Like Whole Foods, both Kroger and Safeway have reported major increases in revenue in the last year. Kroger's revenue increased from $94 billion in October 2012 to $99.42 billion in October 2013; Safeway's revenue grew from $40.96 billion in September 2012 to $45.66 billion in September 2013; Whole Foods' revenue went from $11.7 billion in September 2012 to $12.92 billion in September 2013.
The grocery business seems to be growing with or without Whole Foods expansion.
Posted-In: News Sector ETFs Movers & Shakers Global Economics Hot Analyst Ratings General Best of Benzinga
View Comments and Join the Discussion!