Beer Makers Buy Into Hard Sparkling Water Trend As Hard Soda Fizzles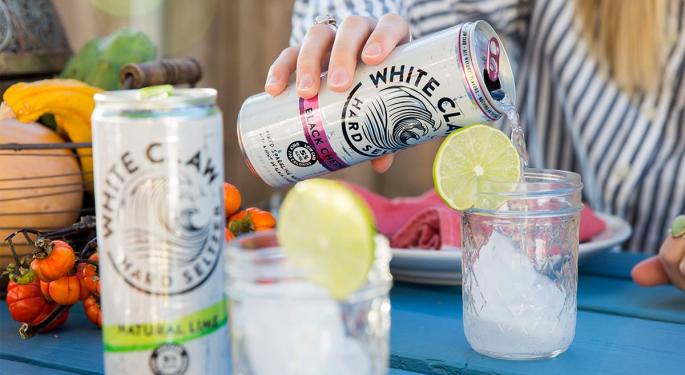 As beer continues to cede market share to alcoholic alternatives and hard sodas fall out of favor, brewers are jumping in on a rising trend.
The industry is shaking its line-up with hard seltzer, a beverage seen to be as disruptive to beer as LaCroix has been to soda.
Sparkling Water's Sparkling Performance
Nielsen reported $257 million in 2018 off-premise channel seltzer sales through June 16, which represents 202-percent growth over the same period in 2017. The beverage has captured about 10 percent of flavored malt beverage sales and has grown to twice the size of hard soda.
The light, low-calorie drink has become the go-to alternative to beer as consumers become more conscious of the latter's lacking nutritional value, according to LikeFolio.
"There is a clear consumer preference for healthier alcoholic beverages," LikeFolio's Andy Swan wrote in a report. "People are avoiding carbs in their drinks, and hard sparkling drinks fill the need."
Seltzer's Trajectory
And the craving may not be sated any time soon. Through an analysis of social media data, LikeFolio discovered a rise in purchase intent for hard sparkling water.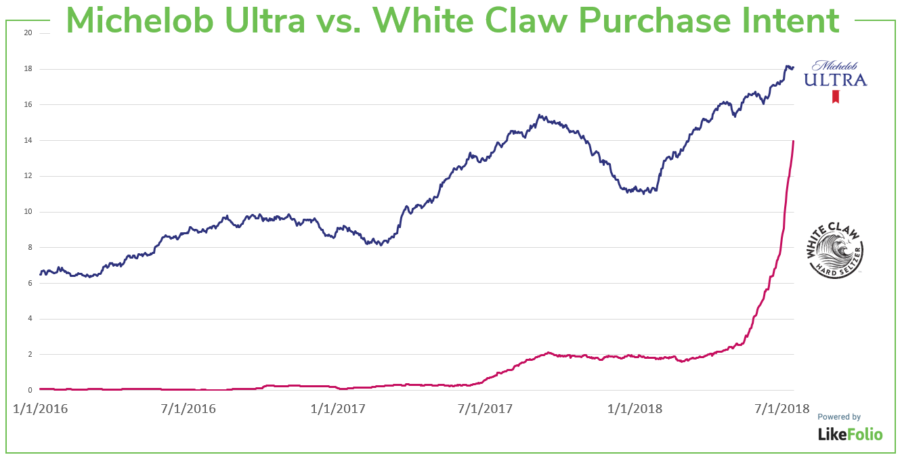 "[This is] still a vibrant, very fast-growing segment that very definitively seems to be hitting the mark," said Nielsen's senior vice president of beverage alcohol practice, Danny Brager.
However, Brager said next year's sales will be indicative of the beverage's long-term staying power, and LikeFolio expects the trend could fizzle like hard soda without a more intensive marketing effort targeting an expanded demographic.
"Men will need to be exposed more to hard sparkling water, and adopt it as a drink of choice, in order to transition from a new trend in the alcoholic beverage industry into a full-blown movement," Swan wrote.
Who Benefits
In the meantime, though, beer companies are refusing to surrender share of the alcohol market and are buying into the theme. Along with White Claw, Boston Beer Company Inc (NYSE: SAM)'s Truly and Anheuser Busch Inbev NV (ADR) (NYSE: BUD)'s SpikedSeltzer control about 90 percent of the market, and each are growing in triple digits, according to Nielsen.
In the metric of purchase intent, White Claw dominates the hard seltzer industry followed by Truly, SpikedSeltzer and Molson Coors Brewing Co (NYSE: TAP)'s Henry's Hard Sparkling. Constellation Brands, Inc. (NYSE: STZ)'s Svedka Spiked Premium Seltzer and Diageo plc (ADR) (NYSE: DEO)'s Smirnoff Spiked Sparkling Seltzer trail behind.
Related Links:
Anheuser-Busch Exec Talks New Beers, Aluminum Tariffs
Trump's Tariff Decision Could Make Your Beer More Expensive: Here's How
Photo courtesy of White Claw Hard Seltzer Facebook page.
View Comments and Join the Discussion!
Posted-In: alcohol Andy Swan Beer hard seltzer LikeFolio SpikedSeltzerTop Stories General Best of Benzinga