Quicken Loans Breaks Down What Goes Into A Perfect Ad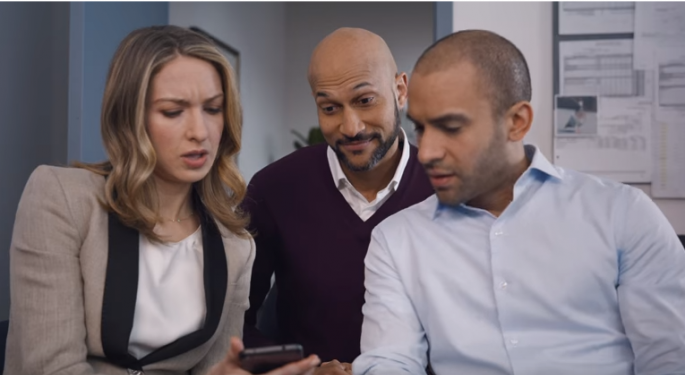 Quicken Loans wants in on the "Avengers."
"Who is the most confident?" Quicken Loans' Chief Marketing Officer Casey Hurbis asks, weighing the company's alignment with Iron Man or Captain America. He ultimately settles on "Captain America. All American — we're America's largest lender."
Hurbis and his marketing team aren't always as confident, though. Come Super Bowl, Hurbis experiences a little stage fright before 130 million pairs of eyes, and with more money at stake than any sports bettor, the experience can be harrowing.
The mortgage lender spent millions on its Super Bowl LII advertisement slot for Rocket Mortgage, according to market estimates, and on top of that, invested hundreds of hours in the development process.
"[For] seven months, and you can't sleep," Hurbis said. "You're just waiting for that."
Related Link: Quicken Loans Calls On All Entrepreneurs For Detroit Demo Day
Ad Development: A How-To
Quicken Loans' Rocket Mortgage Super Bowl commercial was the product of eight months of work, which involved sifting through more than 100 ideas from ad agencies and narrowing them to 35 on the basis of alignment and uniqueness, Hurbis said. After reworking the concepts, a dozen advanced to consumer testing.
In picking a theme, Hurbis weighs the possibility that 20 other board rooms are considering the same idea.
"The last thing I would want to do is turn on the Super Bowl and there's three [ads with similar] ideas," Hurbis said. "How do I know? What if another brand came up with a complex simple confidence idea?"
Rocket Mortgage is the company's mobile and online-friendly product that launched in 2015. Quicken Loans surpassed Wells Fargo (NYSE: WFC) to become the nation's top mortgage lender for the first time in Q4 of 2017.
The Marketing Strategy
Quicken Loans often capitalizes on high-traffic platforms, from the NBA to the NCAA to the Olympics, and heavily invests in aligning campaigns and correlating ads with consumer interests.
"If we're spending a lot of money in the DIY, HGTV, Home Shop, that type of space, I want to make sure that we're creative in a message that plays to the audience that consumes that type of media," Hurbis said.
He and his team are equally meticulous in tailoring marketing to different media. In a 50-50 split, they prioritize broadcasting for general awareness and brand-building and supplement with a more targeted social strategy for customers further down the shopping funnel.
"We've built most of our digital and social content from the ground up, thinking about a mobile user," Hurbis said.
Quicken Loans has been building out a social video content studio particularly to capitalize on "moments" often captured on social media platforms — from holidays to high-interest zoo births. Since introducing the strategy last Thanksgiving, it's doubled or tripled engagement on the mortgage lender's digital and social spaces.
Investing In A Brand
One strategy that's paid off is leveraging brand affiliations by playing on pop culture and leaning on celebrity spokespeople, Hurbis said.
Quicken Loans has worked with Detroit Lions legend Barry Sanders. It's going on its fourth of seven years with PGA golfer Ricky Fowler. More recently, it's partnered with Keegan-Michael Key and Marvel.
The firm is careful to pursue partners that align with both the company and its target audience, Hurbis said. When the two complement one another and "borrow each other's brand equity," the synergy is rewarding, he said.
"We have seen incremental lift when we've aligned ourselves with another brand or celebrity," Hurbis said.
Quicken's "Avengers: Infinity War" campaign rolled out two weeks ago, and Hurbis said he recorded the highest sentiment on social platforms since Key's Super Bowl work. Site traffic rose 50 to 60 percent, he said.
Similarly, the Super Bowl commercial resonated well with Big Sean's following, who appreciated the artist's small cameo. "They took that and extended and amplified it quite a bit for us," Hurbis said.
Since Hurbis joined Quicken Loans last April after six years heading Fiat Chrysler's (NYSE: FCAU) North American brand, the firm has done about half its marketing solo and half partnered.
Related Link: The Most Loved And Hated Super Bowl LII Commercials: Pepsi Steals The Show, Diet Coke Falls Flat
Becoming The Talk Of The Town
As Hurbis sees it, he's selling confidence.
"There's 60 percent of people on the sidelines because it's daunting, it's intimidating, they don't know where to start," Hurbis said. "So what we try to do with our broadcast [is say], 'Hey, it doesn't need to be that complex, we can make the complex simple.'"
His challenge is to balance the message with the gravity of such a high-stakes, consequential consumer decision. Quicken Loans fielded criticism for how its 2016 Super Bowl campaign for Rocket Mortgage approached a major financial decision with levity.
To be sure, that's not necessarily outside the marketing strategy. "I want people to talk," Hurbis said. "You're not always going to make everybody happy."
Quicken Loans wants to present its brand as approachable, and part of its strategy is educational, the CMO said.
" ... Not everybody that's coming to our dot-com is ready to convert today or do an application or speak to a banker. [They're] just in discovery mode, so yes of course we want to convert business, but if you're not ready, how do we make sure that you learn more?"
Quicken Loans Chairman Dan Gilbert is an investor in Benzinga.
View Comments and Join the Discussion!
Posted-In: advertising Avengers Casey Hurbis Keegan-Michael Key Quicken LoansExclusives Media Interview Best of Benzinga