Sprint And Verizon: The 'Can You Hear Me Now' Pair Trade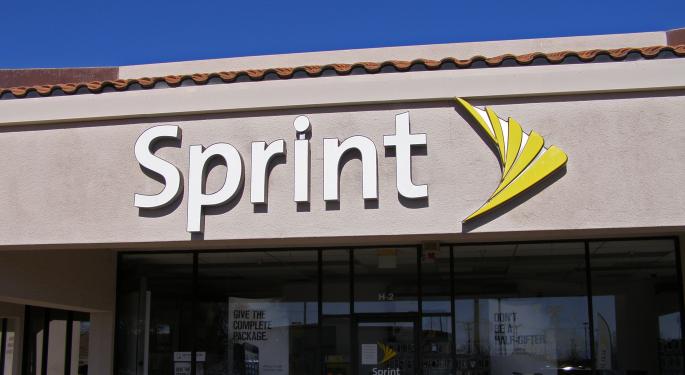 When Verizon Communications Inc. (NYSE: VZ)'s "Can you hear me now?" guy first defected to Sprint Corp (NYSE: S), the yellow-laden commercial registered as a silly jibe — maybe even a mic-drop moment — in the battle between two of the United States' competing wireless providers.
At the time, renegade actor Paul Marcarelli even released a statement comparing the, in his estimation, imperceptible differences in cell coverage between the two corporations, but he ultimately favored Sprint.
"When it comes to saving money [...] Sprint is by far the best choice for consumers," Marcarelli said, allegedly independently of his acting role.
Perhaps his words made an impact.
What Do The Numbers Say?
Since the first advertisement debuted June 5, Sprint shares rose sharply from $3.84 to about $8.50 after two years of steady decline. Verizon saw a modest increase from $50.71 to $53.65 only after a $9 drop between July and November.
These financial results may have been unrelated to Sprint's marketing tactics, as the company reported a record decrease in customer defection in 2015 and consistent increases in subscribers.
Yet, there's something to be said for effective advertising.
The Power Of Persuasion
A 2013 study of celebrity business endorsements reported that stock prices generally increase when companies announce contracts with celebrities, and surveyed businesses mostly agreed that celebrity advertisements influenced their promotional gains.
These were precisely the effects Sprint was looking for.
In a New York Times interview this fall, Sprint spokesman David Tovar said the ad campaign was motivated by the company's No. 4 rating in the market.
"We feel like we have to be bold," he said. "Otherwise we're not going to be able to compete with our competition. They have more money, they have more resources and they have more brand equity."
Tovar told the Times the company's first Marcarelli commercial received 14 million YouTube views — an increase from the average ad view of 40,000 — and inspired more than 970 news articles.
Sprint's returns from this campaign are yet unknown, but the company's quarterly report is set for release on December 31.
Image Credit: By Chris Potter, stockmonkeys.com (Flickr) [CC BY 2.0], via Wikimedia Commons
Posted-In: David Tovar New York TimesPsychology Movers Tech Media Trading Ideas General Best of Benzinga
View Comments and Join the Discussion!