Why This Money Manager Is Bullish GM, Bearish Tesla And Still Waiting On Ford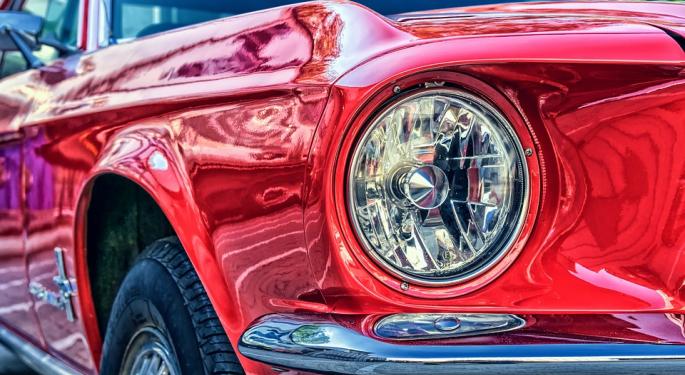 Internal and external pressures are molding a new U.S. auto industry.
A sharp and structural shift from personal vehicle ownership to ridesharing drives an enduring downturn in auto sales, while trends toward electric vehicles upend legacy businesses.
"We know what the future is, we know where things are headed," David Kudla, CEO and chief investment strategist at Mainstay Capital Management, said on Benzinga's PreMarket Prep radio show. "If you're a major automaker these days, you've got to be articulating a strategy of what you're going to do in the EV market."
In Kudla's mind, the changes in transportation have born a clear investment strategy.
Another Winning 'Bolt'
By his assessment, General Motors Company (NYSE: GM) is the leader to get behind.
"GM is maximizing profits right now on the other side of peak auto, and they are articulating very well their strategy in these future segments and future technologies and partnerships that they need to be successful in what transportation is moving to in the U.S. and around the world," he said.
Management has been forward about plans for EVs, autonomous vehicles and ridesharing, and it's proving its capacities in AV testing, the Maven project, and the already on-road, affordable electric Chevrolet Bolt.
While EVs are critical, GM continues to profit from its core internal combustion engine segments, which Kudla considers sustainable.
"What GM has been doing well this year is scaling back fleet sales, focusing on their personal and commercial sales, but the higher margin sales," Kudla said, noting improved SUV and truck sales amid low fuel costs. "So we saw production decline, overall sales decline in the third quarter, but earnings was quite strong."
An Unscalable Model
Tesla Inc (NASDAQ: TSLA), on the other hand, has neither the legacy business nor the affordable, scaled innovations of GM. And as fuel prices remain low, its high-priced electric product is less enticing.
"There really struggling to move to real mass production of a vehicle, and we're waiting to see if they're going to make it," Kudla said.
Considering the Model 3 production goals "unrealistic," he plays the short side of Tesla and eyes production bottlenecks for an opportunity.
"I would say that many people look at Tesla as a technology company, and it is in terms of the technology development it does, but what they're doing now is they're moving to a real manufacturer of vehicles," Kudla said. "That's what they're trying to do with the Model 3, and what we're seeing is, and we predicted this, they're not doing it very well."
An Unclear 'Focus'
Meanwhile, ambiguity shrouds the future of Ford Motor Company (NYSE: F).
Although the recently appointed CEO, Jim Hackett, expressed an intent to emphasize AV and flexible mobility tech, he has not articulated a solid strategy. At the same time, the firm has yet to launch a mass-market EV.
And Fiat Chrysler Automobiles NV (NYSE: FCAU), even deeper on the sidelines, rejects the trends altogether.
"It's interesting when you look at the CEO of Fiat Chrysler," Kudla said. "He even questions the whole autonomous technology and he's questioning the future, so a very different perspective there versus Hackett at Ford or [CEO Mary] Barra at GM where they seem to be embracing it and want to move forward."
Related Links:
Video: Gene Munster Compares Apples To Teslas
Baird Analyst: Tesla Is Not A Good Short With Model 3 On Its Way
Posted-In: David Kudla Mainstay Capital Management PreMarket PrepTop Stories Trading Ideas Interview Best of Benzinga
View Comments and Join the Discussion!