Apple's Tim Cook Takes On Silicon Valley, Bloomberg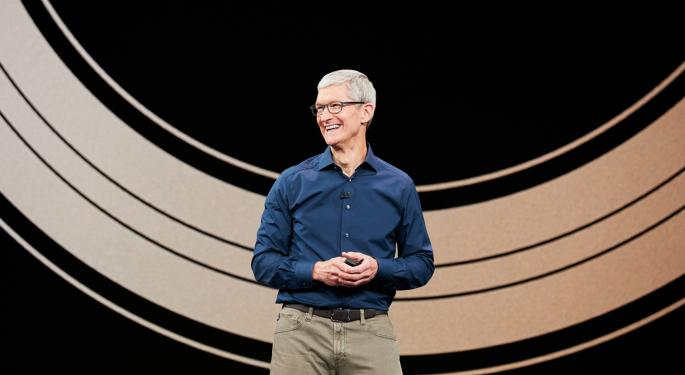 Apple Inc. (NASDAQ: AAPL) is fighting a two-front battle: one against Silicon Valley pertaining to privacy issues and one against Bloomberg for what CEO Tim Cook said is a false story.
'This Is Surveillance'
Companies who hoard large amounts of personal data from its users are guilty of "surveillance" and society "shouldn't sugarcoat the consequences," Cook said at a conference in Brussels, according to Bloomberg. Companies engage in such behavior to enrich themselves, he said.
"This should make us very uncomfortable, it should unsettle us," Cook reportedly told the European audience.
Europe's General Data Protection Regulation is evidence that governments can enact "good policy" to protect privacy rights, Cook said, adding that the rest of the world should follow the EU's lead.
"We at Apple are in full support of a comprehensive federal privacy law in the United States," Cook said.
Such a law could include the following elements, the CEO said:
The right for customers not to share data if they don't want to.
The right to know what data is being collected and for what purpose.
The right to access any information collected by companies.
The right to security.
Related Link: Reactions To Tim Cook's Duke Commencement Speech
Cook: Bloomberg Is Wrong
Bloomberg reported in early October that Apple and other tech giants suffered a security breach on behalf of the Chinese government, which allegedly infiltrated its servers.
In an interview with BuzzFeed News, the Apple executive doubled downed on prior statements that Cupertino was not compromised.
Not only is there "no truth" to Bloomberg's report, the news organization has yet to do the "right thing" and retract the story, Cook told BuzzFeed.
Cook's comments are unusual, as the company shies away from publicly calling for media outlets to retract erroneous stories, BuzzFeed's John Paczkowski and Joseph Bernstein reported.
In a statement to BuzzFeed, Bloomberg said the report is the final product of "more than a year of reporting" and with "17 individual sources, including government officials and insiders at the companies." The news organization continues to stand by the story and said it remains confident in its reporting and sources.
Cook told BuzzFeed that each time Bloomberg approached Apple for comment, the "story changed," and each time the company investigated the claims but found nothing, even after turning "the company upside down." Apple's conclusion after internal investigations is that the likelihood of Bloomberg's reports being true is "virtually zero," Cook said.
An executive at an unnamed Fortune 50 company that was potentially part of Bloomberg's story told Bloomberg it also found no evidence of the claims.
"We investigated and found nothing," the executive reportedly told BuzzFeed. "Please leave us out of this. We weren't mentioned and I don't want us to be. I don't know what the f--- is going on here."
Related Link: Apple's Tim Cook Explains How The iPhone Escaped The Trade War So Far
Photo courtesy of Apple.
View Comments and Join the Discussion!
Posted-In: Bloomberg BuzzFeed China GDPR privacy Tim CookTech Media Best of Benzinga