8 Of The Biggest Whistles Ever Blown On Wall Street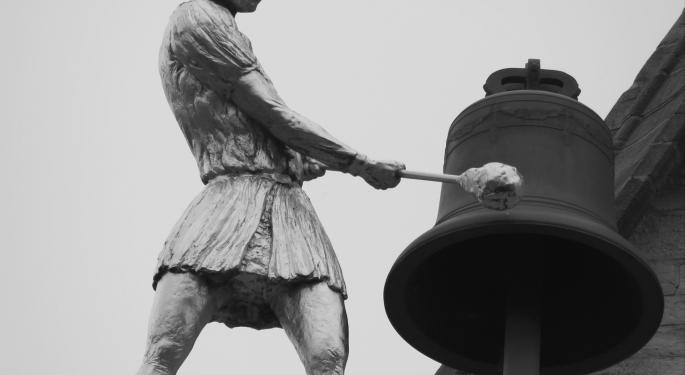 Chelsea Manning, Edward Snowden, Julian Assange, Deep Throat. You know the names.
Whether you consider them informants, patriots or glorified tattle-tales, whistleblowers have significantly impacted United States history. They've alerted us to illegal or unethical activity in public and private operations that would have otherwise gone unnoticed.
The U.S. government so lauds their efforts that, in 2014, it dubbed July 30, the anniversary of whistleblowers' legal protection, National Whistleblower Appreciation Day.
Here are some of the most memorable whistleblowers in American business and finance history, many of whom have inspired Hollywood pictures.
1. Karen Silkwood — Kerr McGee
This nuclear power plant worker testified against her firm's dubious safety standards in the 1970s and later discovered more than 400 times the allowed level of plutonium in and on her body. She died in a mysterious car crash on her way to inform a New York Times journalist.
2. Erin Brockovich — Pacific Gas & Electric Company
After researching and uncovering local health issues related to exposure to the PG&E Corporation (NYSE: PCG) subsidiary's chemical waste, the legal clerk encouraged hundreds of residents to sue PG&E for polluting groundwater and conspiring to cover the offense.
3. Sherron Watkins — Enron Corporation
Although widely hailed a whistleblower, the former vice president of corporate development at the now-defunct Enron Corporation merely informed her superiors of wrongdoing and then testified of accounting fraud after legislators took up the issue. Controversially, she had traded on information of the firm's financial instability.
4. Jeffrey Wigand — Brown & Williamson
The research and development executive exposed the tobacco industry's decades-long manipulation of nicotine levels in cigarettes.
5. Harry Markopolos — Bernard L. Madoff Investment Securities
After first alerting authorities to Bernie Madoff's Ponzi scheme in 2000, the Wall Street executive continued to investigate the issue and report more detailed findings of fraud through Madoff's eventual arrest in 2008.
6. Cynthia Cooper — WorldCom
Against the warnings of her chief financial officer, Cooper investigated and exposed $3.8 billion in accounting fraud committed by the phone company now known as MCI Inc., where she served as vice president for internal audits.
7. Cheryl Eckard — GlaxoSmithKline plc (ADR) (NYSE: GSK)
The company's quality manager revealed the known sale of ineffective drugs and a contaminated baby ointment. GlaxoSmithKline settled in 2010 after an eight-year legal battle.
8. Tyler Schultz — Theranos
The grandson of a Theranos board member reported the blood-testing company's manipulation of regulatory proficiency exams used to monitor accuracy. Some predict the firm, which dropped in value from $9 billion to $800 million after Schultz blew the whistle, will dissolve by the end of 2017.
Related Links:
Carson Block Is Increasingly Concerned With A Whistleblower Case Snap Faces
Whistleblower Site Calls McDonald's The 'Fraud Of The Century'
This Penalty's For You: Anheuser-Busch Ordered To Pay Up For Violating Whistleblower Protections
View Comments and Join the Discussion!
Posted-In: Bernie MadoffShort Sellers Education Politics Psychology Top Stories Markets General Best of Benzinga