Whistleblower Site Calls McDonald's 'The Fraud Of The Century'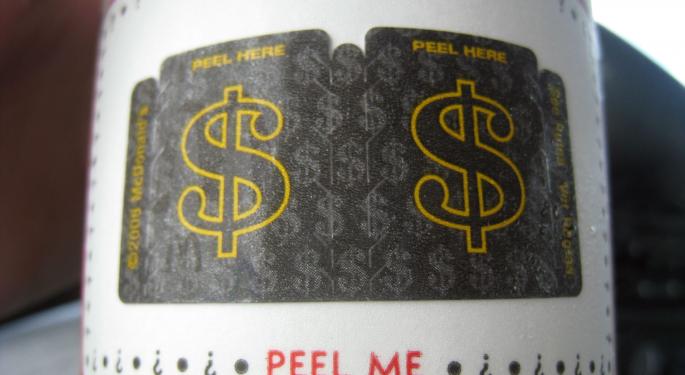 A whistleblower website, under the copyright © Justice-pour-tous.org, has targeted McDonald's Corporation (NYSE: MCD) CEO Steve Easterbrook, calling the multinational corporation the "new Volkswagen" and "the fraud of the century."
The website's URL, steve-easterbrook.com, is aimed at informing McDonald's investors about illegal business practices and investigations the company is undergoing in Europe.
The whistleblower site focuses heavily on the fast-food chain's questionable marketing practices surrounding its highly popular Monopoly game, particularly in France, McDonald's second biggest market.
The website makes many bold claims against McDonald's, going as far as to say Easterbrook should face trial, stating, "He knew about the fraud, he had the power to make it stop, he didn't."
The site continued, "It's also our upmost [sic] conviction that Mr. Easterbrook has deliberately misled investors by omitting to warn them about the very serious legal issues the company was facing in Europe."
Manipulative Psychology At Play?
According to the site, France's Monopoly game was "radically transformed" in 2016. It claims the game violates the European Union Directive on unfair commercial practices through misleading and aggressive marketing by creating psychological effects in the mind of the consumer causes causing them to spend more money.
"Our brand remains strong in France, successful monopoly promotions, along with the introduction of new premium products are increasing average check," said Easterbrook in an interview in early 2016.
Civil Action
The website claims that civil action against McDonald's was filed on November 15, 2016. They are also working on a class-action suit in France and have filed a complaint with the SEC.
"We strongly believe that once the French authorities truly realize the extent of the frauds McDonald's has committed over the years, they will notify their European counterparts and it will trigger investigations everywhere in Europe. These investigations will unavoidably lead to hefty fines and quite possibly prison sentences for some executives," the site added.
While this isn't the first time people have questioned the legitimacy of McDonald's Monopoly game, it appears unlikely that the case will cause much if any threat to one of the world's biggest corporations.
Image Credit: By Katy Warner from Orlando, FL, USA (I'm lovin' it (10-07-08) Uploaded by LongLiveRock) [CC BY-SA 2.0], via Wikimedia Commons
View Comments and Join the Discussion!
Posted-In: Steve EasterbrookNews Psychology Restaurants Legal Tech Media General Best of Benzinga