5 Key Takeaways: W.P. Carey CEO Trevor Bond - Citi Conference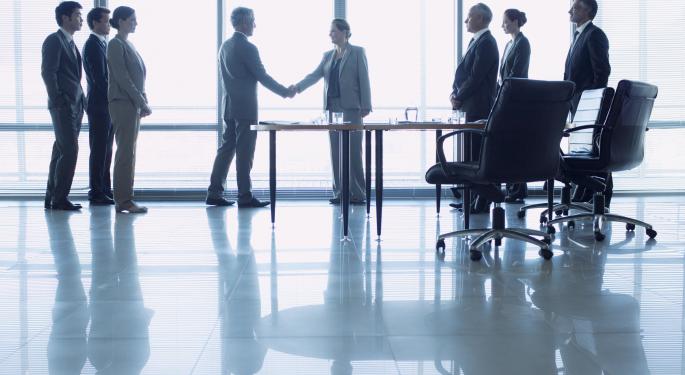 CEO Trevor Bond of W.P. Carey Inc (NYSE: WPC) on Tuesday presented at the Citi Global CEO Conference.
The company is in the net-lease REIT sector and currently has a market cap of $7.25 billion. W.P. Carey owns over 780 properties in 17 countries, primarily net-leased on a long-term basis to 215 credit tenants.
W.P. Carey has been organized as a REIT since 2012. However, the company has a record of 55 consecutive dividend increases dating back to its days as an LLC.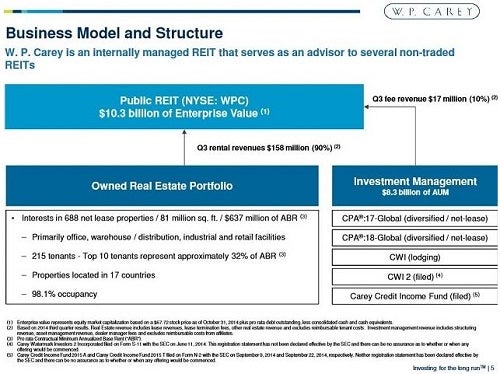 Additionally, W.P. Carey manages and acquires properties on behalf of its non-traded REIT businesses, including net-lease office, industrial and retail; as well as hotels and self-storage.
Headline Overhang
In this respect, the W.P. Carey business model is differentiated from most of its publicly traded net-lease peers, with the exception of American Realty Capital Properties Inc (NASDAQ: ARCP).
Related Link: American Realty Capital Properties Big Release Was A Mixed Bag
Because of the recent negative headlines garnered by the unfolding saga regarding accounting and corporate governance at ARCP, many of the questions directed at Bond at the recent conference focused on the WPC non-traded REIT advisory business segment (10 percent revenues), rather than the WPC on balance sheet net-lease business (90 percent revenues).
5 Key Takeaways – Citi Conference
1. 40-Year History: Since 1978, W.P. Carey has raised funds for 15 funds that have gone "full-cycle," through liquidity events.
Net investor IRR, after fees, averaged approximately 10 percent for WPC managed funds.
WPC has a solid reputation for letting investment portfolios "season" for 8 to 10 years.
This philosophy gives the WPC managed funds time for values to catch up from "the dilution [from fees] when you first sell the shares."
2. No New CPA Net-Lease Funds: After CPA 18 is fully invested in 2016, there will not be another managed fund in this vertical market.
Currently, due to the fiduciary relationship that comes from raising money for CPA 18, new net-lease acquisitions are first evaluated for suitability for the fund.
Moving forward, WPC intends to "pivot away from managed REIT net-lease revenue."
WPC plans to continue hotel and self-storage managed funds, as well as new vertical markets for its non-traded REITs.
Notably, WPC shareholders receive fee income from these purchases made on behalf of CPA 18, as well as 50 bps management fees based on asset value each year and 10 percent of net cash flow, after expenses.
3. Fund Raising: 2014 was a record year for fund raising in the WPC managed REIT business.
During Q4, fund raising for the lodging fund was ahead of schedule, and there may have been some tailwinds from a competitors woes; it was not a major factor according to Bond.
Non-traded REIT fund raising moving forward will likely be impacted negatively by new FINRA fee disclosure rules, which go into effect April 2016.
While this initially may reduce the overall size of the marketplace due to customers seeing the fund net NAV, or its net basis of $8.90 to $9.00 on an initial $10.00 per share investment on a brokerage statement.
WPC, as a broker dealer, has always followed "sensible business practices," and Bond does not foresee any loss of market share. In fact, the additional transparency of the new rules could serve to boost sales in the future.
4. WPC Balance Sheet/Scale: During 2014, $900 million was raised directly for the WPC balance sheet. Larger scale portfolios too big for the CPA funds, such as $300 million State of Andalusia portfolio of public buildings and recent Pendragon auto dealership portfolio in the U.K., which also was over $300 million, naturally end up on the balance sheet.
Related Link: High-Yield REIT W.P. Carey Invests In U.K. Automotive Sector
5. Geographic Diversity: WPC revenues are 65 percent domestic, 35 percent international, (with about 30 percent in Europe).
WPC used its investment-grade rating to recently sell two U.S. bond offerings at 4 percent, as well as a $500 million Euro-bond offering at 2 percent.
Additionally, WPC has an active USD/Euro currency hedging strategy.
Lower cap rates in Europe combine with the lower cost of capital to increase the WPC spread; plus, most of the European leases have significant CPI increases.
Posted-In: Citi Citi Global CEO Conference Trevor BondREIT Trading Ideas General Real Estate Best of Benzinga
View Comments and Join the Discussion!