Tesla in Talks for a New Battery Supplier As Safety Concerns Spread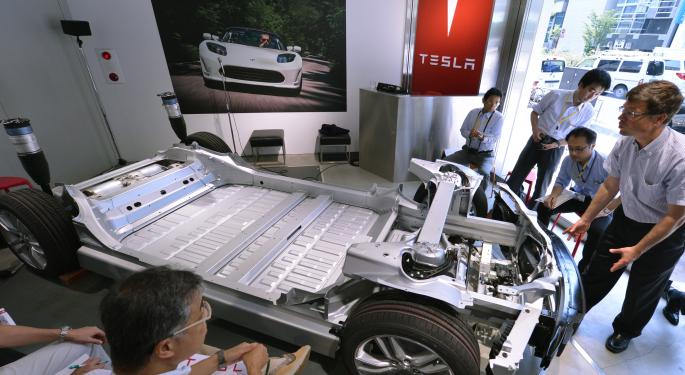 You can chalk it up to coincidence if you like, but it's still interesting that word Tesla Motors (NASDAQ: TSLA) was shopping around for a new company to produce batteries for its electric cars happened to surface the same week as a video of one of its Model S sedans catching fire.
That video apparently contributed to Tesla share prices tumbling last week – and raised new concerns regarding the safety of lithium ion batteries.
Late last week, Reuters confirmed that Tesla and Samsung SDI – a division of Samsung Electronics (OTC: SSNLF) – were in talks regarding the South Korean company's supplying battery technology to California-based Tesla.
In 2011 Tesla finalized a supply agreement with Japan's Panasonic Corporation (OTC: PCRFY) , making it the primary source of "automotive grade" lithium ion battery cells for the Model S. And a year earlier, Panasonic invested $30 million in Tesla, to reportedly "deepen the partnership and foster growth of the electric car industry."
But the wire service also quotes a source "familiar with the discussions" who said the battery cell technology produced by Samsung SDI is not "as yet" competitive with the Panasonic product – and added that Samsung and Tesla were not close to a deal.
The Tesla car fire, meawhile, apparently took place after the vehicle ran into a large piece of debris at highway speed. But as Kevin Bullis, senior energy editor for the MIT Technology Review, blogged last week, "there is some real concern out there about the safety of lithium ion batteries, which is understandable because there have been well reported cases of lithium ion batteries catching fire."
And Bullis lists a variety of well-publicized incidents – including burning lap tops and cell phones, the destruction of a group of electric cars produced by the now-defunct Fisker Automotive after getting wet during Hurricane Sandy and the grounding of Boeing's (NYSE: BA) troubled 787 Dreamliner – all blamed on seemingly spontaneous lithium ion battery fires.
For his part, Tesla founder Elon Musk noted drivers are far more likely to experience fire in a conventional gasoline car than in one of his all-electric vehicles. "There should be absolutely zero doubt that it is safer to power a car with a battery than a large tank of highly flammable liquid," he said in a press statement.
Posted-In: electric carsNews Contracts Travel Tech Trading Ideas Press Releases General Best of Benzinga
View Comments and Join the Discussion!