The Benefits Of Fractional Shares For Investors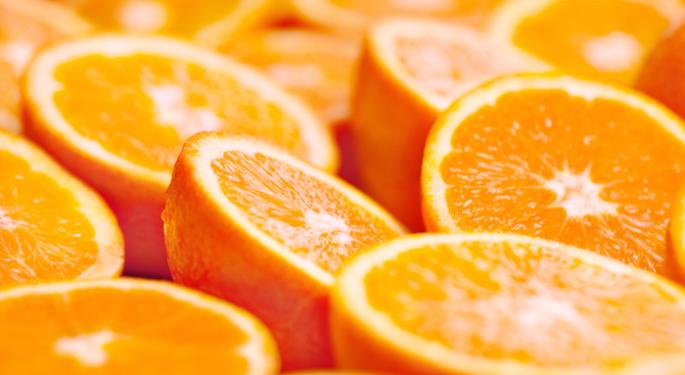 Have you ever been left with a small balance on a gift card because there wasn't anything else you could both afford and wanted to buy? You may have run into a similar issue when buying investments like stocks and ETFs in whole share quantities.
Companies issue stock in whole units known as shares. Stocks are then traded on the open market in these full share quantities. As a result, most brokers restrict investors to buying and selling stock in whole share quantities.
How Are Fractional Shares Different From Whole Shares?
Even if you only trade stocks in whole shares, you could wind up with fractional shares due to corporate actions like stock splits and dividend reinvestment plans (DRIPs).
What are fractional shares? They are partial shares equal to less than one full share. Visualize fractional shares like the segments that make up an orange. If an orange has ten segments, each segment represents a small portion of the entire orange. If a whole orange represents 1 full share of stock, each segment of the orange symbolizes a 1/10th fractional share.
To help illustrate how an investor might receive a fractional share as a result of a corporate action, let's use an example. Barry owns 725 shares of ACME Inc. when the company announces a 3-for-2 stock split. This means that for every 2 shares Barry owns prior to the split, he'll have 3 shares afterwards.
In other words, his new number of shares is 1087.5 (725 x 3/2). Brokers have varying policies when it comes to fractional shares. Barry's broker doesn't allow him to trade fractional shares so they replace the 0.5 share he was entitled to with its cash value instead.
Fractional Shares Are Flexible And Efficient
Fortunately, not all brokerage firms are like Barry's. Motif Investing offers flexibility and let's investors take full advantage of trading fractional shares. Let's examine how this works and the benefits.
When you place an order with Motif, you can set the dollar amount you wish to purchase. Our platform then allocates the number of shares to you (even if they're less than whole shares of stock).
In the example below, Barry wants to order $5,000 worth of Apple, Inc. (NASDAQ: APPL) stock, priced at $111.79 per share. The smallest fractional share that can be traded using our platform is 0.01, so Barry would receive 44.72 shares of AAPL.
Flexible Purchasing Power Of High Price Per Share Stocks
Fractional shares can be advantageous when you are low on cash, or don't want to spend a lot of money on a trade, but wish to gain exposure to a stock that has a higher price per share.
For example, if one share of XYZ Company is trading at $100 per share, you can use our platform to purchase $10 worth of XYZ Company and own 0.1 share of XYZ Company ($10 trade / $100 per share = 0.1 share of ownership). Fractional shares make it easier for investors to buy stocks like Alphabet Inc. (NASDAQ: GOOG) – recently trading over $600/share – that have high prices per share.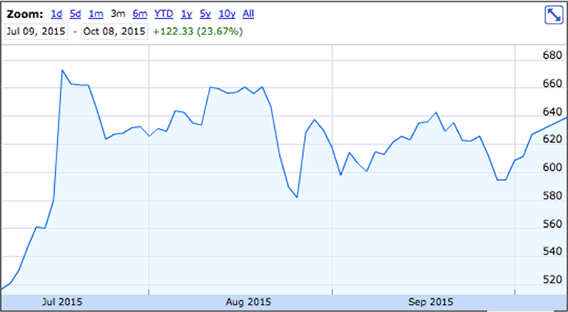 Put All Of Your Available Cash To Work Immediately
Fractional shares also let you conveniently put all of your available cash into the markets immediately. How does that work? Let's say you have $110 in cash that you want to invest in XYZ Company. You can use our platform to purchase 1.1 shares ($110 in cash / $100 per share = 1.1 shares of ownership) all in one trade.
However, if your $110 were at a brokerage firm like Barry's that doesn't allow fractional trading, you'd only have enough money to buy 1 full share of XYZ Company for $100. You'd be left with a $10 cash balance.
Remember the gift card example from the beginning about getting left with a small remaining balance? That's how Barry feels about his $10.
Phew, No Math Required
Worried about trying to figure out the math for how many fractional shares you can trade? Don't worry, we make it easy!
When you trade with Motif, there's no need to calculate how many fractional shares of a stock or ETF you want to buy or sell. All you have to do is input the dollar amount for each trade and we do the number crunching for you.
Here's a look at a sample motif account snapshot. The exact number of whole and fractional shares held by this investor is clearly displayed for each individual stock held in the motif.
You can also choose to place orders on our platform by share amount instead of dollar amount if you prefer. Using the earlier example, Barry can update the drop-down list selection in the Quantity field from "Amount ($)" to "Shares" and input 44.72 shares of Apple stock to place his order for AAPL.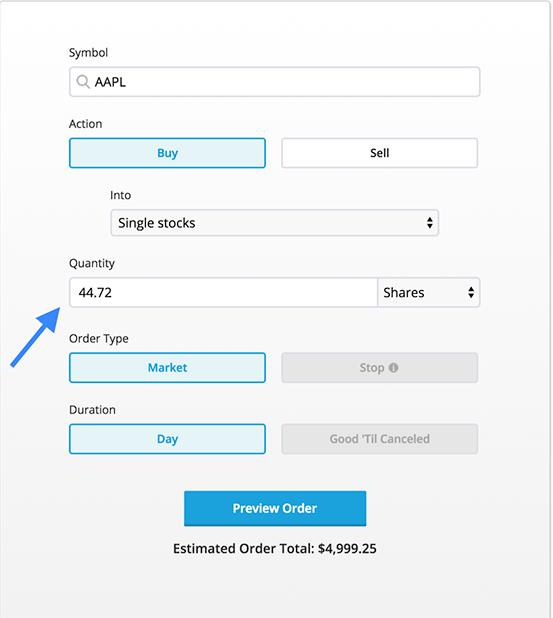 Even More Benefits Of Fractional Shares
Fractional shares in your Motif Investing account are eligible for dividends, just like full shares.
Motif Investing also offers fractional share trading in real-time, not batched and traded at pre-defined times during market hours like at other brokers..
At Motif Investing, you also have the ability to place sell stop orders for as small as a 0.01 fractional share or more that are valid for 1 day (Day) and 60 days (Good 'Til Canceled).
Another benefit of fractional shares is putting your cash to work on a regular basis and potentially improving your returns through dollar cost averaging. Because you can choose the exact dollar amount, you're investing, you can do so on a more regular basis with any fixed amount.
Take Advantage Of Fractional Shares
Now that you've learned the benefits of fractional shares, you can put more of your money to work with Motif Investing. Get started today.
Standard pricing: $9.95 total commission per motif transaction, or pay $4.95 per stock for individual stock transactions. Other fees may apply. For details on fees and commissions, please click here.
View Comments and Join the Discussion!
Posted-In: Personal Finance Trading Ideas General