Five Books That Make Perfect Holiday Gifts For The Investor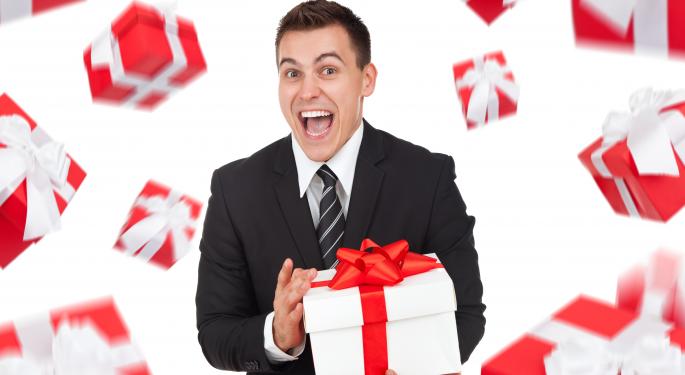 Still looking for last-minute holiday gifts for somebody who loves the investment markets?
Or maybe you're thinking ahead to how you will use those gift cards you receive for Christmas.
When was the last time you read a book on investing?
The great investors of the world didn't get those titles by accident. They are or were students of the markets so we thought we would put together a list of their favorite books.
"The Clash of Cultures: Investment vs. Speculation" – John Bogle
John "Jack" Bogle founded the Vanguard Group and is known as the father of the index fund. Throughout his life he has criticized speculation in the markets through individual stock picking and complex financial products that cause people to bet on the market.
See also: Holiday Gift Ideas For The Should-Be Investor
His book provides plenty of support to his argument that investing in index funds is the best way to make money and it's a favorite of Warren Buffett.
"Investing Between The Lines: How to Make Smarter Decisions By Decoding CEO Communications" - L.J. Rittenhouse
Another Buffett favorite, author Laura Rittenhouse attempts to help investors analyze company communications. Understanding what a company is saying when its CEO appears on financial media, presents at conferences, sends out a press release or earnings report is no easy task. Rittenhouse wants to help investors dig through all of the words and find the pieces that are truly important.
"The Intelligent Investor" – Benjamin Graham
Published in 1949, Benjamin Graham is considered the father of value investing and it's not hard to find big-name investors who call this the best book on investing ever written. In fact, that's exactly what Warren Buffett said about it. Graham didn't set out to teach the reader how to pick stocks but it does build the reader's analysis toolbox in order to make better decisions.
"Stocks for the Long Run" – Jeremy Siegel
Jeremy Siegel is a professor at the Wharton School of Business and believes as the title implies, that long-term investing beats short term trading. Among the themes of his book, he presents evidence over the past 200 years showing that equities are the best performing financial asset.
"Beating the Street"- Peter Lynch
Peter Lynch is best known in the 1980s as the manager of the Fidelity Magellan Fund. Lynch wrote this book in 1994 explaining how he chose winning stocks for the fund and also how he missed some great opportunities. Other books of his are also favorites of investors including "Learn to Earn" and "One Up On Wall Street."
View Comments and Join the Discussion!
Posted-In: Jack Bogle Jeremy Siegel Peter Lynch Warren BuffettPersonal Finance Best of Benzinga