Your Big Bank Q1 Earnings Cheat Sheet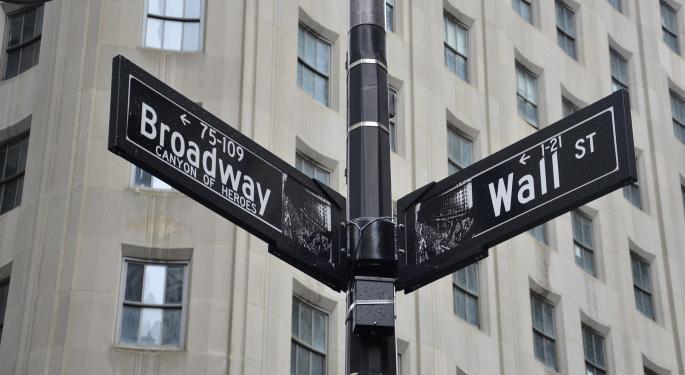 The financial sector has seen the third largest increase in expected earnings growth since the start of the Q1, according to Factset's Earnings Insight report for the week ended April 6.
Of these, the biggest contributors to the increase in expected earnings for the financial sector in 2018 have been JPMorgan Chase & Co. (NYSE: JPM) and Bank of America Corp (NYSE: BAC).
The report said the financial sector is likely to report the fourth-highest year-over-year earnings growth, at 19.8 percent in Q1. In the sector, Diversified Financial Services, Consumer Finance, Banks, and Capital Markets are expected to report earnings per share growth at a double-digit pace.
Related Link: Buckingham Previews Big Bank Earnings: 4 Stocks With The Most Long-Term Upside
Strong Q1 On The Cards
The macro environment is conducive for the financial sector, as interest rates are rising, taxes have been trimmed and volatility has returned to the markets – a necessary prop for better trading revenues.
The S&P 500 Index, which entered the year on a firmer footing, couldn't hold its own amid macro pressures, with inflation fears and the growing unease over a brewing trade war with China dragging it into the red for Q1. The index lost 2.5 percent for the quarter.
Buckingham Research's James Mitchell said in a recent note that estimates are modestly above consensus across the board, with a bias to the upside due to favorable backdrop across capital markets, net interest income and credit.
Bernstein's Christian Bolu sees better times ahead for institutional brokers. The logic? The factors that drove outperformance during the 2003-2006 cycle — such as rising rates, benign credit conditions and deregulation — are once again in play.
Bernstein recommended buying Goldman Sachs Group Inc (NYSE: GS), premised on outsized earnings growth through 2020, and selling Morgan Stanley (NYSE: MS) amid concerns over slowing deposit growth for this retail-focused entity.
Among the big banks, Wells Fargo & Co (NYSE: WFC) is the only one expected to report a year-over-year decline in earnings per share growth.
In terms of stock performance, shares of Wells Fargo and Citigroup Inc (NYSE: C) are in the red in the year-to-date period.
Related Link: Buy Goldman, Sell Morgan: A Wall Street Pair Trade
Here is the earnings schedule and estimates for the big banks.
JPMorgan Chase
Earnings Date: Friday, April 13, Premarket
EPS Estimate: $2.28
Revenue Estimate: $27.63 billion, up 8 percent year-over-year
Stock Performance (Year-to-date, as of April 11): +5.16 percent
Citigroup
Earnings Date: Friday, April 13, Premarket
EPS Estimate: $1.61
Revenue Estimate: $18.86 billion, up 4.1 percent year-over-year
Stock Performance: -5.24 percent
Wells Fargo
Earnings Date: Friday, April 13, Premarket
EPS Estimate: $1.07
Revenue Estimate: $21.75 billion, down 1.1 percent year-over-year
Stock Performance: -13.3 percent
Bank of America
Earnings Date: Monday, April 16, Premarket
EPS Estimate: 59 cents
Revenue Estimate: $23.1 billion, up 2.9 percent year-over-year
Stock Performance: +3.15 percent
Goldman Sachs
Earnings Date: Tuesday, April 17, Premarket
EPS Estimate: $5.57
Revenue Estimate: $8.69 billion, up 8.3 percent year-over-year
Stock Performance: 0.69 percent
Morgan Stanley
Earnings Date: Wednesday, April 18, Premarket
EPS Estimate: $1.25
Revenue Estimate: $10.32 billion, up 5.9 percent year-over-year
Stock Performance: +3.20 percent
For the quarter, the Financial Select Sector SPDR Fund (NYSE: XLF) is down about 1 percent, while year-to-date it's down a more modest 0.64 percent.
Posted-In: Earnings News Previews Top Stories Trading Ideas Best of Benzinga
View Comments and Join the Discussion!