Adidas Continues North American Tear With 31% Sales Growth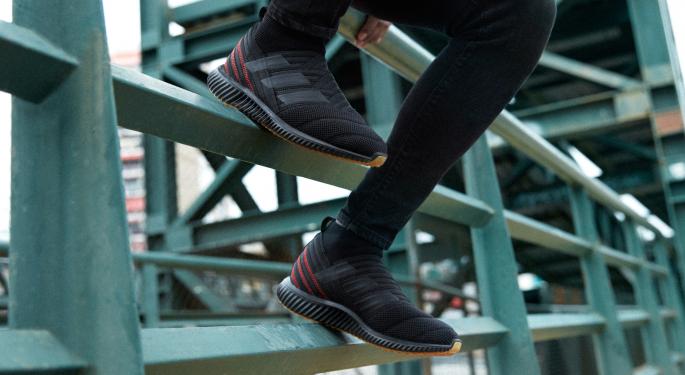 Adidas (AG) (OTC: ADDYY) continues its blistering pace of growth in North America.
The German sportswear brand announced fourth quarter earnings that showed 31 percent sales growth (Adidas and Reebok brand) in the fourth quarter in that region. Revenue grew double digits in nearly every geography the company operates in.
"We made great progress toward achieving our mission to be the best sports company in the world," Adidas CEO Kasper Rorsted said in a release. "Our strategic growth areas - North America, Greater China and Digital Commerce - were the main drivers of our performance."
"2018 is a key milestone on the road to achieving our long-term targets for 2020. We expect quality growth, with overproportionate bottom-line improvements. This will enable an even stronger increase in profitability by 2020 and allows us to upgrade our long-term target yet again."
A Q&A With North America President Mark King
After years of underperformance in the region, Adidas honed in on the North American consumer and market, knowing that to win the world a brand has to win in the US.
Benzinga was able to catch up Adidas' North America President Mark King ahead of the earnings release to find out how the company continues to led the market. Answers have been edited for length and clarity.
Benzinga: Adidas has turned into not just a sportswear leader, but a fashion leader and many of the high fashion brands are following suit. When did this shift happen?
King: The reason we are different than a fashion brand is our sport heritage. When you look at our target consumer it is definitely the athlete, but what we realized is that an athlete has two lives on the court, on the field, on the pitch and off the court. Because of this we really have two brands and two business: Lifestyle fashion with originals and the sport performance logo.
The advantage here is that we are at the intersection of sport and lifestyle, sport and culture. Everything started to change for us once we started aggressively pursuing the progression of sport in culture.
James Harden loves our basketball shoes, but he also loves the products we bring him off the court. Aaron Rodgers loves our football cleats, but he loves UltraBOOST. He loves Yeezys, he loves Superstars.
Being able to look at things with a lifestyle lens, while we have always been there, that's what's really driving this.
The copy and following is a wonderful form of flattery. One of our competitors just launched into hip-hop collaboration and it's a lot easier said than done.
Benzinga: Do you fear that the other brands are starting to catch up? What do you think will happen when the fashion cycle shifts?
King: Fashion cycles are changing all the time. When you look at the diversity and array of styles that we have as a sportstyle option, it's very impressive. It's really hard to be in one kind of fashion silhouette. If basketball was your silhouette, right now basketball is not hot as a fashion silhouette. Running, traditional and classics - that has been driving the marketplace.
We are probably well or better positioned across all the other style franchises. When you're in that space, newness is really one of things we are focused in bringing new styles and new franchises [at] a very frequent basis that's going to be required for sustaining growth.
We don't focus on our competitors. We are looking into our future through open source thinking and storytelling. Telling those stories through the big cities to set trends and being able to react to the marketplace with speed, urgency, and flexibility -- that's our strategy. That's what's driving us and it's definitely working.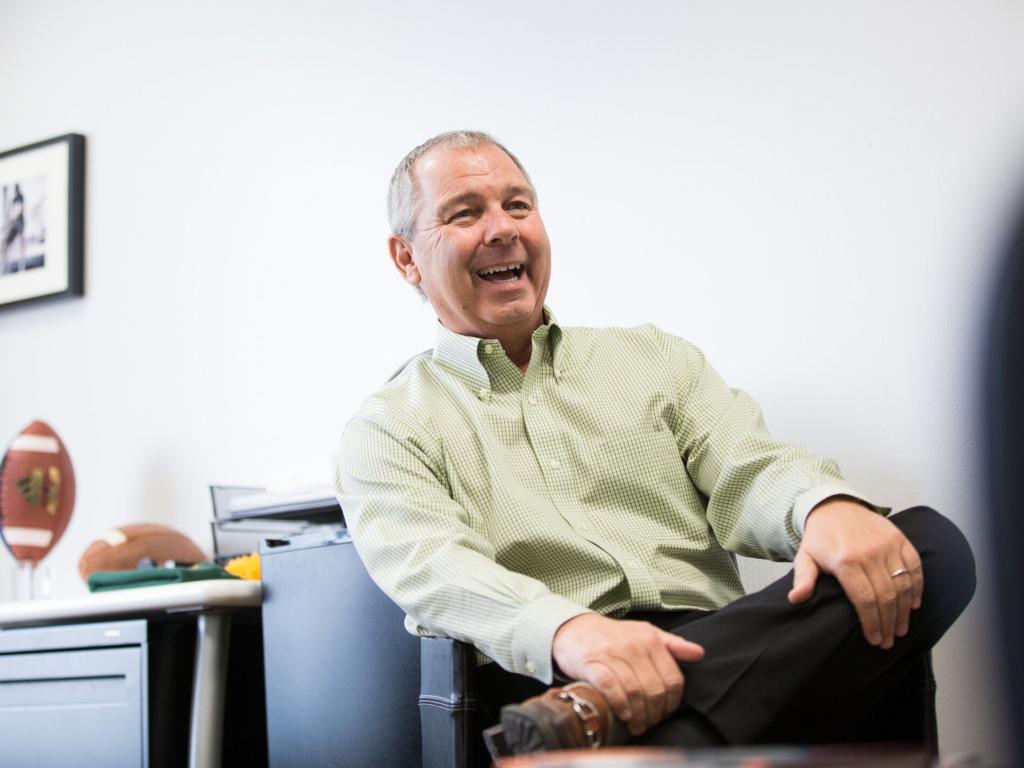 Mark King. Courtesy photo.
Benzinga: Will we ever see a day where your shoes are made in the US?
King: We just opened an automatic factory, but not really for manufacturing. [The idea is] if something gets hot how could we respond to it. I don't think you'll see the bulk of manufacturing get here, but you will definitely see some of the manufacturing spread out to respond to the trends more quickly. To open what we called speedfactories is to be able to react to the marketplace quickly.
Benzinga: There is a lot of talk about Foot Locker and Dicks Sporting Goods and how they fit into the sportswear business considering the slowdown of the sporting goods business. How important are those partners in an age of e-commerce?
King: Retail is in transforming. Traditional retail does not work the way it did 10 years ago. You need to be omni-channel retailer, you need to be online but still be able to walk into retail stores. I think you will get much more experiential in retail. I know we have been saying that for a long time, and some retailers won't make it but many will.
At the end of the day we follow the consumer, whether it's a brand or retailer. How are they shopping? What type of experience do they want?
Benzinga: There has been a lot of talk as to whether or not Kanye West was really the catalyst that set off the growth in North America. Is there a halo effect when it comes to brand influencers?
King: I think there is a halo effect. [I]nfluencers influence the top of the market. They make things cool and then the top of the market influences the best. If you use the traditional marketing pyramid, you need to establish an aspirational product or story at the top and its through that, it spreads to the rest of the market.
Does Kanye specifically influence a kid in Green Bay, Probably not. But does he influence New York and Chicago? It starts to spread out and the kid eventually sees it.
Influencers have a big impact on how you drive your brand appeal throughout the entire consumer.
Related Links:
Mark King Discusses Being At The Intersection Of Performance And Fashion
Adidas Jumps Over Jordan Brand To Take The No. 2 Spot In Sports Footwear
View Comments and Join the Discussion!
Posted-In: Kanye West Kasper Rorsted Mark KingEarnings News Top Stories Exclusives Interview Best of Benzinga