Salesforce Q3 Earnings Preview: A Cloud Success Story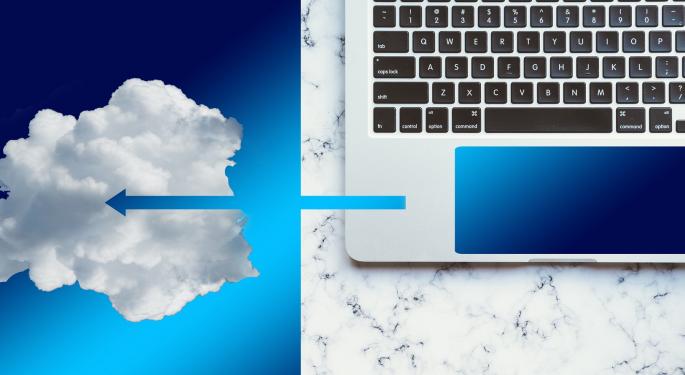 The software name salesforce.com, inc. (NYSE: CRM) is a consistent performer on fundamentals as well as from a stock perspective.
With cloud mania sweeping tech, the company moved quickly to capitalize on the trend, offering a software-as-a-service, or SaaS, through the cloud platform. Salesforce has made a number of acquisitions along the way, strengthening its competitive positioning.
Earlier this month, Salesforce announced a partnership with Alphabet Inc (NASDAQ: GOOGL) (NASDAQ: GOOG), integrating the former's core platform with the latter's G Suite.
Despite stellar top-line performance, profits at Salesforce have been anemic, something that's viewed as a result of heavy investments in sales and marketing, which incidentally fetches the company lucrative recurring subscription contracts.
Salesforce is scheduled to release its fiscal 2018 third quarter results after the close on Tuesday, Nov. 21.
The Sell-Side's Expectations
Analysts, on average, expect Salesforce to report earnings per share of 37 cents, higher than 24 cents per share one year ago. The consensus call is for revenue of $2.65 billion, up an estimated 23.50 percent.
In late August, along with the company's second quarter report, the company guided to non-GAAP earnings per share of 36-37 cents per share on revenue of $2.64-2.65 billion.
Credit Suisse analyst Michael Nemeroff expects Q3 results to be in-line or slightly ahead of the Street estimate.
The earnings per share estimate has remained largely unchanged over the past 90 days.
The company is a consistent forecast beater, with an average upside of 9.3 percent for earnings per share relative to expectations over the past four quarters.
In Q2, Salesforce's revenues rose 26 percent year-over-year to $2.56 billion, with subscription and support revenues also rising 26 percent to $2.37 billion. Non-GAAP earnings came in at 33 cents per share.
Deferred revenue, a key metric, was up 26 percent at $4.82 billion. Deferred revenue, also called unearned revenue, is the amount received by the company ahead of earning it and is therefore recorded as a liability on the balance sheet.
Despite the beat-and-raise quarter, the stock reaction was muted.
See also: Salesforce Gains A Bull On The Strength Of Its Growth Story
Credit Suisse's Expectations for Some Key F3Q Metrics
• Billings: $1.972 billion, representing 8.7 percent growth.
• Deferred revenue: $4.143 billion.
Investors are likely to focus on the deferred revenue/implied billings guidance for the fourth quarter, Nemeroff said. (See Nemeroff's track record here.)
Q4 billings make up almost 50 percent of the company's billings for the year, the analyst said.
The Outlook
For Q4, analysts estimate earnings of 34 cents per share on revenue of $2.79 billion. This compares to the year-ago earnings of 28 cents per share and revenue of $2.14 billion.
The consensus estimates for the fiscal year 2018 call for earnings of $1.32 per share on revenues of $10.4 billion, up 23.90 percent. Salesforce.com guided full year non-GAAP earnings to $1.29-$1.31 per share and revenue to $10.35-$10.4 billion.
The company initiated its fiscal year 2019 revenue guidance on Nov. 6 at $12.45-$12.65 billionagainst a consensus estimate of $12.48 billion.
Stock Take
Ever since its June 2004 IPO, Salesforce shares have been on a broad upward trajectory. The shares are up 57 percent year-to-date.
Previewing the results, Credit Suisse maintained its Outperform rating on Salesforce.com and lifted its price target from $115 to $120.
Credit Suisse predicated its Outperform rating on Salesforce.com's significant operating cash flow potential in the coming years.
This, Nemeroff said, can be realized from the company's large market opportunity, continued market share gains in each of its cloud offerings, cross- and up-sell opportunities of new products and services and increased operating leverage over time.
The shares of Salesforce.com have an average analyst rating of Buy, with the average price target at $115.20, suggesting roughly 8 percent upside from current levels.
Related Link:
Investors Have Underappreciated Microsoft Long Enough
Posted-In: Credit Suisse SalesforceEarnings Price Target Reiteration Analyst Ratings Tech Trading Ideas Best of Benzinga
View Comments and Join the Discussion!