What Does Your Living Room Say About You? Roomba Wants To Tell Advertisers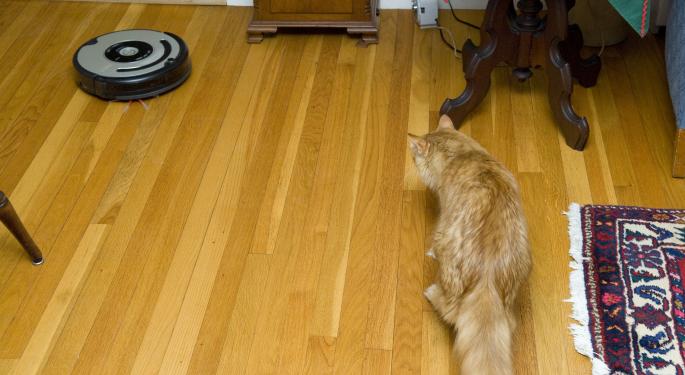 IRobot Corporation (NASDAQ: IRBT) shares had a strong run Wednesday following the release of its quarterly results and an announcement concerning the purchase of European distributor Robopolis.
Specialist In Spatial Data Gathering
Aside from the news, the company's flagship 900-series Roomba robotic vacuum also took the spotlight recently, as a Reuters report revealed that it may be doing much more than collecting dirt and help tidy up the room. The Roomba is also capable of collecting data, especially data on the dimensions of the room and the distances between different items in the room such as furniture and home furnishing.
Essentially, it creates a map of one's home, where there is wealth of information for companies such as Apple Inc. (NASDAQ: AAPL), Alphabet Inc (NASDAQ: GOOGL) (NASDAQ: GOOG) and Amazon.com, Inc. (NASDAQ: AMZN), which are leaving no stones unturned in gaining a strong foothold in the smart home market.
See also: Investing In The Future Means Investing In Robotics Software And Services
Roomba And Smart Home
How would data collected by Roomba help further smart home technology? The question was answered by a response from iRobot, which said when we intend to do something in a room, it finally boils down to having foundational knowledge of what is in it.
"In order to 'do the right thing' when you say 'turn on the lights,' the room must know what lights it has to turn on. Same thing for music, TV, heat, blinds, the stove, coffee machines, fans, gaming consoles, smart picture frames or robot pets," Reuters reported, quoting an iRobot spokesperson.
Monetizing The Data
IRobot is looking to sell the mapping data to one of the three biggies in the smart home market in the next couple of years, Colin Angle, the CEO of iRobot said. Angle believes the currently used technologies such as security camera, lighting and thermostat still lack the wholesomeness in terms of intelligence, leaving a gap in reaching ingenuity.
Mapping technology could help improve the services offered by the smart home technology.
"With regularly updated maps sound systems could match home acoustics, air conditioners could schedule airflow by room and smart lighting could adjust according to the position of windows and time of day," Guy Hoffman, a robotics professor at Cornell University said vouching for the relevance and utility of mapping technology.
Another avenue of opportunity for the mapping technology is that companies could use the data to recommend products and services you need, by knowing more about your lifestyle and daily patterns.
If there is a product/service lacking in your house, this knowledge when acquired by advertisers can help them target you with relevant advertisements.
Data Capture Raises Ethics Questions
Right now, iRobot claims that data would be sold only with the informed consent of its customers and that it respects the privacy of its customer-related data.
For those who wouldn't want their data to go into prying hands of companies targeting them, iRobot presents the option of using the Roomba without connecting to the internet to prevent transmission of map data to cloud by using a switch in a mobile application.
Despite all these assurances, there are fears lurking in the minds of consumers concerning whether the third-party data collection would violate the privacy laws enforced by the government.
__________
Image Credit: By Dwight Sipler from Stow, MA, USA - Gillie trying to avoid the RoombaUploaded by Jacopo Werther, CC BY 2.0, via Wikimedia Commons
Posted-In: Earnings News Topics Top Stories Tech Media Trading Ideas General Best of Benzinga
View Comments and Join the Discussion!