Home Prime: How Alexa Catapults Amazon Into The Pinnacle Of The Smart Home Market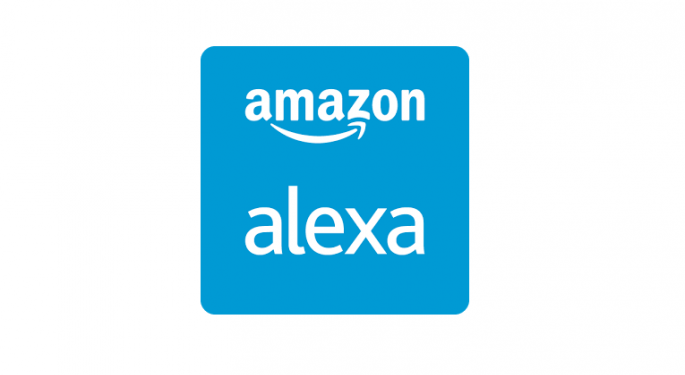 Amazon.com, Inc. (NASDAQ: AMZN) has always been a versatile company, be it innovating new ideas and concepts or being open to adopting successful models and ventures.
So, news of the online retail behemoth aping one of the tried-and-tested successful formulae of electronics retailer Best Buy Co Inc (NYSE: BBY) doesn't come as a surprise.
Educating On Smart Home
Amazon has begun assembling a team comprising in-house gadget experts, its own version of Best Buy's Geek Squad installation and repair service that has been in existence for about fifteen years, according to Recode.
Geek squad is a team at Best Buy, which was put in place in 2002 to offer 24/7/365 support to help customers on the phone, online, at your home and at more than 1,100 Best Buy stores. The team does installation, setting up, protection, support and repair services.
The team put together by Amazon is primarily focused on helping customers set up a smart home, which would mean household systems that can be controlled via apps and predominantly by voice.
These smart home gadgets are difficult to set up and integrate with each other, leading to higher return rates, according to Recode. The in-house education team the company has mobilized, is, therefore, seen as an effort to rectify this anomaly.
Smart Home Technology
Home automation or smart home technology allows everything at home, namely lights, alarm clocks, television, music system, doors, windows, blinds, heating and cooling system, etc. talk to each other and interpret the owner's instruction and behave accordingly.
It uses the Internet of Things, which links objects with the Internet, thereby giving them a common connection, which can be controlled by a user. Automation and remote control are the two main components of a smart home, with monitoring apps accessed via smartphone or tablet helping in remote control.
Alexa: Key To Amazon's Success In Smart Home
Controlling the smart home by voice is a promising opportunity for Amazon's personal assistant Alexa. The Echo line of smart speakers, which Amazon is looking to promote heavily, uses Alexa. Given the complexities involved, it is no wonder that Amazon has taken a plunge into the educational arena, with respect to installing, maintenance and repair of devices.
Echo is a Bluetooth speaker, with the Alexa virtual assistant built into it.
Amazon's Push Into Smart Home Arena
Though smart home appliances existed even before Amazon marked its entry into the field, controlling them was a cumbersome task. Physically, one had to use a remote or run an app on one's smartphone to control even the smallest of the tasks.
Therefore, there was this need of having a seamless way of controlling the devices that would be interconnected. The Echo, which is a 9" tall cylinder, with microphones and a long-range wireless speaker, with Alexa as its voice control system, can hear one from across the room.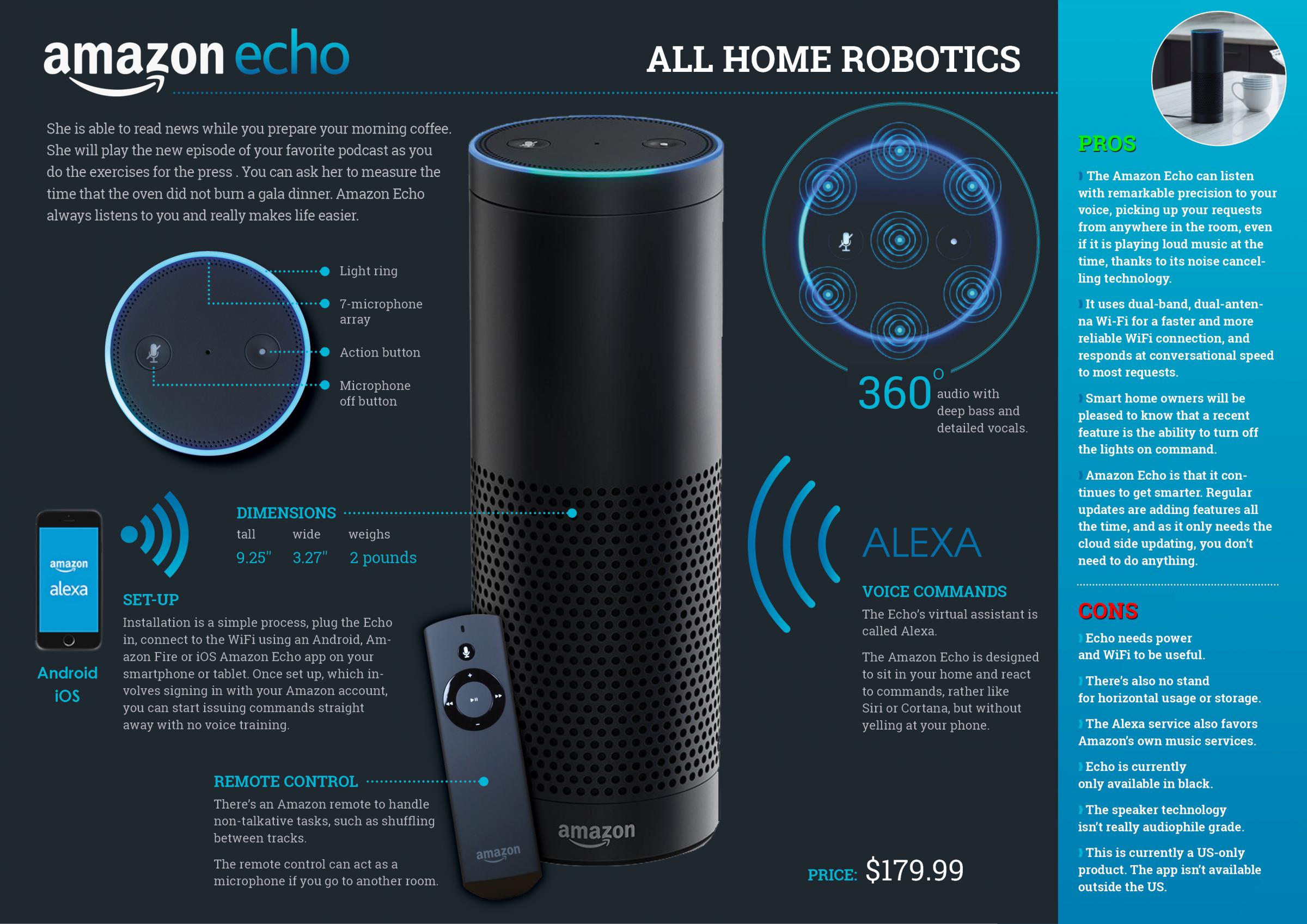 Source: Allhomerobotics
Echo could be to the smart home, what iPhone was to smartphones, according to a Fortune article. Just as the touch screen of the iPhone freed us from a physical keyboard, with Echo, voice would free us from the smartphone.
Thus, the linking of Echo with Alexa has been the reason behind its resounding success.
Competition Heating Up
Apple Inc. (NASDAQ: AAPL), for its part, had Homekit, a home automation architecture, in its iPhone. The company recently announced its HomePod, powered by its personal assistant Siri. The product is priced at $349 compared to Echo's $179.99. The product is expected to be commercially launched in December, although when it was announced at the June WWDC, the integration didn't work.
Meanwhile, Alphabet Inc (NASDAQ: GOOGL) (NASDAQ: GOOG) has also been making a big push into smart home technology with its Google Home speaker, which was launched in November 2016. It has also invested in home automation devices such as Nest thermostats. However, Google's smart speaker is compatible only with a few gadgets outside of what it owns.
Amazon Enamors With Its Open Approach
Unlike Apple, which has a rigorous and time-consuming process for giving gadget makers Home-kit certification, Amazon pursues an open approach. Gadget makers need to submit software to Amazon for review. Meanwhile, startups seeking certification have to get their gadgets tested in a third-party lab.
With Apple, it is a tedium of having to use special chips to work with Apple's smart speaker. Additionally, developers need to buy specific expensive Wi-Fi and Bluetooth networking chips. The gadget makers also have to get their factories certified by Apple, while the finished product has to be sent to Apple's headquarters for further testing. The whole process would take about 3–5 months.
Amazon's competitive positioning is unlikely to be challenged in the near future, given its first-mover advantage.
"Alexa established first mover advantage and has built barriers to entry by now, with over 12,000 products having Alexa skills," a Business Insider article said quoting Gartner Research Director Werner Goertz.
Just as it is steamrolling in the retail space, Amazon is seen to flex its technological, financial and retail muscle to ward off any competitive threat, at least in the near- to medium-term.
Related Links:
Are People Actually Using Smart Technology In Their Homes?
Image Credit: By Amazon.com (Amazon.com) [Public domain], via Wikimedia Commons
View Comments and Join the Discussion!
Posted-In: Alexa Business Insider EchoEducation Tech Media Trading Ideas General Best of Benzinga