Heard Of 'Sunesys'? Here's How It Could Change Wireless Communications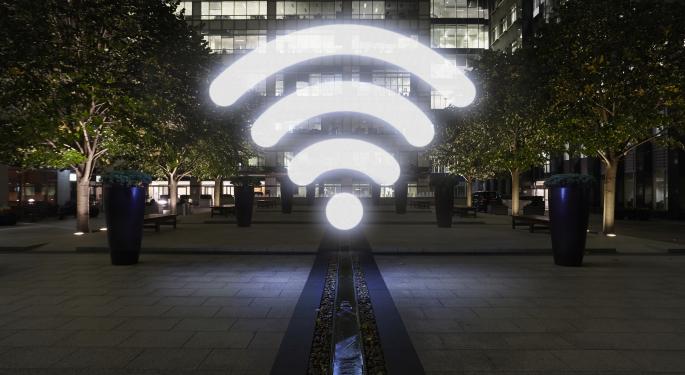 On April 30, wireless tower REIT Crown Castle International Corp (NYSE: CCI) announced the ~$1 billion acquisition of Quanta Services Inc (NYSE: PWR) subsidiary Quanta Fiber Networks, Inc., more commonly referred to as "Sunesys."
Quanta Services is an S&P 500 company which provides specialized construction services delivering infrastructure solutions for the electric power and oil and gas industries.
Crown Castle, along with its two peers American Tower Corp (NYSE: AMT) and SBA Communications Corporation (NASDAQ: SBAC), own and operate communication tower networks leased to the top wireless carriers in each market.
Related Link: Tesla: Does Home Battery + Solar = Disruption?
Tale Of The Tape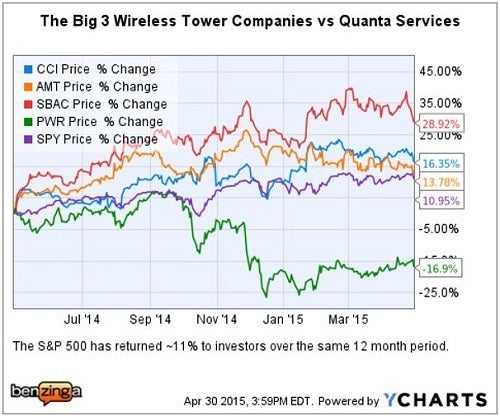 Notably, Crown Castle pays a dividend yielding 4.2 percent, which equates to a total return of ~20.5 percent for CCI shareholders during the past 12 months.
Crown Castle - Acquisition Timeline
In addition to organic growth from contract rent increases and incremental carrier equipment roll-outs on existing leased tower, wireless tower companies regularly grow by accretive acquisitions.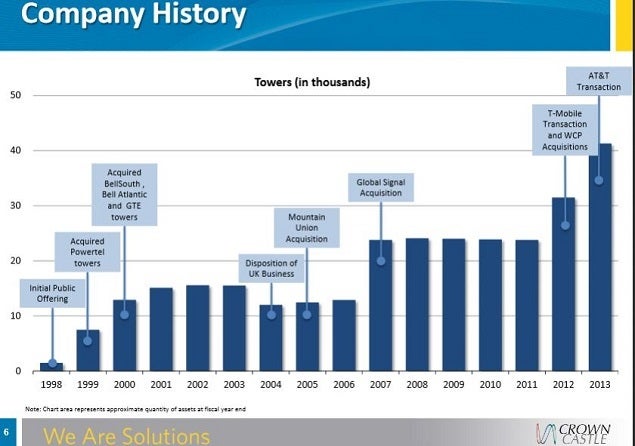 However, for the most part, these acquisitions have been for portfolios of tower masts that make up the backbone of regional wireless networks.
This $1 billion acquisition is newsworthy because Sunesys is a fiber services provider that owns or has rights to nearly 10,000 miles of fiber in major metropolitan markets across the United States, including Los Angeles, Philadelphia, Chicago, Atlanta, Silicon Valley, and northern New Jersey.
What Are Small Cells?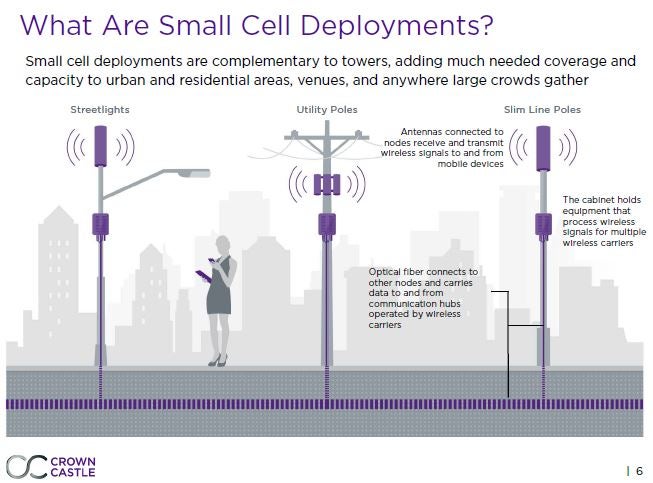 In population dense metro markets, carrier voice and data demands are growing, and small cells increase network capacity.
Crown Castle - How
Sunesys

Helps

Small cells represent a network of antennas, or nodes, connected by fiber and designed to facilitate wireless communications services for multiple operators that are focused on augmenting their network capacity.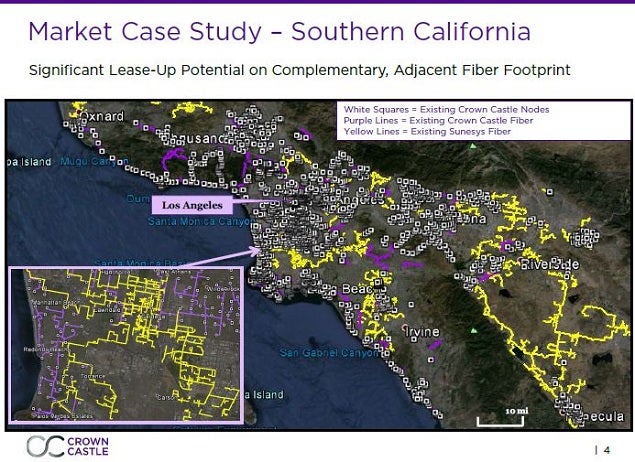 "Today, Crown Castle owns or has rights to approximately 7,000 miles of fiber supporting approximately 14,000 nodes, which contribute 7% to each of Crown Castle's site rental revenues and site rental gross margin."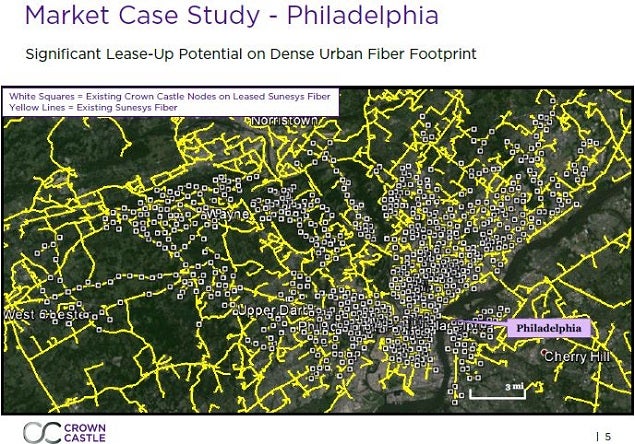 "Pro forma for the proposed acquisition, Crown Castle will own or have rights to more than 16,000 miles of fiber."
Crown Castle -
Sunesys

Rationale

"The Sunesys fiber assets are both complementary to our existing footprint and located where we expect to see significant investment by wireless carriers. Based on current small cell activity, including awarded and proposed small cell deployments, we have visibility into more than 3,500 small cell opportunities on or near the Sunesys fiber."
Sunesys

Bottom Line

Quanta Services expects to receive after-tax net proceeds of ~$800 million, and revealed that the Sunesys purchase price represents a 15x trailing EBITDA multiple.

Crown Castle expects the acquisition to close by the end of 2015 and to be immediately accretive to adjusted funds from operations (AFFO) per share upon closing.

"The transaction is expected to contribute approximately $80 to $85 million to gross margin with approximately $20 million of general and administrative expenses in the first year of Crown Castle's ownership."
Investor Takeaway
The "Big 3" wireless communications tower companies own infrastructure, which becomes more valuable over time as additional equipment and more wireless carriers are added to their respective networks.
Investing in the infrastructure, rather then trying to pick the best wireless carrier, gives investors another way to participate in the exponential growth of wireless data.
All three of the tower companies report both GAAP and REIT metrics, such as FFO and AFFO; however, only American Tower and Crown Castle are currently approved as REITs, and thus are required to pay at least 90 percent of taxable income to shareholders as dividends.
SBA Communications foresees adopting the REIT structure in the future; but for now, SBAC believes the C-Corp structure to be advantageous for both company growth and shareholder total returns.
Posted-In: Long Ideas News REIT Asset Sales Tech Trading Ideas General Real Estate Best of Benzinga
View Comments and Join the Discussion!