#PreMarket Primer: Friday, December 12: Oil Prices To Finish The Week Near 5-Year Low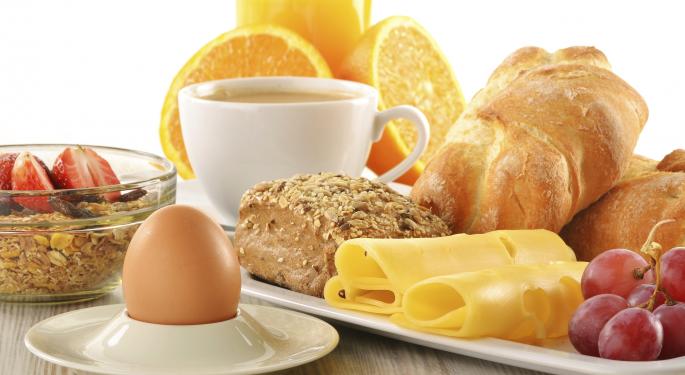 Oil prices fell to new lows on Friday morning after the International Energy Agency lowered its forecast for global demand growth in 2015 by 230,000 barrels per day. The trimmed forecast served as a reminder that international demand is lagging behind the growing global supply glut.
Markets have been cautious recently as many see the commodity sliding further before reaching its floor. OPEC members remain locked in a price war, so a production cut in the near-term looks unlikely. Most analysts agree that without a supply cut, the commodity's price won't see any upside.
In other news around the markets:
On Thursday evening, the U.S. House Of Representatives pushed through a $1.1 trillion spending bill in order to avert a government shutdown. The vote to pass the bill was far from unanimous and pitted some members of the Democratic party against each other. A change to the Dodd-Frank financial reform law, which prohibits certain types of campaign donations, was a point of contention as several Democrats rallied against it; but President Obama surprised by siding with Republicans and asking his party to pass the bill. However, Congress passed a 48-hour extension that will allow Senators to debate its terms on Friday.
Markets began anticipating more stimulus from the People's Bank Of China in the near-term after data out on Friday added to growing evidence that the Chinese economy is slowing. Factory growth output declined more than expected in November, rising just 7.2 percent annually in November, down from October's 7.7 percent figure. Investment growth was also concerning as it fell to a 13-year low, an indication that the nation's GDP likely waned in the fourth quarter as well.
On Thursday, CIA Director John Brennan admitted that some officers had used "abhorrent" methods to extract information from detainees following the September 11 attacks, but denied claims that the agency misled the White House about how the interrogations were run. Brennan said it is unclear whether or not the methods used were vital in collecting essential information, but asked to leave the agency's past practices in the past and allow it to evolve into the future.
U.S. retail sales data in November painted a positive picture for the U.S. holiday shopping season despite reports that Black Friday was a flop. Retailers across the nation said they were optimistic about December and reported a rise in sales through November. Official data showed that retail sales increased by 0.6 percent in November, up from October's 0.5 percent increase and above analyst expectations of a 0.4 percent rise.
Asian Markets
Asian markets were mostly higher with the exception of Hong Kong's Hang Seng index, which lost 0.27 percent. The NIKKEI gained 0.66 percent, the Shanghai composite rose 0.42 percent, the Shenzhen composite was up 0.97 percent and the KOSPI rose 0.27 percent.
European Markets
Europe's markets were down across the board; the FTSE fell 1.52 percent, the CAC 40 was down 1.52 percent, the DAX lost 1.24 percent and the MIB was down 1.39 percent.
Energy futures were lower; Brent futures lost 1.19 percent and WTI futures were down 1.50 percent. Gold was down 0.06 percent and silver gained 0.49 percent, and industrial metals were mostly higher with the exception of aluminum, which fell 0.64 percent. Copper gained 0.39 percent, zinc rose 0.73 percent and tin was up 0.74 percent.
The euro was steady at $1.2436 and gained 0.32 percent against the pound, but lost 0.11 percent against the yen. The dollar was also lower against the yen, down 0.29 percent, but gained 0.14 percent against the pound and 0.50 percent against the Canadian dollar.
Notable earnings released on Thursday included:
Stocks moving in the Premarket included:
No notable earnings releases expected on Friday
Economics
Europe will be the star of Friday's economic calendar with several important releases scheduled including eurozone industrial production, eurozone employment change data, Spanish CPI and Italian CPI. Other notable releases include Chinese retail sales, Chinese industrial production, U.S. PPI and U.S. consumer sentiment.
Tune into Benzinga's pre-market info show with Dennis Dick and Joel Elconin here.
View Comments and Join the Discussion!
Posted-In: Earnings News Guidance Emerging Markets Eurozone Futures Commodities Previews