#PreMarket Primer: Tuesday, December 9: Crude Prices May Not Have Bottomed Out Yet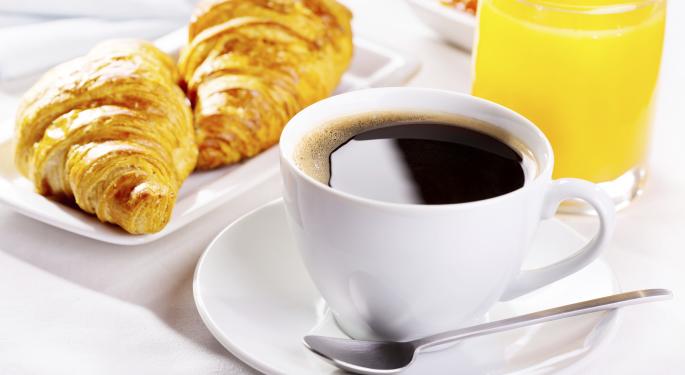 Brent crude oil fell to a five-year low below $66 on Monday as the global supply glut continued to grow.
The commodity has been volatile since OPEC decided against a supply cut, and most firms have cut their forecasts for crude prices next year, saying we may see oil below $70 for an extended period.
Some analysts warn that markets should brace for further losses as they believe the commodity hasn't hit rock bottom just yet. Many see Brent prices continuing to slide to $60 in the coming weeks.
In other news around the markets:
After more than two months of demonstrations in the heart of Hong Kong, pro-democracy protesters have been given until Thursday to clear out of their protest sites and allow traffic to return to normal. The number of protesters have slowly dwindled in recent weeks as the movement lost momentum, and those left look willing to respect the Thursday deadline. Protesters are slowly dismantling tents and transporting supplies in hopes of maintaining peace.
Verizon Communications Inc. (NYSE: V) is feeling the effects of the ongoing wireless price war as the company tries to keep up with the competition by offering deep discounts ahead of Christmas. On Monday, the company warned investors that its earnings may take a hit as customers leave to take advantage of other carriers' deals and new price discounts eat into profits.
On Monday, Apple Inc. (NASDAQ: AAPL) was unable to have a class-action suit over the company's iPod pricing thrown out, despite the discovery that the last remaining class representative had not bought and iPod model that is covered in the case. Lawyers for the plaintiff said they had plenty of iPod customers who would be willing to step in, and the Judge ruled that a swap would be allowed.
Protests in Berkeley, California continued for a third day with protesters blocking several key city streets and even a freeway on Monday. The demonstrators, mostly students, are protesting two recent grand jury decisions not to bring criminal charges against two white police officers for their role in the deaths of unarmed black men. On several occasions, the Berkeley protests have turned violent as police tried to disperse the crowds using tear gas. On Saturday, a clash between police and protesters ended with the vandalism and looting of several local businesses.
Asian Markets
Asian markets were lower, with China's Shanghai and Shenzhen composites seeing a huge correction. The Shanghai composite fell 5.31 percent and the Shenzhen composite was down 4.22 percent. Elsewhere, Japan's NIKKEI lost 0.68 percent, the South Korean KOSPI was down 0.40 percent and Hong Kong's Hang Seng index fell 2.34 percent.
European Markets
European markets were also down across the board; the FTSE fell 1.11 percent, the STOXX 600 lost 1.01 percent, the DAX fell 0.83 percent and the CAC 40 was down 1.12 percent.
Energy futures were moderately higher on Tuesday after a sharp drop on Monday. Brent futures rose 0.06 percent and WTI futures were up 0.48 percent. Gold and silver gained 0.82 percent and 0.85 percent respectively, but industrial metals were mostly lower with the exception of tin, which gained 1.26 percent. Copper fell 0.38 percent, aluminum was down 0.81 percent and zinc lost 0.89 percent.
The euro made its way higher on Tuesday, trading at $1.2343 and gaining 0.24 percent against the pound. However the common currency lost 0.37 percent against the yen and was flat against the franc. The dollar was also lower against the yen, down 0.60 percent, but the greenback gained 0.03 percent against the pound and 0.13 percent against the Australian dollar.
Earnings
Notable earnings released on Monday included:
IDT Corporation (NYSE: IDT) reported EPS of $0.46 on revenue of $412.90 million, compared to last year's EPS of $0.32 on revenue of $420.67 million.
Diamond Foods, Inc. (NASDAQ: DMND) reported first quarter EPS of $0.28 on revenue of $246.60 million, compared to last year's EPS of $0.18 on revenue of $234.67 million.
H&R Block, Inc. (NYSE: HRB) reported a second quarter loss of $0.45 per share on revenue of $134.60 million, compared to last year's loss of $0.42 per share on revenue of $134.34 million.
Stocks moving in the Premarket included:
Notable releases expected on Tuesday include:
HD Supply Holdings (NASDAQ: HDS) is expected to report third quarter EPS of $0.53 on revenue of $2.47 billion, compared to last year's EPS of $0.38 on revenue of $2.30 billion.
AutoZone, Inc. (NYSE: AZO) is expected to report first quarter EPS of $7.16 on revenue of $2.21 billion, compared to last year's EPS of $6.29 on revenue of $2.09 billion.
UTi Worldwide Inc. (NASDAQ: UTIW) is expected to report third quarter EPS of $0.06 on revenue of $1.17 billion, compared to last year's EPS of $0.08 per share on revenue of $1.15 billion.
Economics
Notable economic releases expected on Tuesday include Germany's trade balance, British manufacturing and industrial production, France's trade balance, Chinese CPI and the US Redbook.
Tune into Benzinga's #PreMarket Prep with Dennis Dick and Joel Elconin here.
View Comments and Join the Discussion!
Posted-In: Earnings News Emerging Markets Eurozone Futures Commodities Previews Forex